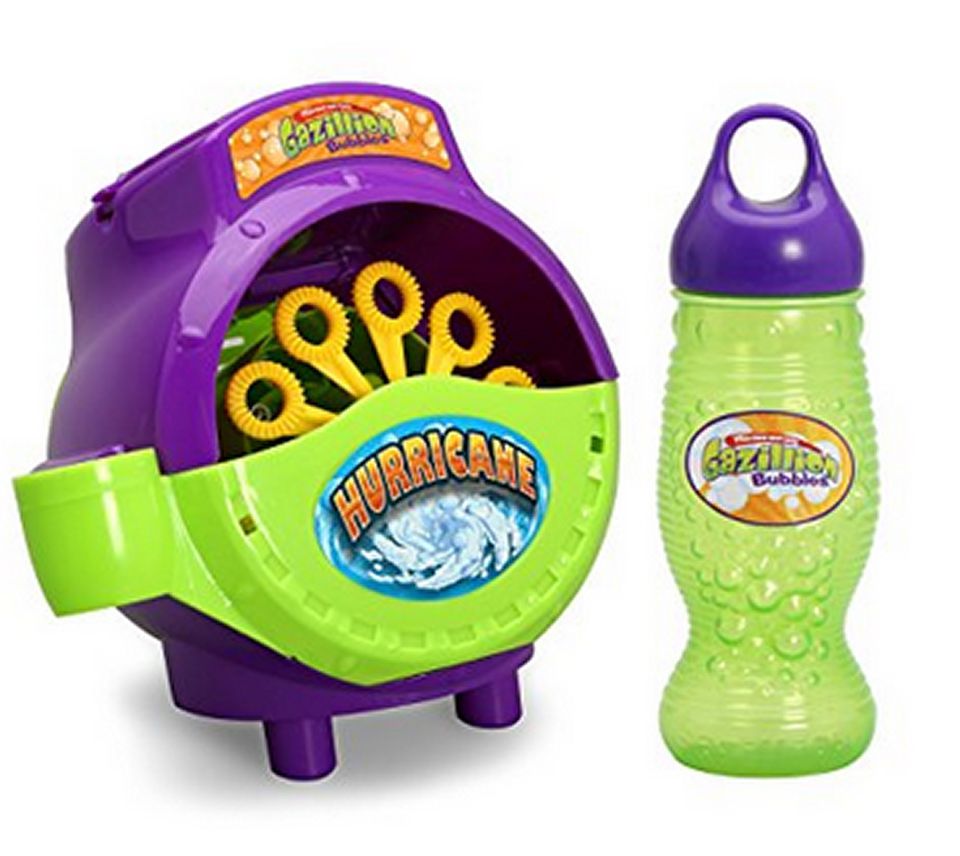 The Gazillion Bubbles Machine is one of the top-selling bubbles machines on the market today. After five years of heavy use during the spring, summer and fall, this bubbles machine is still going strong at our house. Find out everything you need to know before purchasing this bubble blower in this Gazillion Bubbles Hurricane Machine review.
Pros of the Gazillion Bubbles Hurricane Machine
It keeps cranking out bubbles until it runs out of solution.
The Gazillion Bubbles Machine really does feel like it's producing a gazillion bubbles.
It's perfect for your next bubble party.
The Gazillion Bubbles Machine has been tested for hours at a time.
Cons of the Gazillion Bubbles Hurricane Machine
To make a gazillion bubbles, you need a gazillion-sized bubble solution close by, which isn't very cheap.
Because you have to refill the bubble blower solution so often, your hands can get messy with solution.
Some consumers report they have a hard time finding the Gazillion Bubbles solution.
Requires 6-AA batteries, which can quickly be eaten up if you use the bubble blower for long periods at a time.
Kids are fascinated with bubbles. The more bubbles, the better.
When I saw the Gazillion Bubbles Machine was less than $15, I bought it without hesitation. They are entertained for hours and playing with the bubbles is one of their favorite outdoor activities.
An 8-ounce bottle of bubble solution is included but, since the manufacturer claims more than 500 bubbles are produced a minute, you'll quickly go through this small bottle and you can't add any homemade bubbles recipes to the machine. Do keep the bottle that comes with the bubble machine, though, because you'll need to refill it and place it back into the cradle to keep feeding your bubble machine solution into the Gazillion Bubbles Machine.
I also purchased a 64-ounce bottle of Gazillion bubbles solution to make sure our bubble supply wouldn't run out any time soon. A 32-ounce bottle is also available.
This unit does require 6-AA batteries so be sure you pick up a pack before leaving the store. Our battery life is decent. We can keep the Gazillion Bubbles Machine on for several hours before the batteries start to wear down. I've found that for every 64-ounces of bubble solution, our machine's batteries will need to be changed once.
Set up is simple. Unscrew the four screws off the battery compartment and insert the AA batteries. Pop the top on the 8-ounce bubble bottle, turn it upside down and turn on the power button. That's it.
This machine continually rotates ten bubble wands while blowing out the bubbles. The air is always heavy with bubbles until the solution begins to run out.
Noise from the machine is minimal. Yes, you can hear it but it's not an annoying whiny noise. You can hear the motor turning the bubble wands but it's almost like the sound of a small fan.
The manufacturer does suggest you clean the unit thoroughly after each use to get the longest life out of your Gazillion Bubbles Machine. I have to admit, I cleaned it after the first use and didn't ever clean it again.
Three years later, this machine is still going strong. Breaking out the bubbles is the first Spring Break activity we enjoy year after year.
Our only issue that has cropped up this year is that you will flip the power switch to the "on" position and nothing happens. It actually takes a Fonzie-on-the-jukebox type of bang on the top of the unit for it to start working. Once it does kick on, it works beautifully.
Other consumers have reported issues and even breakage after only a few uses. Maybe we got lucky with our Gazillion Bubbles Machine. Regardless, if this one ever does break, I won't even be looking at another brand. I will run straight to the toy story and buy this exact same unit.
Another downside for some consumers is that they say they have a hard time finding the Gazillion bubbles solution.
I've always been able to buy it at Toys R Us and Amazon.com usually has it in stock as well.
The bubbles solution is pricey at about $10 but I would be worried a cheaper bubbles solution wouldn't work as well and might even tear up our bubble blower. So the cost for the Gazillion bubbles solution is worth it to us.
We've definitely gotten our money's worth out of the Gazillion Bubbles Machine. It's spit out bubbles while my kids try to catch them. It's been the perfect background to my older son's SpongeBob SquarePants-themed birthday party continually running while we played party games. It's even delighted our neighbors on windy days when the bubbles seem to fly out of control from backyard to backyard.
The Gazillion Bubbles Machine was purchased for review from a local retailer. Total cost with tax was less than $15.