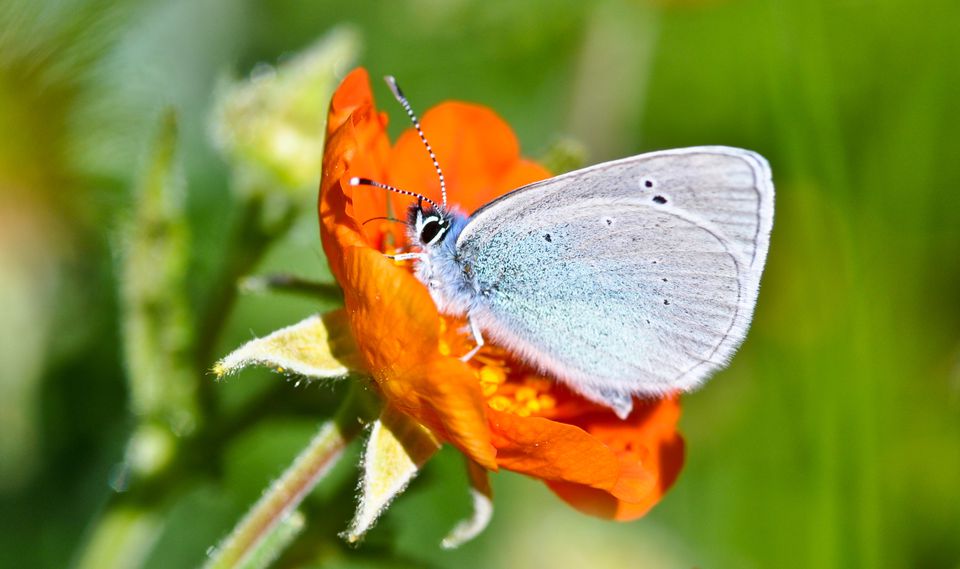 The Botany Behind This Orange Avens Flower
Plant taxonomy considers this plant to be Geum 'Fire Storm,' the part in single quotes being the cultivar name. "Avens" is the common name for members of this genus. Note that "avens" is both the singular and the plural form of the noun.
Geum 'Fire Storm' is an herbaceous perennial in the North.
Plant Attributes
The flowers of avens come in various colors. Reds, yellows, whites and oranges are quite popular currently among the cultivars, but other colors exist as well (see below under Some Other Types of Avens).
Geum 'Fire Storm' is one type to grow if you want orange avens flowers -- and double flowers, at that. Bloom time is in May in zone 5, for example. Geum coccineum (picture) has single orange flowers. 
The plant is clump-forming and can become 12-14 inches tall (to the tips of the flowers), by a spread of slightly less than that. The foliage is complex -- almost to the point of defying a clear description -- but most prominent are the divided and/or lobed leaves, the terminal leaflet of which is the largest, as if to thumb its nose at gravity.
Sun, Soil and Zone Requirements
Grow this type of avens in full to partial sun and in ground that drains well. It will thrive in a soil that is moderately moist and fertile. You are most likely to have luck growing this perennial in USDA plant hardiness zones 5-9.
Care for Geum 'Fire Storm'
If you deadhead the plant, it will bloom for an even longer period.
Every other year or so you can divide the plant to propagate and/or maintain its vigor. Spring is the best time to perform division on it.
Uses in Landscaping and Beyond
As with many small, compact plants, this orange avens flower looks best massed together along a border or displayed in a rock garden.
Avens is also a traditional cottage garden plant. Alternatively, grow it anywhere (provided sun and soil conditions are right) where you need a touch of golden-orange to brighten a spot in your landscaping, including in pots.
According to Botanical.com, herbalists have found the following uses for avens traditionally: "Astringent, Styptic, febrifuge, sudorific, stomachic, antiseptic, tonic and aromatic."
Geum 'Fire Storm' and Wildlife
Most gardeners adore wildlife, but in cases where the wildlife is eating the plant that you are trying to grow, you sometimes have to choose which is more  important to you. Happily, avens tend not to make us choose, because they draw harmless (but beautiful) wildlife and are not a preferred food for some of our worst garden pests.
Specifically, Geum 'Fire Storm' is a plant that attracts butterflies. But it is also one of the rabbit-proof flowers and a deer-resistant perennial.
Selling Points for Geum 'Fire Storm'
Geum 'Fire Storm' is often contrasted with another cultivar grown for orange avens flowers, namely, 'Fireball,' and it is considered the more compact of the two. Despite being more compact, no sacrifice is made in terms of blooming. Indeed, the plant not only bears many blooms, but also boasts double flowers and is a long-blooming perennial.
Relatively compact or not, you are still advised to situate this perennial in between other, good-sized perennials so that the latter can provide a "natural support" for its flower stems, which can be rather gangly (it is just the nature of the beast).
Some Other Types of Avens
Fiery terms crop up in the names of a few of the cultivars, a tip-off as to the flower color. Besides 'Fireball' and 'Fire Storm,' we have, for example, G. 'Blazing Sunset,' which is red. G. chiloense 'Mrs. J. Bradshaw' is a tamer name for an equally vibrant avens (orange-scarlet). G. chiloense 'Lady Stratheden' is an example with yellow blooms, while G. 'Snowflake' offers white flowers.
But there is also room for pinkish and purplish colors in this genus; for example:
The 'Bell Bank' cultivar -- pink.
Prairie smoke (G. triflorum) -- pink.
Water avens (G. rivale) -- orange or yellow with purplish sepals on the outside.
Water avens is also sometimes called "Chocolate Root," because the aromatic roots "have been used to make a cocoa like beverage" (North Woods Wildflowers, Doug Ladd, p.60).