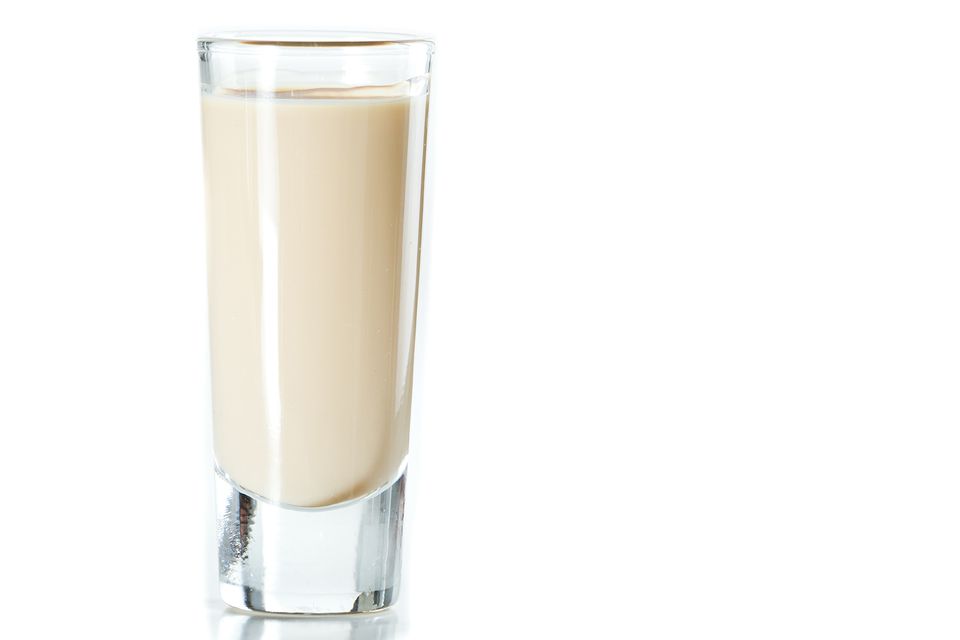 Pour the liqueurs into an ice-filled cocktail shaker.
The Girl Scout Cookie Drink Formula
You can take your Girl Scout cookie as a shooter, a lowball on the rocks, a martini or even a boozy ice cream drink, they all have a few things in common.
Cream and mint are always found in a Girl Scout Cookie and some recipes follow the cookie, opting for chocolate while others use a coffee liqueur.
Coffee has long been the most popular option though chocolate is more fitting to the cookie experience. Both create great tasting drinks!
In some cases, vodka is added and that will make the drink a Dirty Girl Scout. I have even caught a few recipes that use Jägermeister instead of vodka. Though I've not tested this myself, if you are a Jäger fan, you might really enjoy that variation.
Choosing the Liqueurs. You have many options for each of the liqueurs used in a Girl Scout Cookie.
The Ease of an Equal Pour. With the exception of the frozen Girl Scout Cookie, the other nice thing about all of these drinks is that they are easy to remember and mix up. That is because no matter what style drink or which liqueurs you choose, it is always an equal pour of each ingredient.
Choose Your Drink Style. The first three Girl Scout Cookie recipes below can be made as a shot, a lowball or a martini. The recipes include measurements for creating them as shots.
To adapt the recipes to the other styles:
The Dirty Girl Scout Shooter
As mentioned above, when we add vodka, this Girl Scout gets a little 'dirty.' This shooter is just a little stronger than the others, but it has that same great taste.
Use your favorite vodka and don't worry about using the best for this drink. There are many great vodkas that will not break the bank and this is exactly the type of drink where they are useful.
To make this drink, shake and strain 1/2 ounce each of vodka, coffee liqueur, Irish cream, and mint liqueur in a shot glass.
The Chocolate Girl Scout Cookie
Next up is the recipe for that chocolate-flavored Girl Scout Cookie that also includes vodka. If you are looking for a real Thin Mint experience, this is the recipe you want!
To make this shot, simply shake and strain 1/2 ounce each vodka, chocolate liqueur, creme de menthe, and Irish cream into a shot glass.
The After Five Layered Shooter
This is a very popular shooter that has been around for years. It rose to fame during those days when everyone was layering shots like the famous B-52. While these drinks are not gone, they are not as hot as they once were.
The After Five is included here because for years the Girl Scout Cookie and After Five were the same drink.
The ingredients and pours are the same, this version is simply layered. It wasn't long before the shaken version took over and the drink took on the more popular name.
To make this layered shot, fill a shot glass a third of the way with chocolate liqueur. Float an equal amount of Irish cream on top. Finish up the shot by floating peppermint schnapps on top.
A Frozen Girl Scout Cookie
Unlike any of the other Girl Scout Cookie recipes above, this one may be my personal favorite! If you want a delicious ice cream drink that reminds you of those minty shakes that pop up during St. Patrick's Day, this is it!
Those shakes are great, but this Girl Scout Cookie is even better. In it, I've included chocolate vodka and ice cream because you can never have enough chocolate! You could use a plain vodka or simply use this as an excuse to pick up something like Van Gogh Dutch Chocolate.
Also, rather than just a spiked milkshake, I add a little ice to make this more drinkable. It's very similar to the popular Chi-Chi drink, only chocolate-mint flavored.
To make this drink, combine 1 1/2 ounces chocolate vodka with 3/4 ounce peppermint schnapps, 1 scoop chocolate ice cream, and 1/2 cup ice in a blender. Blend until smooth. Pour into a chilled glass rimmed with chocolate cookie crumbs.
How Strong is the Girl Scout Cookie?
Oddly enough, despite the fact that these recipes include different liqueurs and are prepared as either a shot or mixed drink, they all have about the same amount of alcohol.
As you might expect,  those that include vodka are slightly stronger but it's not that significant. Notice that the layered shot is the strongest. That is because there is no ice to dilute the drink.
Shaken Girl Scout Cookie: 13% ABV (26 proof)
Dirty Girl Scout: 15% ABV (30 proof)
Chocolate Girl Scout Cookie: 15% ABV (30 proof)
After Five Shooter: 17 % ABV (34 proof)
Frozen Girl Scout Cookie: 8% ABV (16 proof)
To estimate the alcohol content of these drinks, I chose the lowest proof or most popular liqueurs for each. That includes a 30-proof Irish cream and peppermint schnapps, 40 proof coffee liqueur and a 34 proof chocolate liqueur.