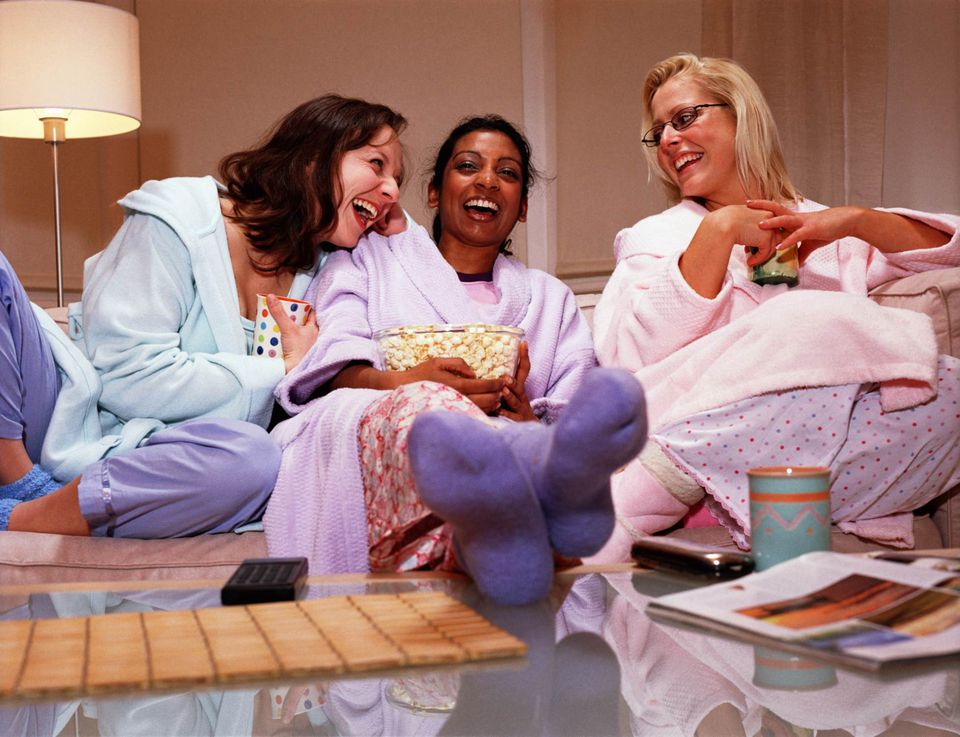 If the last time you had a girls' night in was for your sixth grade slumber party, you're long overdue for an updated memory. Put the kids to bed and invite your girlfriends over with the top girls' night in ideas to let off some steam and get a much-needed recharge. No frozen bras required.
Spa Night
The bags under our eyes are cruel reminders of how little time we have to indulge ourselves. Have the ladies come to your house for some much-needed mom pampering in their bathrobes.
Give each other facials, manicures and pedicures.
Chick Flick Marathon
Who else is going to sit through those chick flicks with you? Break out the tissues for your girlfriends and dim the lights. Spend the evening watching movies with people who appreciate the power of a love story and a good cry.
Retro Night
Dig into the closet for your Walkman and neon leg warmers. The 80s are a "totally awesome" theme night to have with your girlfriends. Center your entire Girls' Night In around the hair, clothes, movies and music of the 80s.
Book Club
Bring out the bookworms in your friends. Hold a book club meeting for an engaging evening with your girls. Have girlfriends that didn't read the book? Invite them over for free food so they can get out of the house too.
Swap Stuff
You swap the kids' clothes and toys with your mom friends. Get new-to-you stuff for yourself as well. Clothes. CDs. Books. Lame gifts.
Plan an entire night around swapping items you already have at home. You unload stuff you're not using anymore and get to bring home new goodies for yourself.
Game Night
Ditch Chutes and Ladders for one evening. Host a game night with girlfriend favorites Bunco, Uno or What's a Dame to Do. Add some competition to the evening with a tournament that gives the top three players inexpensive prizes.
Fondue Fun
There's a reason fondue has been popular since 8-tracks were cool. Countless friendships have been formed over the melting pot. Choose cheese, chocolate or both for a fun night with fondue. Counting calories over fondue is a fonDON'T.
Cook Together
You're the star of Mom's Cooking Network and your friends are today's guests. Everyone helps you prepare your favorite meal, which all of you eat when it's ready. You get extra hands in the kitchen and your girlfriends get to learn a new recipe.
Craft Night
Your friends have hidden talents. Some know how to knit. Some are masters at scrapbooking. Focus on one craft for your Girls' Night In with the more experienced helping out those who want to try a new hobby. Alternate craft nights so teachers get to become students at the next get-together.
Tasting Party
Ask everyone to bring mini portions of their favorite dish and host a tasting party. Would you rather kick the fun up a notch? Host a wine tasting party. Pick your party theme, ask everyone to bring their favorite bottle of wine over and pop the cork for an evening of fun. You can even make it a slumber party to make sure you don't have to worry about your gal pals driving home.
Hire a Pro
Tell the girls to put on their sweats and come over for a night learning from a professional.
Everyone chips in to hire an instructor who will teach the group a certain skill. You can go for a light-hearted lesson on belly dancing or a more serious lesson on self-defense.
Plan Your Next Girls' Night
You'll quickly become addicted to girls' night so try this bonus tip. Start planning your next girls' night.
From the food to the entertainment, hosting at your house or taking your rendezvous out on the town, use this guide to plan the perfect girls' night for you and your friends. You can even use one of your girls' night in events to start planning for the next outing. Have everyone bring their ideas for a group decision or get adventurous and have your friends write their suggestions on a piece of paper so you can randomly draw one out. Have fun!