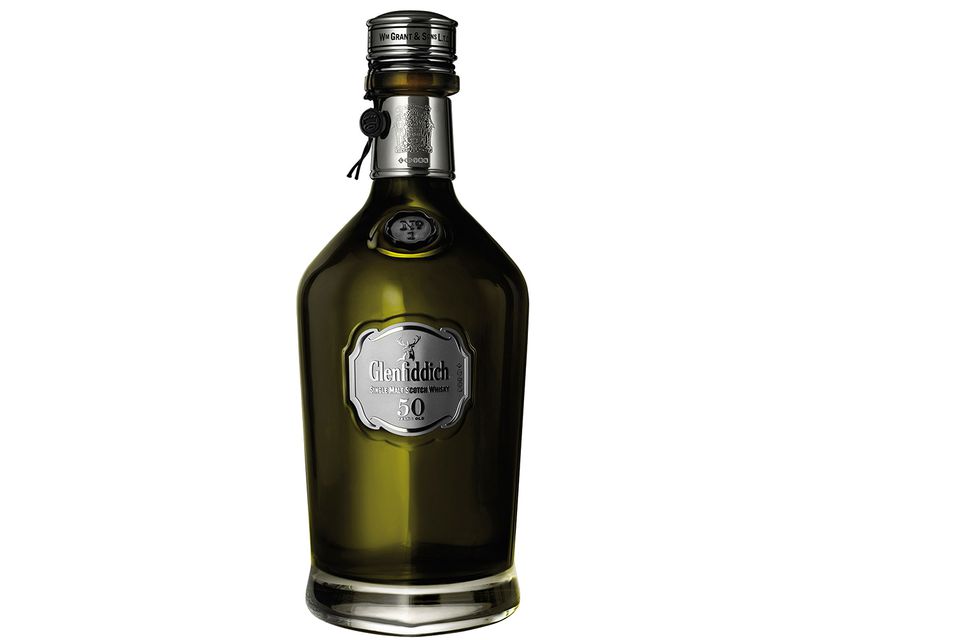 Glenfiddich is the #1 selling single malt Scotch whisky in the world (#2 in the United States), and their most luxurious marque of the brand is the extremely rare Glenfiddich 50 Year Old.
A handful of Glenfiddich 50 bottles can be found at fine hotels in the U.S. and they are difficult to locate. When they are found, it is hard to resist splurging on what might possibly be the most expensive Scotch sipper of your life.
Full retail bottles can also be found online and as of the 2015 update of this article, The Whisky Exchange had one listed at £17,500 (about $27,000 USD) which almost seems like a bargain.
Rare and very old Scotch whisky is a true luxury and one that should be taken advantage of whenever the opportunity arises (and you can afford it).
Review of Glenfiddich 50 Year Old
Glenfiddich 50YO is a combination of two casks distilled in the 1950s. One is a 1955 whisky aged in a second fill European oak cask, the other a 1957 whisky aged in a second fill American oak cask. These two whiskies are then married together for an additional six months to allow the flavors to blend.
Nose
Glenfiddich 50 Year Old is a rich, golden amber hued dram. On the nose, ripe fruit is abundant with pears and peaches clearly coming to the forefront.
This whisky is surprisingly delicate and vibrant after 50 years, not over-oaked or syrupy as might be expected.
Rose petals, cinnamon sticks and an herbal note also come out as the whisky opens up and there is just the slightest hint of smoke too.
Body and Palate
The body of Glenfiddich 50 is simply perfect. Full-bodied, with beautiful legs that leave perfect marks down the side of the glass, this is truly a special whisky.
On the palate, a veritable cornucopia of wonders emerges. Exotic fruit notes of passion fruit, pineapple and apricot appear, while other interesting flavors reminiscent of saddle soap, campfire embers, aged Gouda, toffee, vintage leather, pipe tobacco and orange marmalade make various appearances before a light, bitter herb note appears as if to cleanse the palate before the finish.
Finish
I have quite simply never tasted a whisky that has a finish as long and as pleasant as Glenfiddich 50. It is big and dry and, interestingly enough, it made my mouth dry out and then water again as if in anticipation of the next flavors to emerge. 
There is a wonderful, almost beeswax quality to this whisky that coats the mouth and tongue on the finish while a potpourri of flavors emerge. Dried apple, English lavender, violet petals, tea spice, pine needles and Malabar cinnamon notes all make appearances on the finish.
Final Thoughts
Simply put, Glenfiddich 50 is the most impressive single malt I've ever had the pleasure to taste. If you ever get the opportunity to taste this rarest of malts, don't pass it up.
About Glenfiddich 50 Year Old Single Malt Scotch Whisky
Very rare Speyside single malt Scotch whisky aged for 50 years.
Only 50 bottles are released each year.
Produced by William Gran & Sons Ltd at The Glenfiddich Distillery, Dufftown, Banffshire, Scotland
46.1% alcohol/volume (92.2 proof)
Retails for around $26,000-38,000/700ml bottle
Originally Published: June 28, 2011
Edited by Colleen Graham: October 8, 2015
Disclosure: Review samples were provided by the manufacturer. For more information, please see our Ethics Policy.