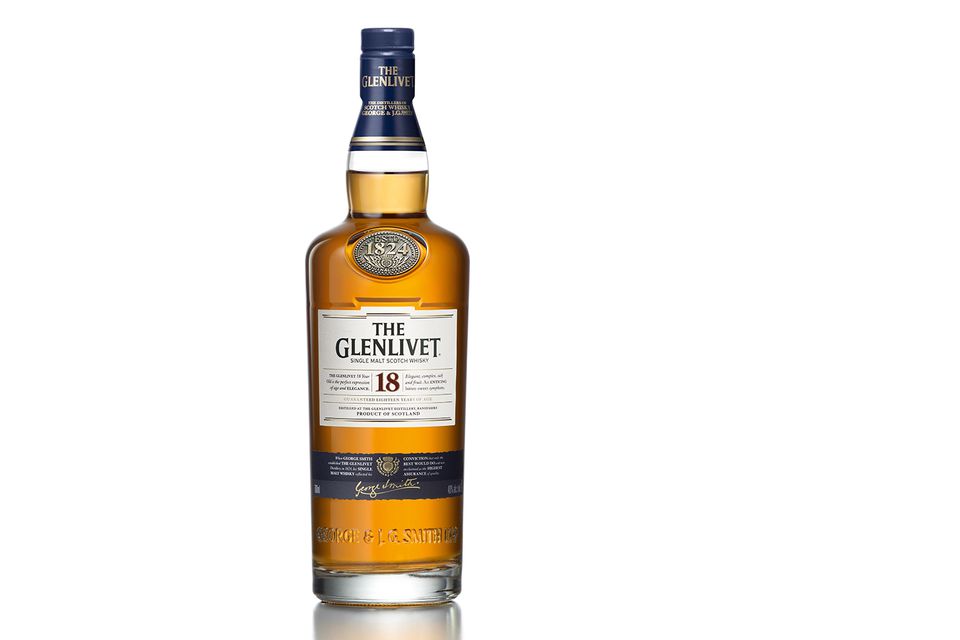 The Glenlivet is one of the most famous Scotch whisky distillers in the world and it is also one of the largest. They offer a range of whiskeys from their Speyside distillery to please all palates and the portfolio includes many classic expressions as well as a number of special offerings.
The Glenlivet 18-Year-Old is one of those flagships of the brand and it comes highly recommended to enthusiasts and amateurs alike.
Making The Glenlivet 18 Year Old
This expression from The Glenlivet is one of the most popular and awarded among the brand's portfolio. It is a smooth sipping whiskey that is created by Master Distiller, Alan Winchester.
This single malt whisky is created using a mix of the distillery's famous whiskies, each aged for at least 18 years. The selection is made from American oak and European oak and includes both first and second fill barrels.
The first fill American oak adds fruitiness to the whiskey and gives it that signature Glenlivet profile that connoisseurs have come to know and love. The European oak imparts hints of spice to round out the whiskey's finished profile.
Tasting Notes
On the nose, Glenlivet 18 offers a bouquet full of green apple notes, confectioners sugar, cinnamon graham crackers and vanilla caramels. If you enjoy a fruity aroma in your drams, this is a great selection.
Glenlivet 18 has a medium body, coating the mouth slightly as you drink it.
On the palate, wood notes commingle with cinnamon flavors, which give way to warm honeyed notes, apricot, vanilla custard and burnt caramels.
This dram offers a medium length finish, perfect for drinking as an aperitif before a meal or paired with fruit and cheese for dessert. Hazelnut and almond notes abound, before giving way to dried apricot, summer peach and tea spice notes.
A very pleasant finish indeed.
About The Glenlivet 18 Year Old Single Malt Scotch Whisky
Single malt Scotch whiskey selected from whiskeys rested in European and American oak casks for a minimum of 18 years.
Produced by The Glenlivet Distillery in Banffshire, Scotland
Retails for around $95/750ml bottle
Originally Published: June 1, 2010
Edited by Colleen Graham: October 16, 2015
Disclosure: Review samples were provided by the manufacturer. For more information, please see our Ethics Policy.