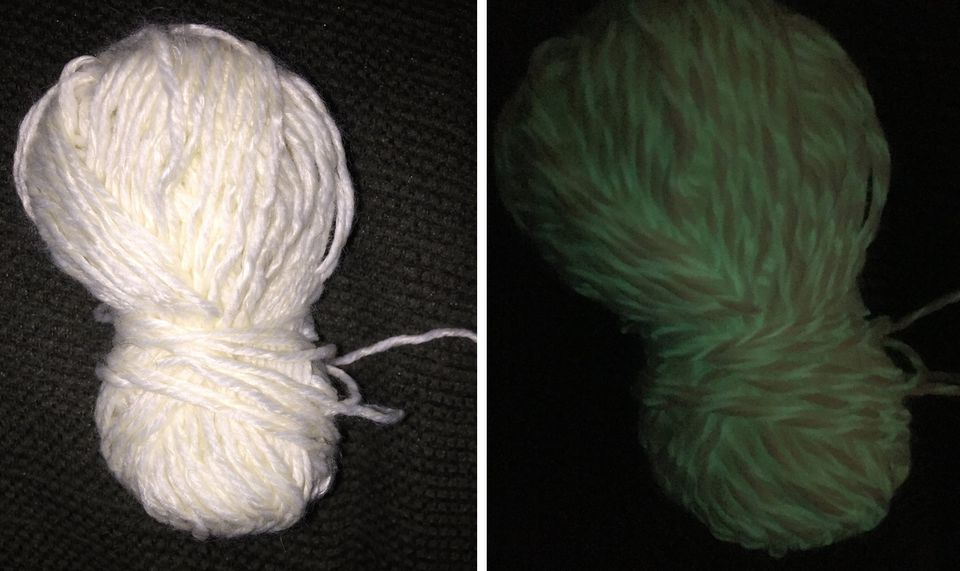 Glow in the dark yarn is a fun product that several yarn companies have made available at some point.
It's popular at Halloween, of course, but there are other times when you might want a reflective or glow in the dark yarn to use in projects, such as headbands or earwarmers worn by runners, or children's clothing that might be worn in the darker winter months.
I was first introduced to glow in the dark yarn in 2008, when Bernat introduced its yarn Glow in the Dark, which has been discontinued.
It worked by putting the yarn under light for five minutes, after which time it would glow for five minutes. (On Ravelry it says up to 20 minutes.)
That's not ideal for safety purposes, but it's still kind of fun. I used it in a little treat bag for a bit of novelty.
Other Options for Glow in the Dark Yarn
As of this writing (fall 2015) there are some other options available if you would like to buy a glow in the dark yarn for use in knitting projects.
Gert's Glow House sells glow in the dark 4-ply (fingering weight) in 120-yard skeins for $9.99. The product description says the glow fades "over time" but not how long it keeps glowing.
Etsy seller Weird & Twisted makes art yarns that sometimes include glow in the dark materials. You can request a special blend from them for a unique project.
Red Heart has a bulky yarn called Reflective, which does not exactly glow in the dark but it does reflect light in the dark, which is fun for photos and a good safety feature.
You can also try making your own glow in the dark yarn thanks to these instructions from HodgePodge Crochet. This is actually super brilliant and cheap.
About Bernat Glow in the Dark
Should you happen to find this yarn available somewhere, here's the vital statistics:
Content: 70 percent acrylic, 30 percent polyester
Yarn Weight: Medium
Gauge: Ball band says 18 stitches and 24 rows per 4 inches on size 8 needles; I got 20 stitches and 24 rows on size 6 US needles
Yardage: 72 yards per 40 gram skein
Color Availability: Six pastel colors spun with white glow in the dark thread
Color Used in Swatch: Glow Worm White
Berroco Glow in the Dark is easy to knit with, though somewhat splitty. It has a very acrylic feel, sort of stiff and slippery. A whole garment knit from this would be rather uncomfortable, but it would be great to use as a bit of fun accent in all sorts of projects.
The drape is similar to other acrylic yarns, and it's machine washable so you can combine it with any other easy care yarn with good effect.
It curls a decent amount in Stockinette Stitch, and it really does glow in the dark (and even semi-dark). It would probably look cool under a blacklight, too.
This yarn (or any other glow in the dark yarn) would be fun as an accent to Halloween costumes, however, especially if you're going to an indoor party where the lights can be turned out, or even visiting a haunted house.
It could also be used to add a bit of fun to non-spooky accessories such as gloves, hats, headbands and scarves. Just a bit of the yarn can bring a fun glow to coming home after dark.