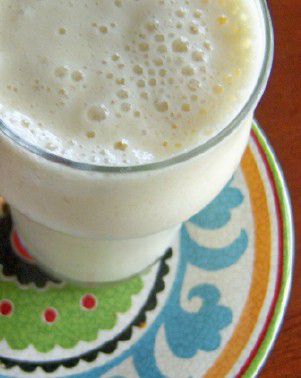 Kids love this creamy, delicious high protein "banilla" smoothie. There's a lot of nutritional value in this 5-minute busy morning gluten- and dairy-free smoothie. Use a frozen banana for extra creamy texture.
2 cups unsweetened dairy free milk substitute - (Use your favorite. Mine is light coconut milk.)
2 ounces dairy free protein powder (I used Healthy-N-Fit 100% Egg Protein Vanilla Ice Cream Flavor)
1 peeled and sliced medium frozen banana
1 teaspoon vanilla extract
Dash of nutmeg (optional)
Pour 2 cups of chilled rice milk in a blender.
Add egg white protein powder, frozen banana slices, and vanilla
Blend on high until smooth and creamy.
Serve garnished with a dash of nutmeg (optional).
Reminder: Always make sure your work surfaces, utensils, pans, and tools are free of gluten. Always read product labels. Manufacturers can change product formulations without notice. When in doubt, do not buy or use a product before contacting the manufacturer for verification that the product is free of gluten.