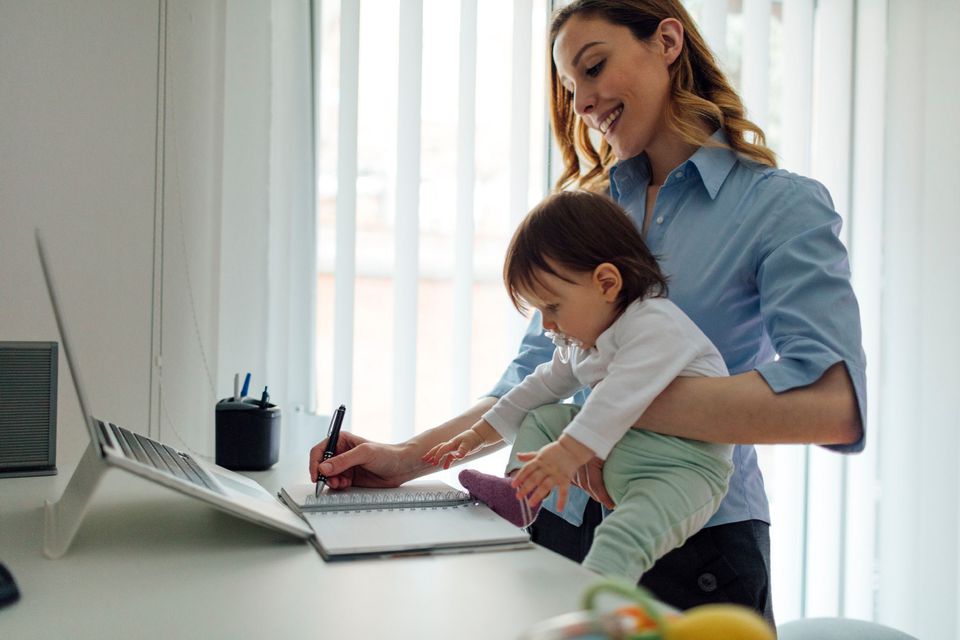 We're so busy doing everything on a daily basis that we often lose sight of the big picture. Take the time now and you can get more accomplished in the next year than you thought possible. Just pick one or more of these top goals for moms to make each year.
Set Health Goals
Make this the year the whole family improves their health. Set health goals that include the time your children play sports. But also be sure to plan for your own health goals.
Take walks with your family. Play football in the backyard. Cook a healthy meal with your kids. 

Change your activities each week or base them on the weather outdoors but set health goals that include a certain amount of time each week that you and your family focus on healthy activities you can do as a group.
Set Financial Goals
Stretching your family's paycheck is a challenge for any family. Sit down and set a family budget to not only track all of your income and expenses but to set short- and long-term financial goals.
If you're a stay-at-home mom, know that living off one income is hard enough for single people. Add kids and pinching those pennies to keep money in your wallet may seem like an impossible challenge. Even if you have more than one income, you should be setting financial goals that let you see exactly where your money is going. By watching your income and expenses, you'll be better able to plan for the activities that cost money like sports, vacations and also those unexpected car repairs from being your children's personal taxi.
You may even start saving money, which would be a nice change, no pun intended.
Make Organizational Plans
You can't ever find your keys. You've got 100 places to be in a week. Your house is a mess. You're always forgetting important meetings at school. You need a system.

Get organized and take off some of that pressure that's been mounting.
When you make organizational plans, you'll set a footprint that you can follow any time of the year, whether you're packing away the winter sweaters, cleaning the house for the holidays or writing out a family schedule. Getting organized takes time and it's a habit you can get into now that will soon become a natural way of life. You won't be hunting down those keys when you're in a rush or searching for your summertime sandals. No more being late to meetings or crisscrossing the city to get your kids where they need to be.
Set Relationship Goals
As moms, we tend to put all of our energy into the kids and that doesn't leave much time for anyone else. It's a good time to change that.

Set relationship goals that concentrate on keeping you connected with your friends, spouse and other family members. Be the one who plans a girls' night with your gal pals once a month. Ask your spouse out on a date and find an affordable sitter for the kids. Nurture your relationships with family members by visiting more often, chatting on the phone or sending a handwritten letter. Strengthen those bonds between you and your favorite people. It's easy to neglect those relationships when you're busy raising kids but making these relationships a priority is good for your soul.
Set Downtime Goals
Yes, your goals for the next year should include downtime for your family. We're usually on the go, to the point that one parent takes one child to a soccer game and the other parent takes the other child to a baseball game at the same time. Our schedules are conflicting and we're pulled in so many different directions we're not truly spending quality time together as a family.

Set downtime goals for your family and stop overscheduling your kids. Those downtime goals don't have to be planned out as if they're an event. Simply budget time in your schedule for downtime where all of you are together at least once a week for a set amount of time. Have a tea party. Plan the family meals together. Play board games. It doesn't matter what that activity is each week but the outside world needs to go away for that time where it's just you, your spouse and the kids enjoying time together.
Set Vacation Goals
You may already have a destination in mind for your family getaway this year. Or you may thinking this may not be the year you get to go anywhere. Set vacation goals to explore your possibilities.
 
Make a list of your family vacation possibilities and the money it will take to get you to that goal. Compare your family budget you've already set next to your vacation goals. This will help you prioritize your vacation ideas and also help you re-adjust your budget where possible. Setting these goals ahead of time gives you plenty of time to save up for your vacation and choose the right destination that's in line with your financial goals for the year.
Set Academic Goals
Moms tend to understand their children's academic strengths and weaknesses even before the grades come in. Set academic goals to help your child improve grades, increase confidence and instill a love of learning with some solid academic goals. Work with your child's teachers and plan times at home that you can work with your child individually.    

Don't forget yourself either. Is there a class you would like to take? From courses at the local college to writing workshops online, set your own academic goals. Whether for fun or to keep your skills sharp for when you return to work, your academic goals are important too. Don't put them off.
Re-Evaluate Electronics Time
If you were to gauge how much time your family spent on their electronics playing games, looking at social media and checking text messages, you would probably be astonished.

Re-evaluate your family's electronics time to set goals that include time when everyone can be on and when everyone has to be off. Create gadget-free zones so that everyone can re-focus on being together, not distracted by what that little electronic box has on it.
Plan to Join Groups
You've got soccer, baseball, ballet, gymnastics and choir on your list of things for your kids to do within the next year. Take a hard look and set some new goals that include joining new groups.
From youth leadership groups like 4-H and scouts to special interest groups, such as a chess or sewing club, getting involved in new opportunities can expand your child's outlook. 

Once again, don't forget yourself. Think of your own interests or something new you would like to explore. More than likely, there's a group for that. You should join.
Make Stress Relief Plans
The best has been saved for last because it's one of the most important notes to leave you on. As you sit down to set your goals for the year, you need to make stress relief plans for yourself too.

Having that "me" time is just as important as spending time with your kids, your spouse and your friends. Don't neglect the time you need for yourself to recharge and refresh. Set up a plan that includes your goals to accomplish for yourself this year, whether it's reading a certain amount of books or starting your own business. You need time for you that lets you set your sights on what you want to do for yourself. You're a mom, absolutely. But you're also an individual with your own interests and ideas.

Try to include at least 30 minutes per day of time that it's just you alone doing what you want to do for yourself. Write a list of what you want to do in the next year and work on marking off every box on that list. You'll be surprised at what all you can get done in just 30 minutes per day. So go ahead and take that bubble bath, work on that novel, get in shape, flesh out those ideas for your next money-making adventure. You'll have a renewed spirit, positive attitude and be better able to take care of your family because of it.