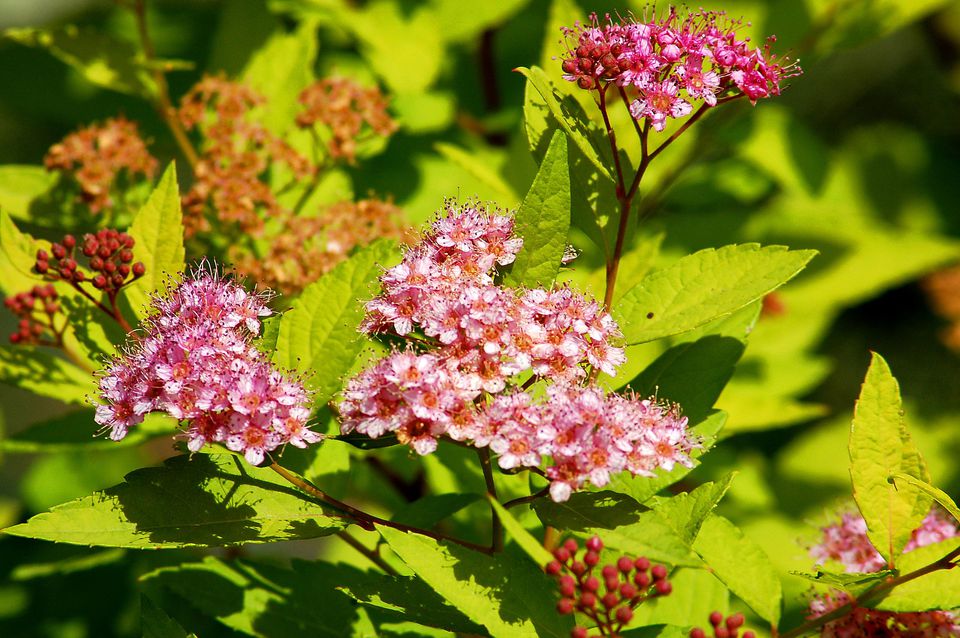 Plant Taxonomy of Gold Mound Spirea:
The taxonomy of Gold Mound spirea is Spiraea japonica 'Gold Mound.' The latter is the cultivar name, which is a propos on two levels: the color of the leaves and the shape or "habit" of the bush (see below).
Plant Type:
Gold Mound spirea is a deciduous flowering shrub. The genus is part of the rose family.
The plant is a hybrid. For this reason, an alternate scientific name for the plant is Spiraea x 'Gold Mound.'
Characteristics:
This bush produces pink flowers clustered together in flat-topped flower heads (as on yarrow plants, for example). Plants bloom in June in my zone 5 garden. These bushes attain a height of about 3 feet tall with a slightly greater spread. The habit is mounding.
One grows Gold Mound spirea bush for its leaves, not its flowers. And folks grow it in great numbers, so if you're the type who doesn't wish to plant what your neighbors are growing, it may not be an optimal selection for you. According to Ohio State University, 'Goldflame' spirea, 'Crimson Pygmy' barberry and this bush "are the three most common deciduous shrubs of small stature in landscapes of the Eastern and Midwestern United States."
I like my Gold Mound spirea's foliage best at two times of the year, one in spring, the other in fall. In April I marvel at the bright golden color of the new leaves. Later, the color changes to chartreuse, which I find less exciting.
But then the bush makes a comeback with its fall foliage in October, which is a yellow tinged with red.
Planting Zones for Gold Mound Spirea:
Gold Mound spirea bushes are suited to planting zones 4-8. Mulch for winter protection if you wish to grow them near the northern limits of that range, just to be on the safe side.
Sun and Soil Requirements:
Grows best in full sun and in a well-drained soil, although it tolerates clayey soils better than some shrubs. Amend the soil with compost as needed.
Uses for Gold Mound Spirea in Landscaping:
Because of the striking color of its leaves, Gold Mound spirea is more suitable for use as a specimen plant than is the cultivar 'Neon Flash,' the latter bearing foliage that's nothing out of the ordinary. Other possible uses include as foundation shrubs and as hedge plants.
Do These Bushes Attract Wildlife?:
Yes. They are fine plants to attract butterflies.
Care for Gold Mound Spirea:
Deadhead Gold Mound spirea bushes after they're done blooming. This will foster some reblooming as the growing season progress. The easiest way to deadhead in this case is by shearing. In addition to accomplishing the removal of spent flowers, shearing will help you keep the shrub compact and generate new leaves (the newest leaves being the most most colorful ones on this plant).
Pruning full branches is usually only necessary to get rid of suckers (if so desired) or to rejuvenate an old bush. You can also prune branches to keep the bush extra-compact if you are landscaping in a small space. If you do decide to prune, you can do so in late winter to early spring without fear of losing your spring flowers, since this plant blooms on new wood.
Not all bushes respond well to rejuvenation pruning (i.e., a drastic pruning to reinvigorate an old shrub), but spirea is one that does. Prune in late winter or early spring to rejuvenate an old Gold Mound spirea.
Outstanding Feature:
The cultivar name was chosen with this bush's most outstanding feature in mind: its golden leaves. There are also evergreen shrubs with golden foliage. Add to these choices the vine, golden hops, and you can see that the plant world is eager to oblige you in your quest for a landscape that glitters.
Even on overcast days, plants with golden leaves will brighten up your landscaping. It's also fun to combine them with plants of various other colors. For example, you can juxtapose them with plants that have dark flowers (so-called "black flowers") or leaves. They also look good combined with blue flowers.
Cultivar Name Confusion:
The cultivar name is sometimes spelled as one word: 'Goldmound.' The same confusion (one word or two?) exists over the spelling of the cultivar name for a similar bush mentioned above: thus you will see listings for both Spiraea japonica 'Goldflame' and 'Gold Flame.'
For more shrub ideas, please see the 10 bushes I recommend on my list of shrubs.
Back to: Late Spring Blooming Shrubs