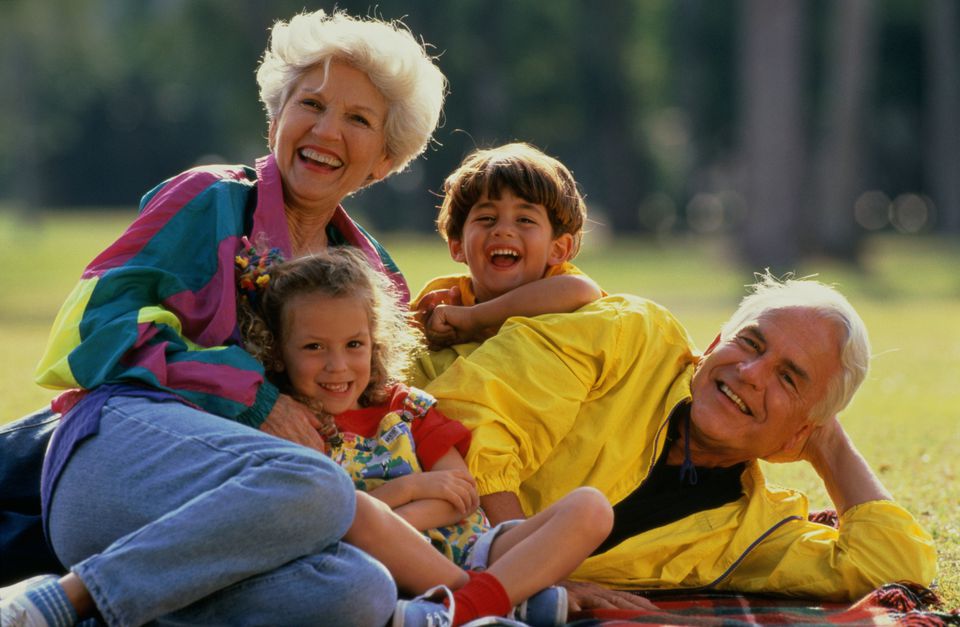 Statistics about grandparents today are hard to come by, so much that marketers eager to sell to them refer to "The Elusive American Grandparent." It's an ever-changing group, with new members being added daily, and, inevitably, others dying daily. The demographics of the grandparent group are broad, including 40-year-olds and centenarians, and embracing all ethnicities and economic classes. It's enough to give a demographer fits.
Facts From the Grandparent Report
For ordinary people, who don't want to sell to grandparents but just want to know about them, the best source of information is the Grandparent Report published by AARP. The most recent version of the report is 2002, so it's a bit outdated already, considering the rapid expansion of the grandparent group. The other problem with the AARP report is that it is based on surveys of AARP members, who are probably not precisely representative of all grandparents. The younger demographic, those below 45, were not represented in the survey at all. Given these deficiencies, however, the AARP report can give us a broad outline of American grandparents today that won't be far off the mark. Here are some of the basics:
About one-third of all adults are grandparents.
The average age of becoming a grandparent is around 47.
The average age of grandparents is around 64.
The average grandparent has six grandchildren.
More than half of grandparents help with grandchildren's educational expenses.
A little less than half of grandparents help with grandchildren's living expenses.
A quarter of grandparents help pay for medical or dental care for their grandchildren.
More than half of all grandparents believe they play a very important role in their grandchildren's lives.
Facts From The Grandparent Economy
A slighter newer report about grandparents was published in 2009. Commissioned by Grandparents.com, The Grandparent Economy focuses on the financial situation and habits of grandparents. Here are some of the findings:
The median age of becoming a grandparent is 50 for women and 54 for men. (Median is different from average; thus the difference between this figure and the one above.)
American grandparents control about one third of the nation's assets.
The majority of grandparents under 65 are still in the work force.
A slight majority (55%) of grandparents who are homeowners no longer have a mortgage.
Americans aged 55-64 (mostly grandparents) have the highest net worth of any age group and were projected to also become the highest earning group by 2010.
Spending by grandparents is estimated at $2 trillion annually.
Grandparents spend about $52 billion yearly on grandchildren, counting gifts and other expenditures.
Infant apparel alone accounts for $3 billion in expenditures by grandparents.
Education is the greatest expense for grandparents, accounting for about $32 billion of grandparents' expenditures.
Grandparents give their grandchildren over $5 billion yearly in stocks and other financial securities.
Facts From the Census Bureau
The Census Bureau conducts possibly the most scientific survey of grandparents, but the bureau is primarily interested in grandparents and grandchildren who live together. The Bureau calls these coresident grandparents. A 2012 report generated by the Census Bureau contains these insights:
About 10% of all children live in a household with a grandparent.
About one-third of those children also have two parents in the home.
Coresident grandparents are more likely to live in poverty than grandparents who do not share a residence with grandchildren.
Coresident grandparents are more likely to be divorced or widowed than grandparents who do not live with grandchildren.
Coresident grandparents are younger and less educated than their counterparts who do not reside with grandchildren.
About 6% of children live in households maintained by grandparents, a percentage which has doubled since 1970.
Among children living with a grandmother with no parent on the premises, almost one-half live in poverty, and three-quarters receive public assistance.
Learn More:
Grandparenting Styles by Generation