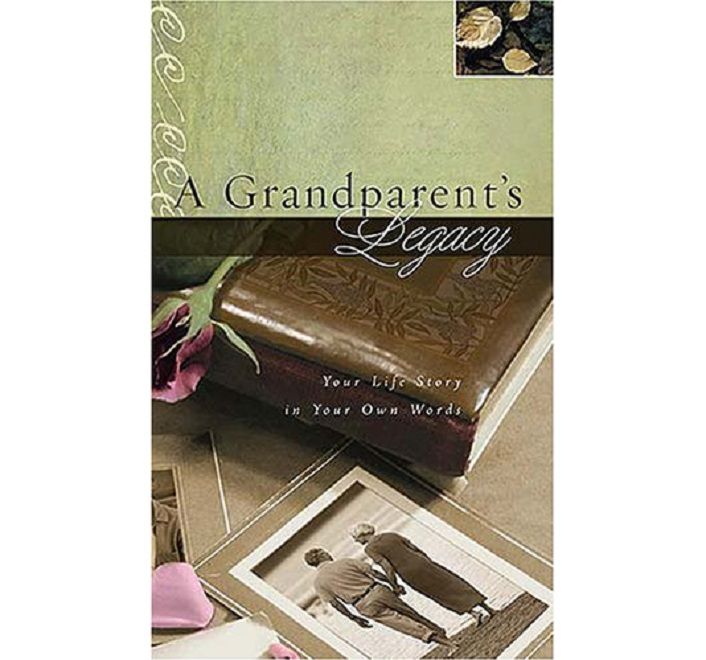 Perhaps you love the idea of creating a grandparent journal for a grandchild, but the task seems overwhelming. You should take a look at A Grandparent's Legacy: Your Life Story in Your Own Words. Each month offers just 12 questions to answer, and you're done until the next month. At the end of a year you'll have a wonderful gift for a grandchild.
Of course, if you're an overachiever, you can work right through, and if you're a dawdler, you can take two years to fill it out.
The important thing is to get started. The first word's the hardest.
How to Use This Book
Don't worry about getting everything written down perfectly. Just jump right in, and soon you'll be creating your grandparent's journal as you answer questions such as the following:
Did you have a collection when you were growing up?
What kind of car did your family drive? Were you proud of it or embarrassed by it?
Describe a memorable Valentine you received.
What are the things you are most glad you tried?
What special talents did you nurture in your own children?
What would you like to see happen in your life in the next twenty years?
The questions in A Grandparent's Legacy cover a wide range of time and topics. Most tend toward the serious.The muted green and brown color scheme is appropriate for a grandfather, which is nice since many of these journals are far too frou-frou for the average grandfather.
The questions are meticulously gender neutral. 
As with most books of this type, there is an assumption that the writer grew up in a traditional household with a mother and father, and there is a slight religious slant. Grandparents can always skip the questions they are not comfortable with. For more guidance in answering questions, check out these tips for completing a grandparent's journal.
If you're not sure whether you want to write about certain episodes of your life, read this advice about how much to share about a painful past.
Pros and Cons
I have mixed feelings about the physical format of the book. The spiral binding does allow for the book to lie very flat, but I'm somewhat concerned that with age and handling the pages may tear out. The paper does, however, appear to be of good quality. In addition -- and this may be a personal bias -- I find books of this shape somewhat difficult to write in. The journal is roughly 6 X 8, a relatively standard size for a journal but one that I've always found cramped. 
One more quibble: the muted palette extends to the lettering, and some lettering is hard to read, especially for older eyes.
There isn't too much room for photographs, which will be a plus for some grandparents and a minus for others. 
I do like the questions. I do like the grandly finned convertible that stretches across the table of contents. And I do like this quotation included from Booth Tarkington: "Cherish all your happy moments: they make a fine cushion for old age."
See full list of grandparent keepsake books. Also consider writing a legacy letter or ethical will for grandchildren.