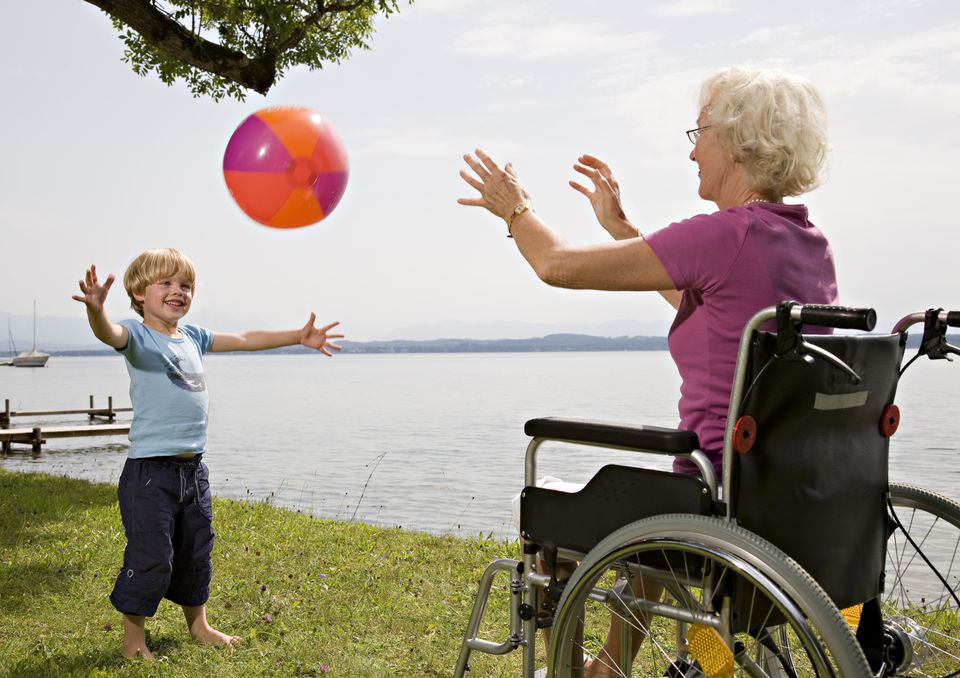 In a perfect world, all grandparents would be fit and strong. In this imperfect world, many grandparents must cope with disabilities that make grandparenting a challenge. Many such grandparents have risen to the challenge, finding many activities that they can enjoy with their grandchildren.
Grandparenting Infants and Toddlers
Generally speaking, the younger the grandchild, the more difficult it is for grandparents with most disabilities to cope.
A squirming baby or a climbing toddler can tax the skills of any grandparent and can even cause injuries. Those difficulties are increased for grandparents with physical limitations, but most find ways to cope.
When his grandson Robbie was just an infant, Bob O'Neill suffered a stroke which left him with limited mobility. Still, he could hold the baby if someone could settle him on O'Neill's "good" right side. When Robbie got a little older, he quickly learned to approach his grandfather on his right side. "He seemed to know without having it explained to him," O'Neill said.
Sylvia Peltier, who suffers from severe rheumatoid arthritis, was also able to hold her grandchildren as infants. She believes contact is important both for grandparents and for grandchildren. "I believe an infant can feel it when someone loves him," she said. When her grandchildren became a little older, they wanted to climb right into her lap, which was sometimes painful, Peltier said, "but there's usually someone around to help the little one up and onto Nanny's lap."
Making the Most of Technology
In this technological age, many grandparents have found computers, tablets and smart phones to be great tools for keeping in touch and also for game-playing. O'Neill and his grandson enjoy computer games, especially educational ones. O'Neill reports that Robbie could use a computer mouse by the time he was four years old.
Grandparents and grandchildren can exchange photos, updates and simple messages via their gadgets, or they can have a virtual visit using Skype or FaceTime. 
Peltier has a software program that allows her to use her computer by speaking into a microphone. Whatever she says into the microphone is typed on the screen. "If I have to be less able than I once was," Peltier said, "I'm glad that I live in the age of such remarkable technology."
Older grandchildren can provide tech help to grandparents, and that can be a great bonding experience.
Creating and Sharing Stories
Storytelling is a traditional activity that has bound grandparents and grandchildren since mankind's earliest days. Telling family stories, especially those dealing with adversity, has been demonstrated to make children confident in their own abilities to succeed. Storytelling is also an activity that most differently abled grandparents can do. 
Grandparents can try creating stories that tap into their grandchildren's interests. O'Neill capitalizes on Robbie's interest in the Justice League by making up original stories that feature the Justice League and incorporate Robbie and his grandfather.
Peltier took storytelling to a new level by actually publishing her stories.
Her stories sprang from a very painful place. Her doctors had given her a limited time to live, and she went to the library in search of books that would help her grandchildren cope with losing her. Not finding anything suitable, she wrote, illustrated and published the first of her two books, Nanny and I. "I believe that we can all find creative ways to speak to our kids," Peltier said. "They are all so smart and they understand if we are honest and explain things on their level."
Being a great listener is a grandparenting skill that most grandparents with disabilities can manage. Shelley Dann, a double amputee, says that the "biggest thing" that she does for her grandchildren is listening to their stories and answering their questions.
Arts, Crafts, Games and More
Grandparents with limited mobility can share their artistic abilities with their grandchildren.
In addition to the usual drawing and coloring, grandparents and grandchildren may enjoy doing paper crafts and making bead jewelry. Peltier suggests painting on rocks or pumpkins. Once she even painted her grandchildren's faces. "They got a real kick out of that!" Peltier said. If you are not artistically gifted, that is okay.
Many other activities can be carried out while sitting down. These include card games and board games. Grandparents can also introduce grandchildren to codes and ciphers;  traditional poems and songs; and old-fashioned brain teasers.
Going Places With Grands
Although some disabled grandparents are home-bound, most have taken advantage of assistive devices to allow them to go places with their grandchildren. O'Neill and his grandson Robbie enjoy using his scooter to travel to a park about a mile from his home. Robbie started riding standing up on his grandpa's scooter at an early age. Now five years old, he can open the garage door and drive the scooter out, with the supervision of his grandmother.
Dann uses her electric wheelchair to travel to the park with her older grandchildren. She also enjoys shopping with her grandchildren. Peltier uses an assortment of assistive devices that includes lifts, wheelchair and a black Labrador retriever named Odie, the subject of her second book. Odie picks up dropped items, turns on lights and pushes elevator buttons.
Taking Trips and Vacations
With assistive devices, many grandparents find travel possible, although it requires careful planning and strategies to minimize fatigue. Hotels, cruise ships and campgrounds have wheelchair accessible facilities. Some disabilities don't require wheelchairs but can still hamper travel.
Harvey Wells' end stage renal disease can curtail travel because it requires dialysis. But one of the joys of Harvey's life is travel in his RV, made possible by a portable dialysis machine. He has taken his two grandsons on cross-country road trips. "We celebrated the Fourth of July in our nation's capital, went to the top of the Empire State Building, visited the Baseball Hall of Fame and went camping in Yellowstone, just to name a few stops," Wells said.
Those were his favorite two vacations, he said.