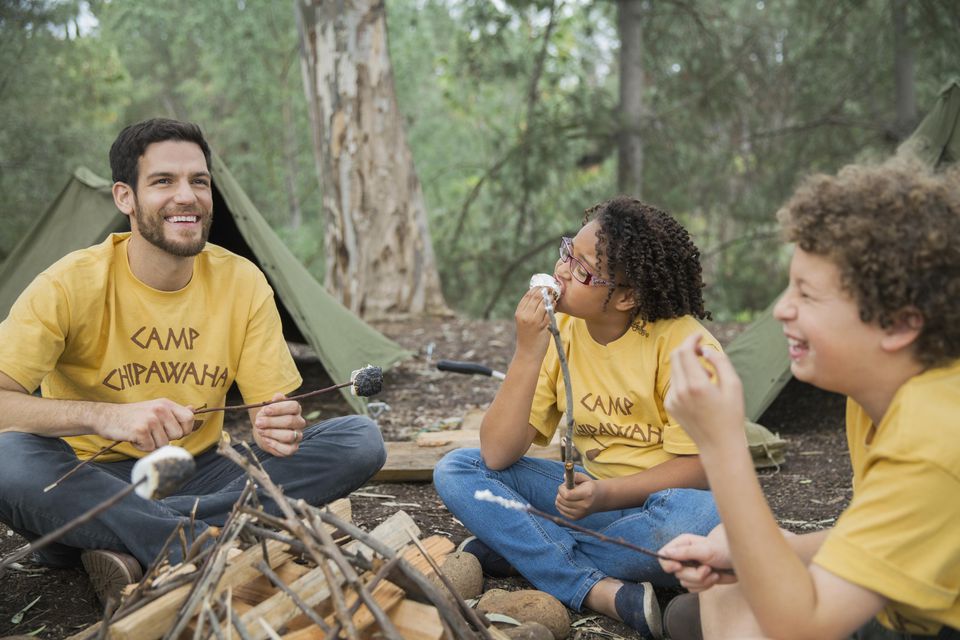 With hundreds of kids' summer camps to choose from, it can take you longer to find the right camp than it will for your child to actually attend the session. Find one of the summer camps you don't want your child to miss this year and make your decision easier with this breakdown of 13 summer camp options for kids of all ages.
Get more help on finding the right kids' summer camps. Read the free Summer Camp Guide.
Academic Camps
Children who prefer to learn during the summer can take part in an academic camp. These camps teach everything from astronomy to veterinary medicine.
Types of academic camps include:
Archaeology
Astronomy
Biology
Business
Chemistry
Computer
Debate
Foreign Language
Gifted
Geology
Journalism
Marine Science
Math
Medicine
Robotics
Science
Veterinary Science
Adventure Camps
Kids can climb rocks, go canoeing or spend time in the wilderness at a general camp but adventure camps are centered around unique expeditions. Rock climbing, canoeing and outdoor activities don't become a couple of hours of fun, they become an entire camp experience.
Types of adventure camps include:
Backpacking
Biking
Canoeing
Caving
Fishing
Marine Biology
Rock Climbing
Sailing
Scuba Diving
Survival
Whitewater Rafting
Arts Camps
The budding artist in your family may be interested in a camp that teaches fine or performing arts. Art camps focus on developing a child's certain artistic talents.
Children may attend workshops, practice for a performance or prepare for an exhibit, all to take the child's love of that particular art to the next level.
Types of arts camps include:
Acting
Art
Dance
Music
Theater
Writing
Family Camps
Can't imagine spending a week away from the kids? Head to family camp. These camps invite your whole family out for traditional wilderness activities or you can expose the family to music and dance camps that teach everyone how to clog, appreciate folk music and square dance.
Many family camps overlap with other types of summer camps on this list with the exception being that everyone in your family attends instead of kids only.
Types of family camps include:
Dance
Special Needs
Sports
Wilderness
General Camps
Most parents who went to summer camp usually think of a general camp when considering programs for their own children. Swimming, arts and crafts and spending time in the great outdoors are some of the many activities offered at general camps. Most take place in the woods and are budget-friendly kids' summer camps.
Religious Camps
Children of a certain religious denomination may enjoy religious camp. Many churches hold Vacation Bible School during the summer, which is usually a day camp. For overnight camps, denominations offer sessions by region. Children from other counties and states go to a camp that's based on their religious beliefs. Kids experience traditional camp activities, such as water play, arts and crafts and sports but there is prayer time, Bible studies and other religious services throughout the session.
Military Camps
Military camp may sound like a boot camp where troubled teens go but that's not the case. Military summer camps teach loyalty, build confidence and give kids the chance to see what life in the military is like.
Campers also get to participate in typical summer camp activities like arts and crafts, paintball, rappelling and more. These camps can be found on military bases as well as other sites.
Scouts Camps
Boys and girls have been attending scouts camps for about 100 years. Some scouting camps allow children who are not scouts to attend for an extra fee. Kids can enjoy horseback riding, swimming, arts and crafts or themed summer sessions such as water fun or wilderness survival. Scouts also work toward earning badges while they're at camp.
Service Organization Camps
Kids involved in service organizations, such as 4-H, Future Farmers of America (FFA) and Kiwanis Kids, can attend camps related to their group. Campers may get to swim, play field games, learn new skills and explore nature. Since service organization members range from elementary school students all the way up to seniors in high school, many of these camp programs are broken up into age-appropriate sessions.
Sports Camps
Name a sport and there's probably a camp for it. Cheerleading, baseball, football and basketball camps are the typical sports camps that come to mind. But sports camps also include surfing, lacrosse and BMX, to name a few. A lot of sports camps have a professional athlete or coach associated with them so children learn from some of the most experienced people in their sport.
Types of sports camps include:
Baseball
Basketball
BMX
Cheerleading
Cross Country
Fencing
Football
Golf
Gymnastics
Hockey
Lacrosse
Rowing
Skating
Skiing
Soccer
Softball
Surfing
Swimming
Tennis
Volleyball
Water Polo
Wrestling
Special Needs Camps
Children with special needs often look forward to camp each year so they can be surrounded by their peers and participate in activities geared just for them. Many of these camps provide a counselor to tend to each child and her specific needs, giving them the individual attention they deserve. These camps usually have a full medical staff on location to distribute the children's medications and treat the kids for any situations that may arise.
Types of special needs camps include:
Asperger's
Asthma
Autism
Burn
Celiac Disease
Crohn's and Colitis
Developmental Disabilities
Diabetes
Epilepsy
Hearing Impaired
HIV and AIDS
Learning Disabilities
Leukemia
Oncology
Physical Disabilities
Speech Impaired
Spina Bifida
Visually Impaired
Technology Camps
You'll find some crossover between art and technology camps. However, technology camps give kids hands-on training in areas such as animation, graphic design and digital photography.
Types of technology camps include:
Animation
Computer Programming
Digital Photography
Film Production
Graphic Design
Video Game Design
Website Design
Theme Camps
Do your kids have dreams of becoming an astronaut? Crime scene investigator? Circus performer? Theme camps make kids' dreams come true, living as everything from secret agents to magicians. But theme camps aren't just about fantasy role playing. Fitness, etiquette and yoga are other types of camps that fall into this category.
Types of theme camps include:
Aviation
Circus
Construction
Cooking
CSI
Engineering
Etiquette
Farm
Fashion
Fitness
Gaming
Magic
Modeling
Secret Agent
Space
Yoga