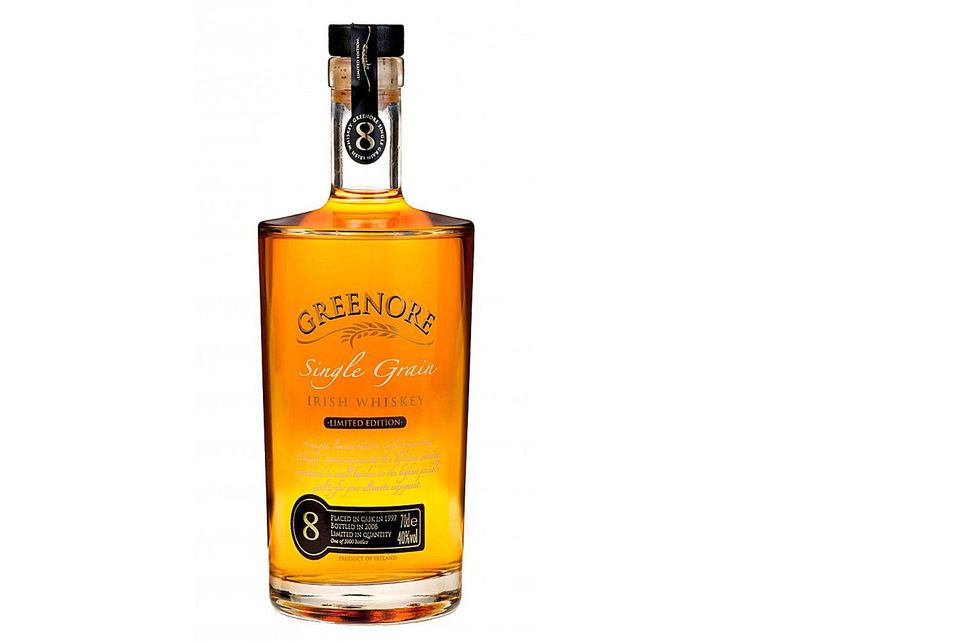 Greenore Single Grain Irish Whiskey is an interesting and unique expression within the world of Irish whiskey. It is a perfect sipping and mixing whiskey with a slightly sweeter profile that can be used to create some fantastic Irish whiskey cocktails.
The Making of Greenore Irish Whiskey
Greenore is produced at the Cooley Distillery, which is now part of the Kilbeggan Distilling Company. Cooley is one of only three distilleries still operating in Ireland and home to many of our favorite brands, including Tyrconnell and Connemara.
It is an esteemed family to hail from, though Greenore still stands out from the lot.
The primary difference between Greenore and other Irish whiskies is that it is distilledprimarily from corn. This whiskey is made up of 93% corn that has been imported from France (corn does not grow well in Ireland's climate). The other 7% of the mash bill is malted barley.
It should also be noted that the name single grain does not refer to just one grain being used to make the whiskey. Greenore uses both corn and barley, so does not fit that definition. Instead,  in the world of describing whiskies, single grain is used to describe whiskey that is made at a single distillery.
Most Irish whiskies include at least a bit of whiskey that has been run through a pot still and this is another area in which Greenore breaks the mold. Greenore is completely produced in a column still, which results in a much lighter and softer distillate.
The whiskey ages for 8 years in first-fill bourbon barrels and is bottled at 40% ABV.
Tasting Notes
The nose offers up aromas of fresh corn and vanilla wafers. On the palate, this whiskey is very bourbon-like, with fresh vanilla and caramel predominating and an undertone of fresh peaches.
It wouldn't be unfair to describe this as an Irish bourbon, given the corn content and bourbon barrel influence.
The finish is quick and light, almost ethereal with light fruit notes.
Final Thoughts
Greenore also comes in a 15 year old expression (untasted). At around $50 a bottle, Greenore isn't cheap, but it is definitely worth exploring in your journey through the world of Irish whiskey. 
It is also said that this bottle of Greenore is essentially the same as Teeling Single Grain Irish Whiskey. The difference is that Teeling is aged in used wine barrels rather than bourbon barrels.
About Greenore Single Grain Irish Whiskey
Single grain, small batch Irish whiskey aged for 8 years in used bourbon casks.
Produced at the Cooley Distillery, part of the Kilbeggan Distilling Company
Retails for around $45/750ml bottle
Originally Published: February 28, 2010
Edited by Colleen Graham: September 17, 2015