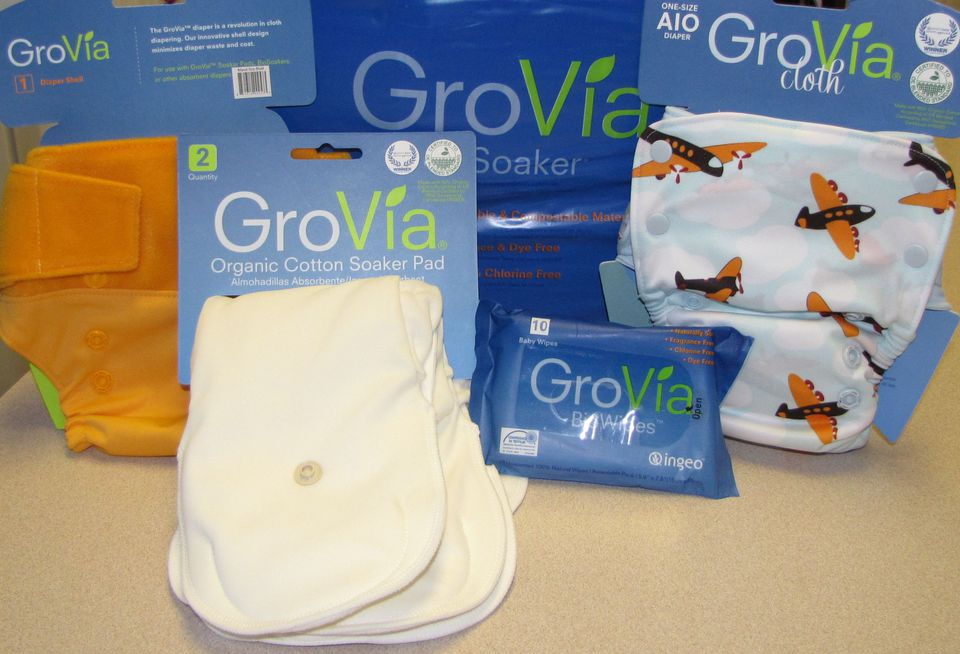 GroVia offers a couple of cloth diapering options for babies that fit any family budget. The all-in-one has a soaker pad sewn in and the Hybrid is a flexible diaper that acts as a cloth diaper or a disposable, depending upon your own preferences. Learn more about GroVia cloth diapers with biodegradable liners in this review and information from a mom who's tried them.
Pros of GroVia Diapers
Available as all-in-ones or as a hybrid with a snap-in insert or disposable liner option.
Durable diapers that stand up to the rigors of daily use, washing and drying
Snaps or Aplix closure options on the hybrid shell system
Cons of GroVia Diapers
Both the inner layer of the all-in-one and the soaker pad of the hybrid stained after baby had a bowel movement.
Moisture is not wicked away like with other diaper systems. The diapers are made with material much like that of a prefold.
GroVia Diaper BioSoakers
The BioSoakers used for the hybrid cloth diapering system are biodegradable. Simply remove the adhesive backing and stick the BioSoaker on to a GroVia hybrid diaper shell.
The adhesive is strong and keeps the BioSoaker in place. After baby uses it, simply remove the soaker pad from the shell and throw it away.
This option makes the GroVia hybrid perfect for use at home or while traveling. When you're at home, use the washable soaker pads.
When you travel, take along a pack of BioSoakers so you can continue to use your shells without needing to search for a washing machine.
More About GroVia Cloth Diapers with Biodegradable Liners
GroVia's cloth diapering options are simple. Choose from an all-in-one that has a liner sewn in or try the GroVia hybrid, which is a shell you can use with washable soaker pads or disposable liners.
Both diaper choices are trim fitting. Baby won't look like a ball of fabric in jeans, which makes GroVia's fit similar to Best Bottom diapers.
Since GroVia doesn't offer a pocket diaper, you won't feel like you're constantly stuffing inserts into a pocket. The soaker pad sewn into the all-in-one and the soaker pad for the GroVia hybrid provide enough absorbency for daytime use. If you need extra absorbency for nighttime use, booster pads can be laid in the diaper on top of your soaker pads.
The hybrid option offers great flexibility for cloth diapering parents because of its ability to serve as a full cloth diaper or part cloth/part disposable without harming the environment. One of the downsides of cloth diapering is that when you travel for more than a couple of days you have to search for a washing machine or risk ruining your diaper stash and running out of diapers while you're on the road. With the hybrid, take your shells and buy a pack of BioSoakers to go with you on your trip.
The adhesive to the BioSoakers is very strong. You will notice a sticky residue is left behind on the diaper shell. This comes out in the wash, though.
If the idea of GroVia's hybrid diaper appeals to you, you'll want to compare it to the gDiapers brand.
gDiapers also offers a shell with the option to use cloth inserts or biodegradable refills. Try one of each brand to see which you prefer before you stock up on one or the other.
There are a couple of disadvantages to using GroVia diapers. When baby wets the soaker pad, moisture is not wicked away like it does when you use a diaper with a microfleece liner.
GroVia's material is much like a prefold in that baby will be wet when it's time for a diaper change. If you're looking for a diaper with a microfleece lining that pulls moisture away, look into the all-in-ones offered by Blueberry Diapers or Rumparooz.
Another disadvantage is staining. The first time baby had a bowel movement in the all-in-one and the GroVia hybrid, the soaker pads stained. My baby isn't on any special medications and only eats pureed baby foods so it was surprising to see the pad stain so easily.
No amount of washing reduced the stain, which was very disappointing. The GroVia website suggests you put your stained diapers out in the sun for about 2 hours to sun bleach the stain away.
While the sun did bleach most of the stains away, it's still tedious to have to lose a diaper from your stash and add one more thing to your to-do list because you're bleaching away a stain outside. I own seven different brands of cloth diapers and GroVia is the only brand that requires this extra attention to get stains out.
GroVia Diapers Wash and Care
Washing your GroVia cloth diapers is not like washing other cloth diapers. Before you use them, you'll need to wash your soaker pads or all-in-ones five to six times in hot water with detergent. The more you wash them, the more absorbent they become.
I wash my GroVia Diapers daily. I dry them on low heat. There haven't been any problems of leakage or the diaper breaking down due to being used so often and dried in the dryer.
The official washing instructions ask you to wash the diapers every two days in warm water. Tumble dry the soaker pads and all-in-ones. Line dry the diaper shells.
Tips for Buying GroVia Diapers
You can buy GroVia diapers directly from the manufacturer's website. Also check the website for a list of authorized retailers. Many only have online stores but offer free shipping, clearance items and special sales.
Comparison shop between several sites. Sometimes Amazon.com has the best deal on a certain color. Sometimes one of the online only retailers listed on the manufacturer's website has a better deal. The savings can be a few dollars or more.
Buy one GroVia diaper to try before committing to more. If this diaper isn't for you, you won't have to deal with the hassle of returning more than one.
Disclosure: Review samples were provided by the manufacturer. For more information, please see our Ethics Policy.