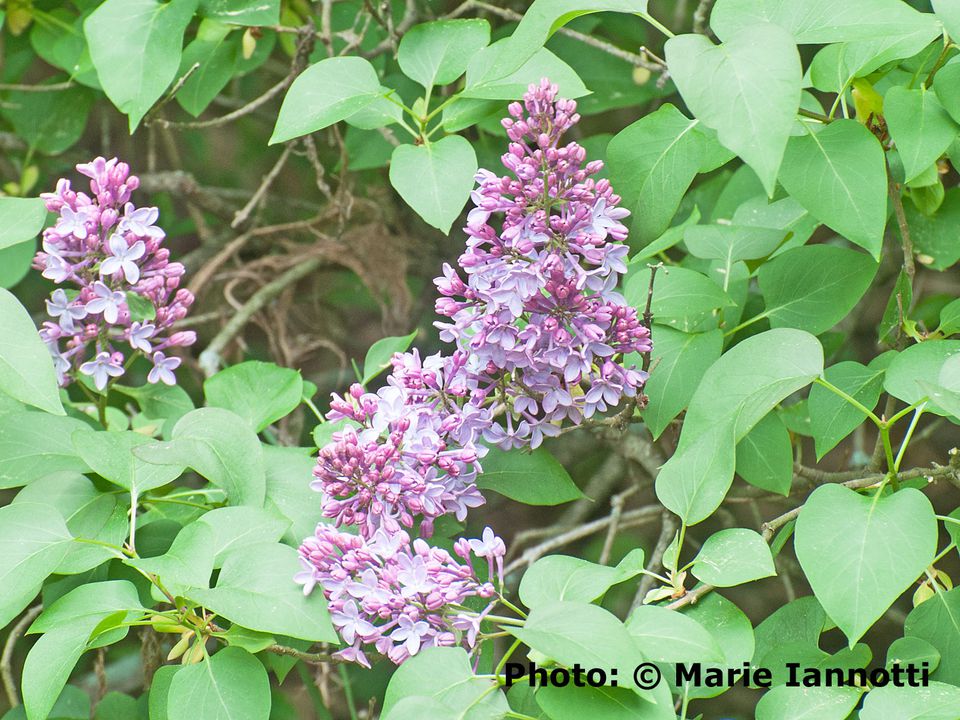 Latin Name:
Syringa
Common Name:
Lilac
Overview:
Certain flowers define each season and the scent of lilacs certainly tells you that spring is here in full force. These woody shrubs with long panicles of heavily scented flowers can live for years. Although the common lilac needs a winter chill period to set flowers, newer varieties of lilacs are showing promise in warmer climates. If you can give lilacs a try, the old-fashioned scent is well worth it.
Description:
The 20 or so species of lilacs can be shrubs or small trees, often found in woodlands and scrub. The most familiar lilac, Syringa vulgaris, the common lilac or French lilac, is a woody, spreading shrub.
Hardienss Zones:
USDA Hardiness Zones 3 - 7. There are some newer varieties that stretch the boundries.
Sun Exposure:
Mature Size:
8 - 12' (h) x 8 - 12'(w)
Bloom Period:
Mid-spring
Suggested Varieties:
You'll find many wonderful hybrids of Syringa vulgaris. There are also other varieties of lilacs that make great additions to the landscape.
Syringa meyeri 'Palibin' (Dwarf Korean) - Tops out at about 5'.
Descanso hybrids - Develped in California, for mild winter climates.
Syringa reticulata 'Ivory Silk' - White flowers and a possible height of 30'.
Bloomerang® Reblooming Lilac - Blooms in spring and again in the fall.
Design Suggestions:
Plant your lilacs near a window or seating area, so you don't miss the delectable fragrance.
Lilacs make a great privacy hedge, although they are deciduous. If you have a large, wide border, a specimen lilac makes a wonderful spring opener.
Growing Tips:
Soil: Lilacs like a neutral to slightly alkaline soil, about a 6.5 - 7.5 soil pH. Well draining soil is a must. In areas with heavy soil, planting on a hillside may help.
Planting: Allow plenty of room for your lilac to spread out. If you're planting a hedge, space the plants about 6' apart.
Be patient. It can take up to five years for a new lilac plant to start flowering. Full sun will help move things along.
Maintenance:
Keep new plants well watered the first year. Once established, lilacs are very drought tolerant.
Don't over feed lilacs. If the soil is rich, they won't need any food at all. If the soil is on the lean side, an early spring dose of fertilizer for flowering shrubs will keep them blooming.
Lilacs set next year's flower buds shortly after this year's flowers fade. If you are going to deadhead, do it early.
The most labor intensive maintenance of lilacs is keeping them pruned. You can prune to keep their size in check, but you'll also want to do some regular pruning out of older wood, so that the shrub is always producing new wood to bloom on. Fortunately lilacs can handle even severe pruning, so if you have an old, overgrown lilac, there's still hope to prune it back into shape. More on pruning lilacs.
Lilacs can have a tendency to sucker. If you want more lilacs, simply severe the sucker from the main plant and move the lilac where you want it.
If you don't want more lilacs, cut or mow the suckers early.
Pests & Problems:
Insects are rarely a problem on lilacs. Four-footed pests are more likely, especially with young bushes. Voles and mice are tempted to chew on the bark. Keep mulch away from the base of the trunk and cover or screen around the trunk the first few seasons.
Powdery mildew is common on lilacs, especially in humid and wet summers.
Oystershell scale can attach to the trunk and branches. Horticultural oil will help, if caught early.
There is also a lilac borer. The borer prefers older wood, so regular pruning will keep them at bay.
Leaf miners can make the leaves unsightly, but they won't do serious harm.