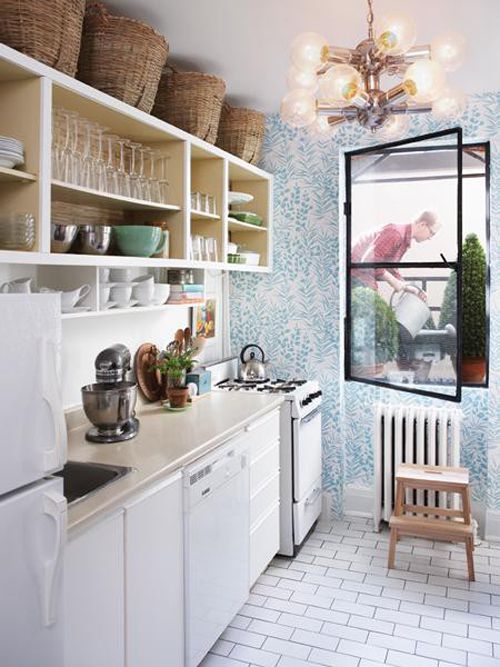 After several failed attempts at healthy meal planning, I finally contacted a professional (health coach Ryan McGinn Allen, founder of the Kitchen Cupboard Coach), for some tips on a program I could stick to for the long haul.
Turns out, I was going about the process all wrong. Burying myself under a myriad of cookbooks, magazine recipes and newspaper clippings, I tried to plan 7-30 days out -- I was being overly ambitious and setting myself up for the inevitable frustration that comes with predicting what would taste good more than 5 days out.
Ryan shared some tips to help me meal plan, and stock a fresher pantry at the same time. Read on.
1. Keep it flexible.
Planning 7 or even 30 days out gave me a great sense of control and accomplishment but it wasn't reasonable. What if I decided I didn't want pasta on Wednesday? Did I stick to my meal plan regardless of my taste buds?
Actions:
McGinn Allen: "I think one of the keys to healthy and mindful eating is allowing yourself to eat what tastes good to you. The tricky part is that it's hard to predict on Saturday what's going to satisfy you on Tuesday. For that reason, I plan meals but always try to leave room for flexibility. And,
Before food shopping, I make a menu for the next three nights, do a quick basics inventory (which I track on a fridge list) and add a few things here and there. Since we eat a lot of fruits and veggies, I always plan on a mid-week produce fill-in trip. This extra trip and second mid-week menu plan allows for flexibility and keeps the fridge from being overstocked with rotting veggies."
2. Stock the basics.
Are there ingredients you use over and over again? A quick pantry check should tell you the amounts you have on hand. There's nothing more annoying than arriving home from the grocery store and finding you don't have that jar of spicy mustard needed for the planned meal.
Action:
McGinn Allen: "Make sure those basics are stocked and utilized. McGinn Allen's "must have" list includes a lot of oils, vinegars, syrups, mustard, etc."
3. Master the basics.
Sure you have rice, some vegetables and a piece of chicken, but how do you tie that all into a palatable meal? Mastering basic dressing and sauces is the key.
Action:
McGinn Allen: "I found that once I learned to make a few simple, flavor packed sauces, spreads and salad dressings, I could easily create a satisfying meal and could reduce waste both in terms of food and packaging. I also cook a bunch of grains at once and store portions in the fridge to use with other meals throughout the next few days. A peek into a fridge full of wilted lettuce an half-used Wishbone salad dressings and BBQ sauce is sure to lead to a call to the neighborhood Dominoes."
4. Leftover appreciation.
Keep it simple by sticking to a regular breakfast and add leftovers into your lunch. When you're cooking dinner, keep in mind dishes that will re-heat nicely for lunch or can throw cold into a salad. This way you're saving time and money and not constructing a whole new meal.
Actions:
McGinn Allen: "I stick to a pretty regular breakfast rotation; lunch is usually leftovers with some flexibility for salads. Dinner is written down on dry erase board, for 3 days leaving plenty of flexibility for cravings. Remember: Part of eating well is eating what tastes good to you at the moment"
McGinn Allen and her family also have L.O.A.N. (Leftover Appreciation Night) where they indulge in any leftovers they didn't get to at lunch. Think of it as a homemade "tapas" experience.
5. Don't bulk up.
If you think that buying food in bulk saving you money, think again. Unless you are committed to portioning those bulk buys into smaller portions, that food may be spoiling and going to waste.
Action:
McGinn Allen: "Less is more. I've found that many people are of the mindset that stocking-up and making fewer trips to the grocery store saves money and time. I suppose this could be true for very large families and extremely busy people, but for most of us it just leads to clutter, waste, frustration and an expanding waistline. Here's why: healthy food spoils fast and it's never a good idea to have large quantities of packaged cookies and crackers on hand. Plan a little. Buy healthy food. Cook it. Eat it right away. If you want a cupcake, go to the best bakery in town, buy one and enjoy it."
In other words, stocking up on cupcakes in not good for your health or your wallet.
6. Use your prime real estate.
Prime real estate in your kitchen are the spaces you see and come into contact with the most. Think: counter tops and the eye-level shelves in the pantry and fridge. If you see it, you'll use it, so wash those apples and stick them in your prettiest bowl right up front in your fridge.
Actions:
McGinn Allen keeps a basket filled with onions, shallots, a few potatoes and garlic; another basket with lemons, limes and bananas;
She also recommends you investing time to wash and chop fruits and vegetables right away makes them easier to cook or eat on-the-go later.
About Health Coach Ryan McGinn Allen
Health Coach Ryan McGinn Allen is the Founder of Kitchen Cupboard Coach and an expert on healthy meal planning tips. She specializes in giving women the support, practical tips and tools they need to navigate the grocery aisles, understand food labels, demystify healthy eating, gain confidence in the kitchen and create an at-home environment that fosters healthy eating and wellness.
More about Meal Planning & Grocery Shopping:
How to Meal Plan Healthfully<---you are here