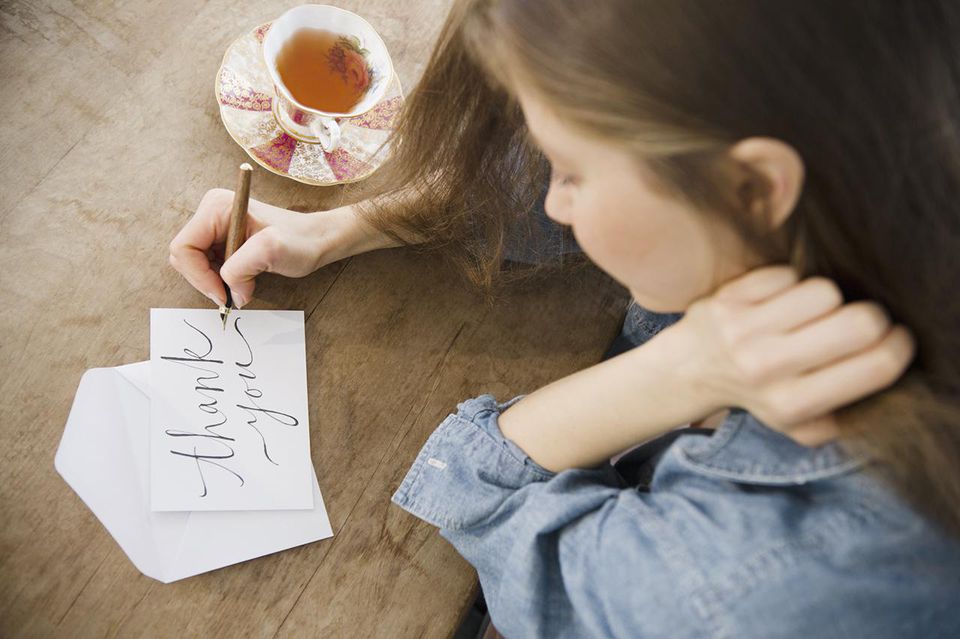 Being a good host or hostess takes quite a bit of planning and energy. If you have been a guest in someone's home or entertained by someone, sending a thank you note is one of the most important things you can do. It shows that you appreciate the hosts' efforts to make you feel comfortable and that you're grateful for their hospitality.
As soon as possible after you get home from visiting someone for an overnight stay, attending a celebration, or going to a dinner party, proper etiquette dictates sending a thank you note.
It doesn't have to be long, but it should convey your deepest gratitude. The host or hostess thought enough of you to invite you and most likely made sure you had a nice time, so this is a small gesture that can go a long way.
What to Include in a Hospitality Thank You Note
A thank you note doesn't have to be a work of art or a way to show your cleverness. The key is to write something that shows your appreciation.
You need to include certain elements for the most effective message. Always start your letter with a comment of thanks. Add something specific about the time you were there. Close with a statement about seeing the person again, and don't forget to sign your name. You may also send a gift to show your gratitude, even if you brought a host or hostess gift, but it isn't necessary.
Sample of a Thank You Letter After an Overnight Visit:
Dear James and Jill,
Thank you for your hospitality and allowing us to stay in your home last weekend.
We had a wonderful time in your lovely home. The meals you prepared were delicious, and merely thinking about that lemon meringue pie you served for dessert makes my mouth water.
You made us feel like family the entire time we were there. Please let us know if you can visit us in Portland so we can share our home with you.
We look forward to seeing you again.
Always,
Angela and Sam
Sample of a Thank You Note After a Celebration:
Dear Peggy,
Thank you so much for inviting me to your promotion party. I had a wonderful time, and it's a night I'll never forget. I particularly liked the game of office charades. It helped everyone get to see each other's lighter side. I hope you enjoy your new position with your company.
I also want to congratulate you again for this promotion. It's obvious that the company thinks the world of you.
Warmest regards,
Jennifer
Sample of a Thank You Letter After a Dinner Party:
Dear Zeke,
Thank you for the delightful dinner party last night. The veal was cooked to perfection, and the wine selection was spot on. I had a wonderful time getting to know some of the other people and having a chance to catch up on what's happening with you. I look forward to getting together again soon.
Your old friend,
Bart
Sample of a Thank You Letter After an Afternoon Tea:
Dear MaryLou,
Thank you so much for hosting the lovely tea party. It was fun seeing so many different interesting hats and tea cups. I also enjoyed learning about the origins of the different types of tea. Your graciousness and knowledge made the whole event fun for everyone there.
I look forward to seeing you at the women's club meeting next month. I'm excited about seeing some of the pictures you took during the tea party.
Friend and fellow tea lover,
Jenny
Sample of a Thank You Letter for a Casual Get-Together:
Dear Sue,
Thank you for having me over for such a delightful afternoon of tea and conversation. It was fun catching up on everything since last time we hung out. I always enjoy our times together, so let's do it again soon. Maybe next time we can meet at my house.
Can't wait to see you again,
Fran
Sample of a Thank You Letter After a Holiday Event
Dear Polly,
Thank you so much for inviting me to spend Thanksgiving with your family. The spread you put out was wonderful, and the food was delicious. I don't know if you noticed, but I got seconds on almost everything, including the pecan pie.
Bill and I are planning a New Year's Eve party, and we'd like to invite you to join us. I'll be sending the invitations, so look for it soon. 
Looking forward to seeing you again,
Audrey