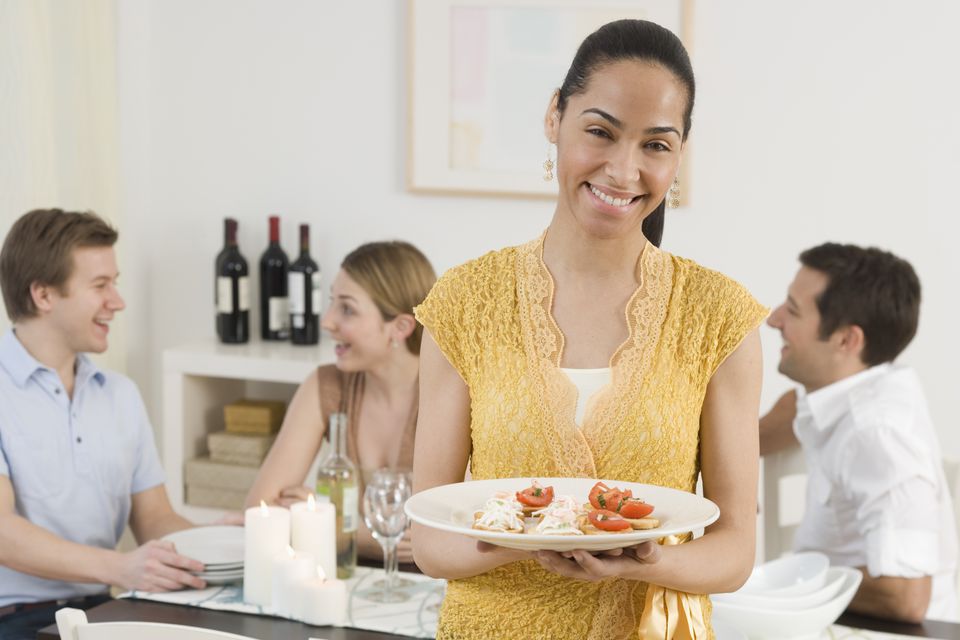 Hosting guests for dinner or overnight visits requires hard work, but it can still be fun as long as you do the proper preparation to get the house ready. This involves making the space welcoming, comfortable, and clean.
Preparing for Guests
You'll probably go on a whirlwind cleaning spree, shop for foods you don't typically purchase, and do quite a bit more extensive meal planning. That's all fine and good, but don't let down your guard after the guests arrive.
While you still want to be yourself, this isn't the time to let your guests see you at your worst.
Mistakes Hosts Should Never Make
Obviously, no one is perfect, but you should do everything to make your guests' visit a positive one. Here are some things you shouldn't do when you are the host:
Walk around in your underwear. When you have houseguests, treat them as you would during any other social situation. Even if you don't want to get fully dressed for the day before going to the kitchen to cook breakfast, at least put on a bathrobe – and please, not your ratty one.
Argue with your spouse or children. Perhaps you and your husband have a bad habit of bickering over every little detail of life. If you do this when you have company, you risk making them very uncomfortable. Curtail your squabbling until you're behind closed doors … or even better, wait after your company goes home.
Forget to ask about allergies. If you are preparing a meal for your guests, ask if anyone has a food allergy or sensitivity. Doing this can prevent an embarrassing or dangerous situation. You don't want to make people sick when they visit your home.
Prepare unfamiliar foods. If you have never cooked something before, you're better off finding something else to serve at a formal dinner party. You don't want to risk the stress of worrying or having something flop because you don't know what you're doing. However, if your gathering is a buffet-style meal, go ahead and give a new dish a try, but have plenty of other food on the table in case it doesn't turn out like you hope.
Turn down help. If someone offers assistance in the kitchen, accept graciously, unless it's already been done. Remember that cleanup will go much faster if you share the responsibilities, and that means you can spend more time with your guests.
Fail to serve appetizers while guests wait. When guests arrive, you can count on some of them being hungry. Rather than listening to growling tummies, have some appetizers on a side table so they can munch while waiting for the main part of the meal.
Not planning for the unexpected. Be prepared for uninvited guests by having a little extra food ready to go. Doing so will prevent embarrassment and may even make you the host everyone wants to emulate.
Open hostess gifts in front of guests. When you host a dinner party, some guests are likely to bring gifts – some more generous than others. You should wait until after everyone leaves to open the host or hostess gifts so you don't embarrass anyone who forgot a present or brought something not as lavish as others.
Forget to put out fresh towels and toiletries. You don't want your overnight guests to have to ask for towels and soap. If your guests have their own bathroom, hang clean towels on racks. If they must share a bathroom with household members, put a towel and washcloth in a place that will be their personal space while they are in your home.
Fail to clear space. Overnight guests will have suitcases or backpacks that need space. Provide a corner, table, or chair that will be theirs during their stay. Clear some closet space for hanging clothes or hang a temporary rack over their bedroom door.
Plan back-to-back activities without breaks. Although it's good to have plans for your guests, give them a break so they can rest and relax. Sometimes it's good to just stay home and hang out with each other.
Worry too much. Whether you are hosting overnight guests or a dinner party, you need to do your best to relax and enjoy the time you have with them. Everyone will have more fun if you do.