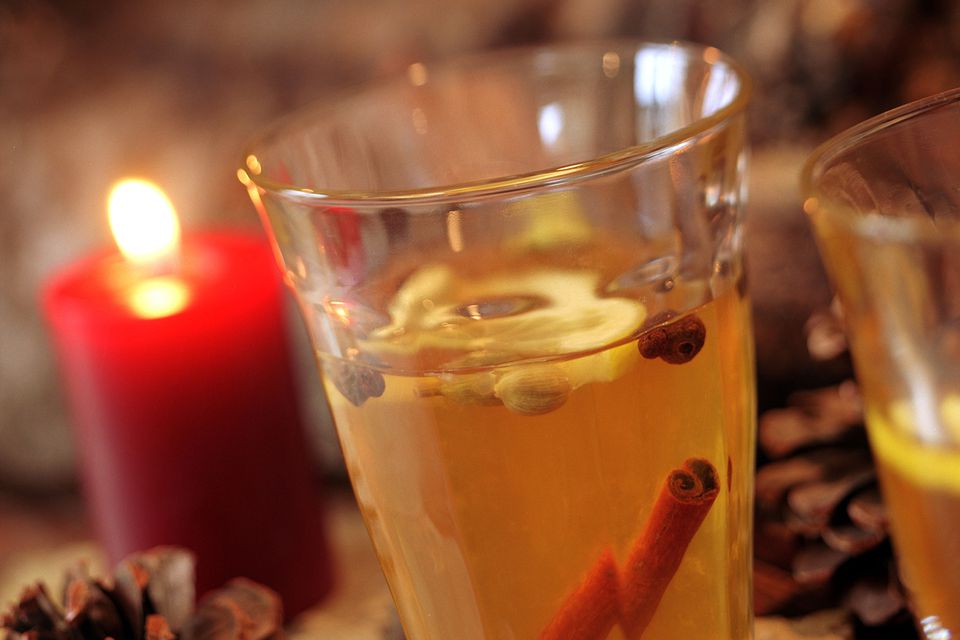 Warm apple cider transforms the popular Hot Toddy into a delightful drink for autumn. The Hot Apple Toddy is ideal with fresh-pressed cider and is a perfect excuse to pick some up at the local apple orchard.
Whiskey or apple brandy are commonly used for this toddy and you may want to infuse your favorite whiskey with fresh apples as well. I typically prefer to use agave nectar or cinnamon simple syrup to give it a sweeter touch.
2 ounces whiskey (or apple brandy)
1 teaspoon sugar
5​ ounces apple cider (hot)
Garnish: lemon (wedge)
Garnish: stick cinnamon​​
Garnish: 2-3 cloves (whole)
Coat the bottom of an Irish coffee glass with honey.
Add the whiskey or apple brandy.
Fill with hot apple cider.
Garnish with the lemon, cinnamon stick, and cloves.
Hot Baked Apple Toddy
The Hot Baked Apple Toddy is a classic Apple Toddy recipe adapted from a recipe in The Old Waldorf-Astoria Bar Book. This toddy not only has a rich apple flavor against an apple whiskey base (apple brandy is a fine substitute) and it is worth the little extra effort to make baked apples.
The cinnamon stick garnish is optional, but it adds a nice touch that adds a little depth to the warm apple drink.
Ingredients:
2 ounces apple whiskey
1/4 baked apple
1 teaspoon honey
Hot water
Cinnamon stick for garnish
Preparation:
Place the baked apple into a warm Irish coffee glass.
Add whiskey and dissolve sugar in the mix.
Top with hot water and stir.
Garnish with a cinnamon stick.