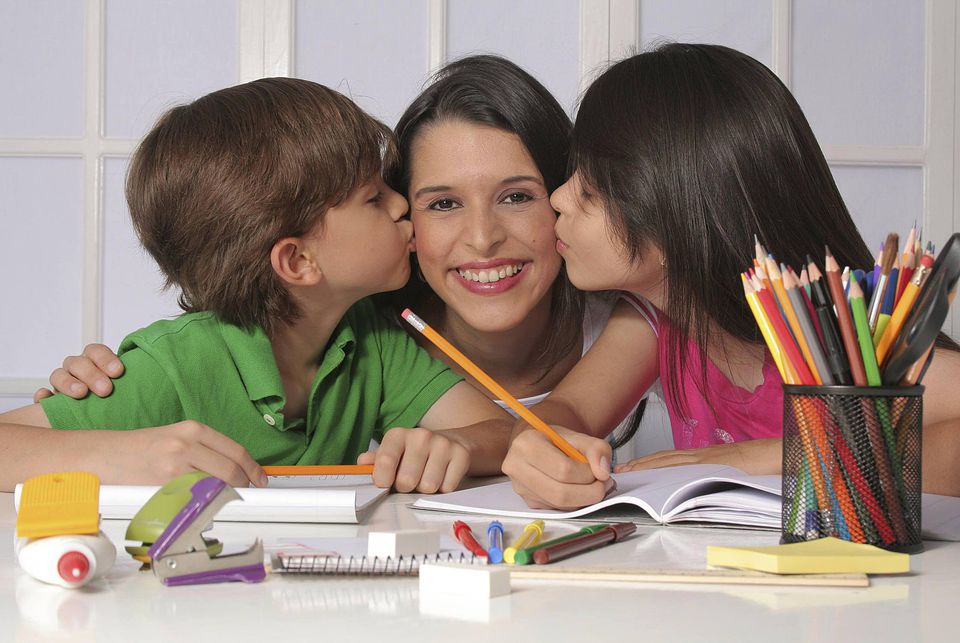 Your children spend the day at school and then they get to come home to ... homework. Make homework fun to win the schoolwork battle.
Create a Homework Space
If the kids are facing low lighting and being crammed into a table in the corner sandwiched in between your pile of coupons and the folded laundry, chances are they're not going to be excited about breaking out their textbooks to get their homework done.
Create a homework space your kids will love. Let them make it their own so they can look forward to sitting in their own custom-made homework space. Provide plenty of lighting and room for them to spread out, even if you have to set up your child's homework space daily because of a lack of space. Taking the time to give them their own space will make a difference in how they approach their schoolwork.
Offer Rewards
This method isn't for everyone but if you're not opposed to offering incentives for your children to complete their schoolwork, then do it. Offer rewards such as tickets they can redeem for ice cream, a family movie night at the theater or even a late bedtime over the weekend. You can alos offer TV time, computer time, video game time or tablet time as an incentive.
Add a Snack
Kids don't get to snack while they're in class so snacks feel like a real treat during homework time. Keep the snack simple, such as a few cookies or crackers as opposed to an ice cream sundae.
You don't want your children to show up to school the next day with hot fudge sauce all over their math homework!
You can also use the snack as an incentive if you would rather your kids didn't eat while doing their homework. Promise them completed schoolwork will earn them a snack and watch those pencils get to work.
Take Breaks
It's easy to think our kids need to complete all of their homework in one sitting. We can easily sound like drill sergeants ordering our kids to finish their homework before getting out of their chairs.
But there's nothing wrong with letting your kids take frequent breaks. These mini-breaks can be taken after a certain subject's homework is complete and can include activities like a quick dance-off, bathroom break or 10 minutes of play time before getting back to the books.
Join Them
Homework is a great time for you to get some chores done. While they're occupied, you can empty the dishwasher, throw some clothes in the washing machine or even take a break for yourself. Don't hesitate to take some time to join your children during homework time every now and then, though.
Showing an interest and spending time with them means a lot to children and it's also a good way to see what they're working on at school. And if you really want to stress the importance of homework to your kids, take a class and join their homework space with your own homework. When you join them, children get to learn valuable lessons that may be even more important than the homework they're trying finish!