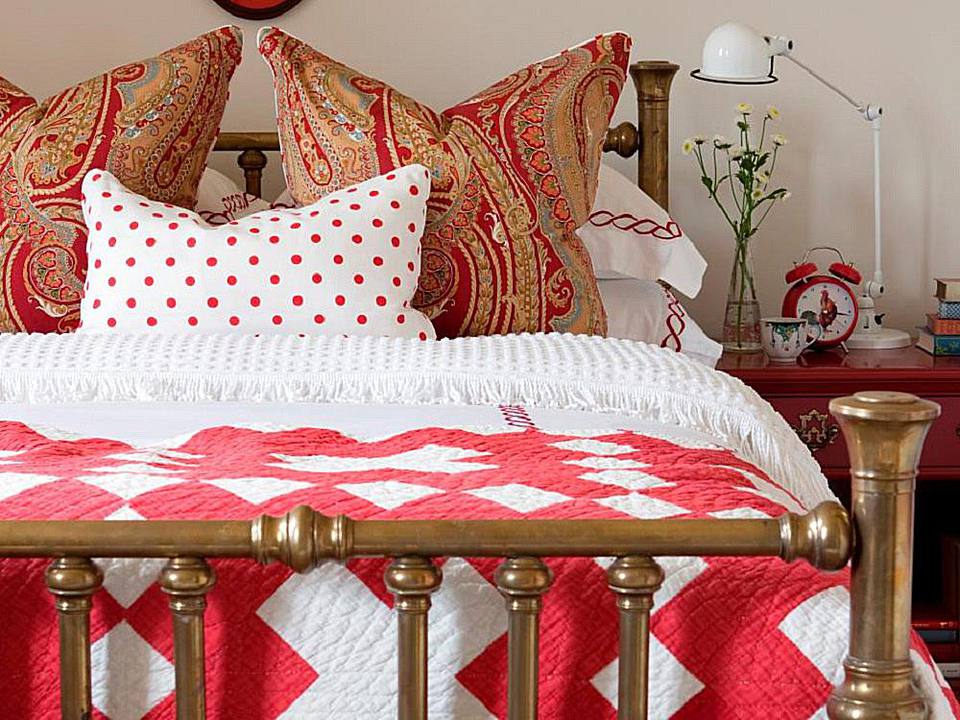 Do you want to add pattern to your bedroom décor, but fear making a "mistake," or ending up with a clashing mess of color? Or do you think it takes a pro to combine patterns like in those gorgeous bedrooms you see pictured on Pinterest? Actually, it's not that difficult to use pattern successfully, and doing so doesn't require schooling in interior design. Anyone can layer pattern successfully simply by paying attention to the following 12 tips and guidelines, given here in no particular order after #1.
Start with Inspiration
For the most successful pattern-mixing, start with one design that you really love. The actual pattern is up to you: colorful ikat? Pastel floral? Bold geometric? Sexy animal print? As long as it complements your overall decorating scheme, and as long as you like it, it works.
Choose an Odd Number of Patterns
As with so many things in the decorating world, an odd number, particularly three, works well when it comes to mixing and matching. You'll want at least three different patterns in your room, although you can work with five if you prefer.
Vary the Scale
Here's an important key to success when mixing patterns – vary the scale. This means that at least one pattern in your bedroom should be a large design, one should be a small design, and one should be somewhere in between.  
Go for Contrast
While you can certainly choose three patterns that have a similar theme – florals, geometrics, stripes, etc. – you'll achieve the best effect if all the patterns contrast strongly with each other. Go for strong combinations: for example, chevron and florals, plaid and zebra-print, toile and stripes.
Match the Color Intensity
Ideally, at least one color carries through all of your chosen patterns, although two or three related colors are even better. This doesn't mean you need to use the exact same color, but you should come close. Another guideline to successfully mixing patterns is to match their color intensity – the overall effect won't be as strong if you combine a pastel floral with a jewel-tone stripe with a muted gray abstract, for example.
Think About Fabric
Add contrast to your décor with a variety of fabrics, but watch your patterned accessories; their fabrics should have a similar weight or feel. A bed adorned with burlap, velvet and cotton throw pillows looks odd, not carefully considered.
Bigger Patterns Can Be More Colorful
Large-scale patterns can handle a bigger palette, while small designs look best when limited to just two or three colors, one of which should be white.
Large on Large, Small on Small
Think about where you'll be using the design. Generally, the larger the surface, the larger the pattern that will complement it. So think big when it comes to bedding, curtains, carpet or area rug, and wallpaper; and smaller when it comes to toss pillows, lampshades and similar accessories.
Don't Forget Solids
Patterned flooring, window treatments, bedding, walls and accessories is too much. To avoid a crazy-making overload, make sure that at least a few large surfaces in your bedroom are solid. Patterned wallpaper? Then go solid on the floor and bedding. Wild bedding? Then forgo the wallpaper.
Try the 60-30-10 Rule
Used for decorating with color, the 60-30-10 rule works just as well when it comes to mixing patterns. Basically, it means that your favorite pattern gets 60% of the pattern mix, the secondary pattern gets 30% and the accent pattern takes the remaining 10%. Follow this guideline, and you'll achieve just the right balance of color and design.
Spread Pattern Around
Ideally, your chosen patterns are spread evenly throughout the bedroom, with some repeat. Watch out if one side of the room has patterned window treatments, upholstery and bedding, while the other side of the room is solid; the space will lose balance.
Watch Your Mood
Just like color, pattern can create a mood throughout a space. Do you want to add more energy to your room? Then look for colorful, busy patterns. Want to calm things down? Then choose soft colors in a simple design.