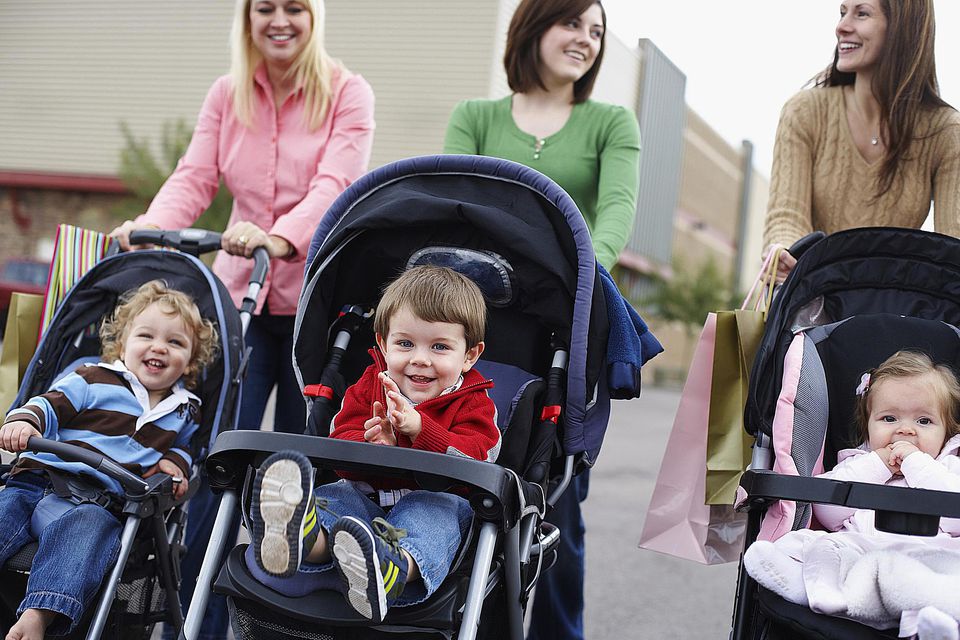 Strollers are some of the most expensive baby items, and lots of families end up with more than one stroller to meet different needs. Once it has served your family as long as it is needed, you can recoup some of your investment by selling your used baby stroller. A little bit of work ahead of time can help you get more cash for a used stroller. Here's how to prep your stroller for sale.
Check for Stroller Recalls Before Selling
The very first order of business is to make sure the stroller hasn't been recalled.
It's easy to miss a recall that might affect your stroller! Many recalls are not widely publicized if they don't cover millions of products. In the U.S., visit the Consumer Product Safety Commission website and use the search box to enter the brand and model of your stroller. CPSC will have an announcement for any stroller recall if the model was sold in the U.S.
You can also check with the stroller manufacturer directly. The manufacturer will often have a link to recall information on their website, and you can call the customer service phone number to ask about recalls, as well. Have the model number and manufacture date available before you call. You can usually find the model information on a label sewn onto the seat fabric, or a sticker label on the stroller frame.
It's important to check carefully for recalls to protect future stroller users, but also to protect yourself. It is illegal in the U.S. to sell a recalled baby product.
While you're unlikely to be prosecuted for listing a recalled stroller for sale, it's better to avoid the issue altogether from an ethical and legal standpoint.
If your stroller is recalled, that may not mean you cannot sell it. Some issues may require a repair kit or replacement part. Once that remedy is installed on the stroller, it is OK to sell it.
Just make sure you mention that the problem has been fixed. In some cases, the recalled stroller may need to be returned for a replacement, or for cash or merchandise credit.
Gather the Stroller Parts & Accessories
Ideally, you'll still have all of the accessories that came with your stroller. Before you list the stroller for sale, double check that one of the strap covers or cup holders hasn't gone missing in storage. Detachable canopies, infant inserts, rain covers, and extra seat covers are some of the things that may have been set aside for storage. If some accessories are missing, you can still sell your stroller. You'll just need to let potential buyers know exactly what they're getting.
If you've made any modifications to the stroller, make a note of them. If anything has broken or pieces have come off, you'll need to mention those things to buyers, as well. To get top dollar for your stroller, it's worth it to check with the manufacturer to see if you can get replacement parts before you sell.
Clean It Up!
Remember how shiny and pretty that stroller looked when it was new? Your potential stroller buyers want to see it at its best, too! If the wheels are dirty, wash them off. Follow the manufacturers instructions for washing or spot cleaning the seat fabric, canopy, and basket.
Remove stains whenever possible. Wipe down the harness straps and straighten them so they look nice.
You can easily clean up your stroller using the supplies you have at home, but you could also use a kit, such as BuggyLOVE Organic stroller cleaner (Buy on Amazon.com). Particularly for a high end stroller, taking the time to spruce it up with baby friendly organic cleansers could net a higher resale price.
Decide On a Price
Typically, you could use half the lowest current new model price as a starting point for pricing a used stroller. If it's no longer manufactured, start with half of what it cost new. You'll need to make adjustments for the age of the stroller, the condition of the fabrics and frame, the number and condition of accessories, and any broken or repaired parts.
You should also look at Craigslist, eBay, consignment shops, and local sales sites to see how other comparable strollers are priced.
You could list your 4-year-old stroller at half the current retail price, but if Craigslist shows several 2-year-old strollers of the same model at less, you aren't likely to attract much attention from buyers.
High-end strollers, or models that are hard to find in local stores, are the most likely to sell for a higher amount. If your stroller is a really common model, there are probably lots of them for sale, which means it won't command top dollar.
Take Great Stroller Pictures
Once your stroller is looking shiny and clean, take it somewhere with good light to take some pictures. It's best if there isn't a bunch of stuff in the background to distract the buyer. Extend the canopy, straighten the swivel wheels, and display any accessories neatly. Stroller buyers are going to put their precious cargo in their purchase, so take a few minutes to make it look worthy. Get as close to the stroller as you can, and make sure it's in crisp focus.
If you need to mention any damage in your ad, take a picture that shows the issue. This will save time for you and the buyer, since they can decide right away if the damage is a deal-breaker.
List the Stroller for Sale
Since you've already done your pricing research, you'll have a good idea of the best places to list your used stroller for sale. Be sure to include the manufacturer name and the exact model in your ad, along with the manufacture date, if possible. Include your preferred contact information and let the potential buyers know if your price is firm, or if you're open to some negotiation.
For safety reasons, it's best to arrange meetings with potential stroller buyers at a public place away from your home. Choose a place where you can open the stroller and demonstrate its features. Some police stations now offer a buy/sell area that is safe for both parties.
More Stroller Resources