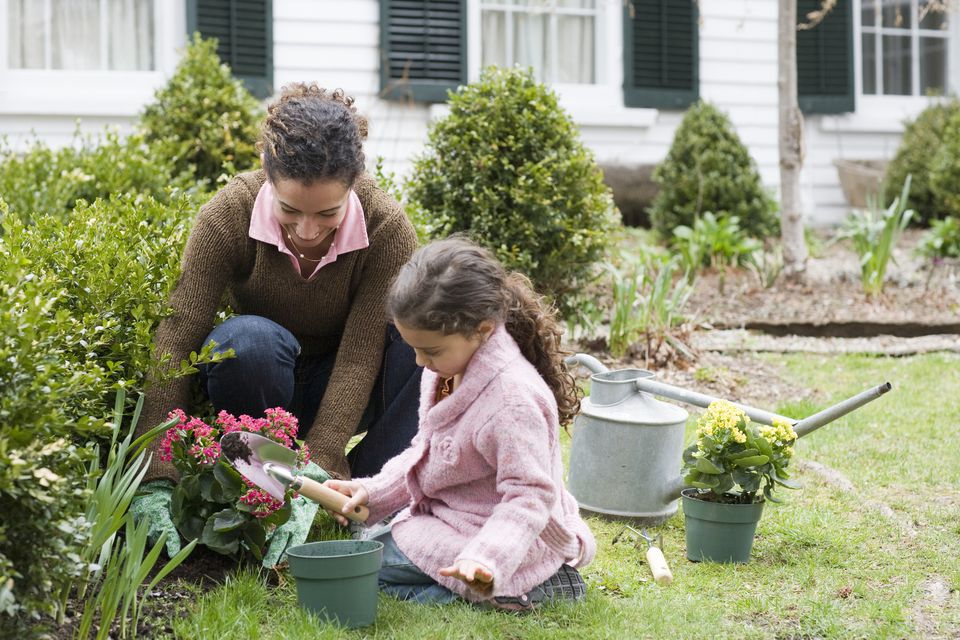 To start a garden from scratch, you first need to clear away unwanted vegetation (brush, grass, weeds, etc.). Then you must take stock of what you have to work with. That means finding out what the soil is like in the area where you will be opening up this new bed, as well as how much sun the space receives. Once you know what you have to work with, you can begin improving your soil, choosing plants, planting them, and taking steps to promote their well-being.
All of the information you need to...MORE know on how to start a new garden bed is supplied in the resources below.
Perhaps you have seen the bumper stickers that read, "Kill Your TV." Well, the battle cry that we will use to start a new garden bed from scratch is, "Kill Your Grass."

Why "Kill Your Grass"? Because most people, to start a new garden, will have to sacrifice part of the lawn. That means removing a lot of grass (and all the roots that go with it). So the question then becomes: What is the best and easiest way to get rid of sod?

This article discusses various ways to do the...MORE job, including a method that is sometimes called "layering." Layering involves spreading newspapers to smother grass. It is used by many gardeners when they are faced with the need to get rid of grass to start a garden.

While most people will start a garden from scratch by converting lawn areas, that is not always the case. In some ways, they are the lucky ones. Some of you will have more challenging conditions to deal with when opening up land.

If you are reclaiming land from the woods or an overgrown pasture, you will have to resort to more drastic measures. This job may call for long hours of heavy work (decide ahead of time whether you will do the work yourself or hire somebody). At the very least, you will...MORE have to kill the bulk of the weed seeds that are already in the ground.

But before you battle weeds in starting a new garden, arm yourself with some facts about them.

Weeds are tough foes, reminding us of the truth of the saying, "Know your enemy." There is a storehouse of information out there on battling weeds. To access that information, you first have to know exactly which weeds you are dealing with.

If you do not know their names, then how can you look up information about them? As a result, you will be fighting in ignorance, depriving yourself of all...MORE kinds of useful tips. That is where weed identification comes in to play.

This knowledge will continue to come in handy long after you start a garden. Weeds will pop up again and again, in spite of your best efforts to prevent them.

When you start a garden, you have to realize that soil is its foundation. When plants are not growing properly, there are three things to consider first. Check:

That you have supplied them with the correct amount of sunlight.
That you have given them the right amount of water.
That no pest or disease has been attacking them.

If you can rule out these three things as possible causes, then the problem usually lies underground. Soil problems include:

Nutritional problems (have a soil test taken).
A soil...

pH

that is too low or too high.

A soil type

with too much clay, causing drainage problems.

Continue to 5 of 13 below.

No matter how good your soil is, you can't go wrong adding compost to it when you first start a garden. Work the compost into the soil with a rototiller. Then rake the ground level with a steel rake, to prepare it for planting.

You do not need fancy compost bins or "Master Composter Certification" (there really is such a thing) to make compost. Once you have grasped some basic concepts, it is sort of like putting a lasagna together and cooking it. The difference is, here, you do not...MORE pop your lasagna in an oven. Instead, you water it and aerate it. Then you let tiny, natural organisms take over the cooking.

Not all garden beds are created equal. When you open up ground specifically for the purpose of planting landscape shrubs, you may wish to lay landscape fabric prior to planting. It is easy to cut holes in the landscape fabric to install the shrubs when you are ready to plant. When you are done, you have a shrub bed that should stay fairly weed-free for years.

If you are opening up ground for a cottage garden, that is quite another matter. People usually pack perennials and other plants tightly...MORE together in the cottage-garden style. In that situation, laying landscape fabric does not make as much sense. For one thing, you would have to poke way too many holes in the fabric to do your planting (you would not have much fabric left over after making all of those holes). 

Cover your landscape fabric with mulch afterwards, both to protect it and to disguise it. To prevent the grass in any bordering lawn area from invading your new bed, lay down some edging, as well. Edging will frame the new bed.

You can use a lot of creativity when designing with plants. But your design must always be informed by a healthy respect for certain limitations. Specifically, certain plants should be matched with certain conditions. It all begins with knowing what your planting zone is and buying plants suited to that zone.

That is a good start, but your planning does not end there. For example, when you start a garden in a sunny spot, choose plants that will take a pounding from the sun and still thrive....MORE Likewise, if you live in a seaside community, do not bang your head against a wall by trying to grow plants that dislike salty soil. Instead, select a plant known to tolerate salt, such as Montauk daisy. 

This plant selection guide gives information on perennials, annuals, ground covers, vines, shrubs, and trees commonly used in landscaping. Click through to the articles covering specific plants. Each article will supply you with the facts that you need to decide if the plant in question deserves a place in your landscape. For example, you will get answers to the following questions:

What are the plant's outstanding features (picture provided)?
Is it a sun plant (such as Montauk daisy) or a... shade plant (such as elephant ear)?
What care will you need to put into growing this plant?

Continue to 9 of 13 below.

The ground is prepared, the plants have been selected. Now it really gets fun. Because you're at the point in this project where you can put your landscape design ideas to work.

Don't feel any pressure here to blow the world away with the latest designs. Remember, this is for you, so please yourself! The average homeowner will be most interested in having color in the landscape. To that end, you will have to decide on which flowers to plant, based on color. 

This resource ties together many of the points mentioned above. See how to transform a grassy area into a planting bed of shrubs and perennials. You can do this by removing the sod with a shovel or by killing the grass with newspaper.

Installing a tree or shrub in your new planting bed? Protect your investment! Learn how to transplant your tree or shrub properly. Many of the same principles apply to installing other types of plants in the ground (annuals, perennials, etc.).

Unless you start a garden in a bubble, there will always be pest challenges to respond to. You cannot get away from pests entirely. But the idea here is to improve your chances of avoiding major pest damage.

On some fronts, for example, you can take preventive measures. If you know that your region is plagued by deer pests, select deer-resistant plants. If you have seen bunnies hopping around in your yard, surround your new planting beds with rabbit-proof fences. You can also work out a companion-...MOREplanting plan.

But in many cases, you will just have to adjust as the need arises. Prepare yourself with knowledge about a variety of pests in your region, so you will not be caught off-guard. 

Continue to 13 of 13 below.

Richard Clark/Photolibrary/Getty Images

When you buy a plant and install it in your planting bed for the first time, you may be so excited about it as to think that you could not possibly ever forget its name. But if you are anything like most of us gardeners, ten years down the line you may not be able to recall the specific cultivar from memory. So do yourself a favor and label the plant properly when you install it.

The labels that come with the plants you buy at the garden center are flimsy pieces of plastic. They often break...MORE and/or blow away too easily. So why not make your own plant labels? It is easy enough to write plant names on a piece of scrap wood. Another great way to stay organized in the garden is to keep a garden journal.

If you have a curious mind, you will want to learn more and more about plants as time goes by. Observing your own plants as the years pass should naturally lead you to research other plants, plants that you may eventually want to add to your garden. But you can't research a plant if you don't know its name. So always note down a plant's scientific name if it catches your attention at the garden center.