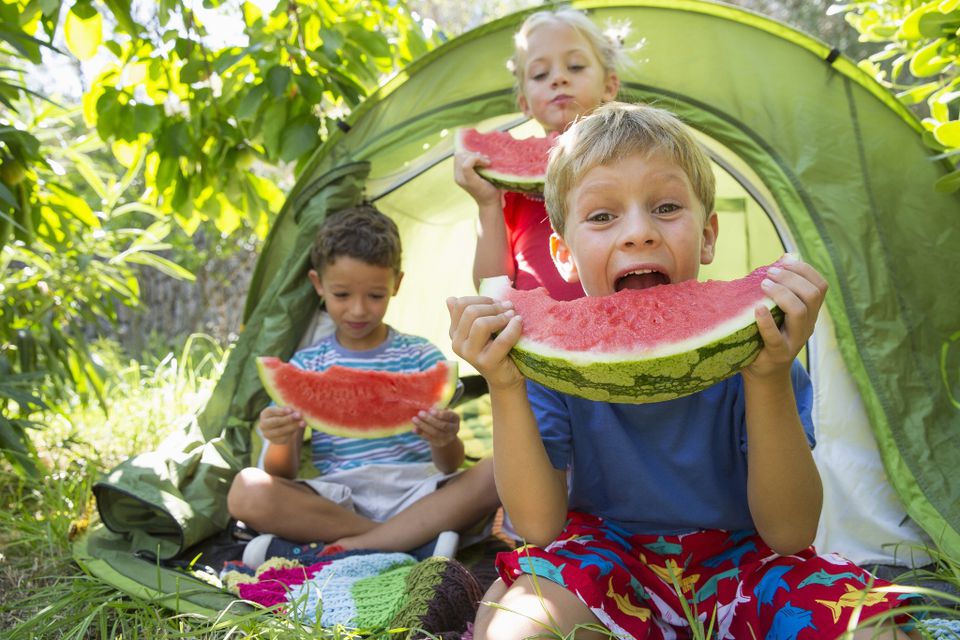 If you need ideas for Camp Grandma, inspiration is as close as the click of a mouse. Many experienced grandmas share their ideas for grandparent camp on their blogs and websites. Grandparenting books are another source of ideas for your very own camp. For some of them, you may need some help from Grandpa, but he's already the force behind many a Camp Grandma.
Put the Camp in Grandma Camp
Susan Gaddis of Holy in the Daily hosts her grandchildren for a camp that features sleeping in a tent.
Campfire stories and a nature scavenger hunt are other features of Susan's camp, and just check out her cool sign! Susan's blog post includes links to her 2013 and 2014 camps as well. 
Grandma Shelley of Grandma's Little Pearls hosts an event she calls Grandkids Camp Out. The focus is on outdoor activities, including wildlife study and survival skills. Grandma Shelley has also hosted Christmas Day Camp.
The website DIYDish has some reproducibles with a camping theme, including an invitation that you put on a stick like a marshmallow that's ready to roast! 
Have a Theme
Denise Hooper is a veteran of more than 10 years of Camp Grandma. She advises having a theme and using grandkids older than 12 as counselors. For more inspiration, view this video showing a number of her themes and props.
Hooper also has a book of advice for grandma campers and a blog, where you can see photos of her past camps, including this Olympics-themed camp.
Another grandma who is a big fan of themed camps is Grandma Dottie, whose past themes include Wild West Camp, Harry Potter Camp and Architecture Design Camp. 
Opt for Day Camp
Mandy Beyeler of Sugar Bee Crafts tells about a day camp hosted each year by her mom and aunt. Their event mimics in many ways a traditional camp for kids.
 The kids have their own books of camp songs, and each day begins with the raising of the flag. The grandchildren cook on buddy burners and do traditional camp crafts like leatherwork and wood burning.
Judy Smitley shares her expertise from several years of Camp Grandma on her website, Biblegal.com. Judy and her husband run a week-long day camp, and you can see photos and her schedules of events, as well as get some sage advice. They opted for day camp because it gives them an opportunity to clean up the house and yard as well as rest before the next day.
Smitley gives the grandkids a schedule of the day's events at breakfast each morning, and after camp is over she sends them an evaluation sheet to find out what they liked most. Their Christmas gift is a photo album from camp, and she said that the kids won't even open their other gifts until they have looked at every photo.
Share Special Interests
A unique take on Grandma Camp is Grandma Genie Camp, hosted by Ruth Himel. The Genie stands for genealogy, Ruth's passion. At her camp, she taught her grandchildren about their family history. They made maps, went to a geneaology meeting and also took time to go to the beach. Her honest appraisal at the end of her camp was that it was "great, great fun" but that she needs to "either be less extravagant as to my expectations and realistic about my own age and capabilities or recruit more help."
If you're a gardening enthusiast, you can explore ways to share your love of growing things with your grandchildren during a garden-themed grandma camp, found on the Flea Market Gardening website.
Neva at the Retire for the Fun of It blog shares lots of Camp Grandma ideas, mostly science-based. Put "grandma camp" in the search box, and you'll get how-to's for bubble snakes, catapults, volcanoes and more.
Widen the Circle
On her blog author Marcia Kemp Sterling writes about hosting her Cousin Camp, which includes the adult parents of the grandchildren. There are bike outings, craft projects ongoing in the backyard and plays performed by the grandchildren. 
With such a large group staying in-house, it becomes critical to plan in down-time. At Sterling's camp, from 1 to 2 each afternoon is Flake-Out Time, when everyone is quiet and off their feet.
Food is handled by making daily assignments to KP duty, usually two adults and two children at a time.
Find More Resources
There are a few books dedicated to Grandma Camp, but lots of grandparenting books contain ideas for activities that are suitable for a family camp.
Find more ideas for things to do at Grandma Camp.