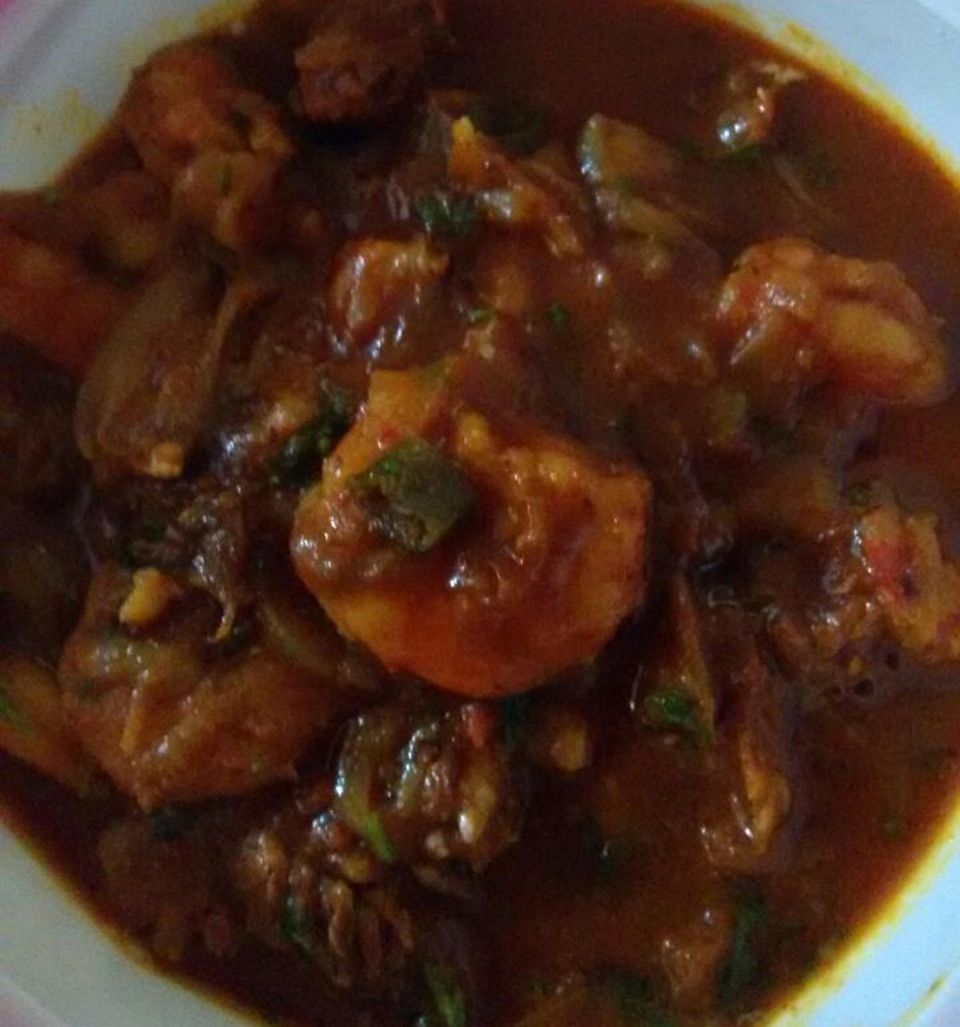 Prawn Masala is simple yet delicious and packed with flavor. If you don't have prawns, make it with skinless, boneless chicken bits and it is just as yummy! This is an easy dish to throw together but the trick to getting it right and not ending up with rubbery, chewy prawns, is to cook them quickly and until they are just done. The recipe involves two 'steps' - marinating the prawns and preparing the gravy. Marination is not a long, drawn-out process for this recipe as it only needs to be as long as it takes to make the gravy! Prawn Masala goes really well with hot, freshly made Chapatis (unleavened Indian flatbread) or plain or Jeera Rice (links to recipes are below). Add a crunchy salad like Kachumbar for a lovely, well-rounded meal!
17 oz. (500 gms) large, raw prawns or shrimps (peeled, deveined and washed)
For the marinade: 1 tbsp garlic paste
1/2 cup fresh green coriander
2 green chilies (optional but desirable)
1 tbsp lemon juice
1 tbsp vegetable/ canola/ sunflower cooking oil
For the gravy: 4 tbsps vegetable/ canola/ sunflower cooking oil
2 large onions sliced thin
2 tbsps garlic paste
1 tbsp ginger paste
2 large tomatoes diced
2 tsp coriander powder
1 tsp cumin powder
1/2 tsp turmeric powder
1/2 tsp red chili powder
2 tsp garam masala powder
Salt to taste
Chopped coriander to garnish
Put the marinade ingredients into a blender and grind till you get a smooth paste.
Put the prawns into a large, non-metallic bowl and pour the marinade over them. Mix to coat all the prawns well. Now cling wrap the bowl and put away into the refrigerator to marinate while you make the gravy for the Prawn Masala.
Heat the cooking oil in a heavy bottomed pan, on medium heat.
When the cooking oil is hot, add the chopped onion. Sauté till the onions begin to turn a pale golden brown in color.
Now add the garlic and ginger pastes and sauté for 1 minute.
Next, add the tomato paste and all the powdered spices and salt to taste. Mix well.
Sauté the resulting masala (onion-tomato-spice mixture) until the oil begins to separate from it. This can take up to 10 minutes to happen.
When the masala begins to look ready, turn off the heat.
Put the prepared masala into a blender and grind into a smooth paste (do not add water) in a food processor. Once done, remove into a separate container.
Turn on the heat (on medium) again, under the pan, you were using earlier to fry the masala.
When very hot, add the prawns and marinade and sauté until the prawns just begin to turn opaque.
Now add the previously prepared masala and 1/4 a cup of boiling water and stir well.
Cook for 1-2 minutes and turn off heat.
Garnish with chopped coriander and serve with Chapatis or plain or Jeera Rice and Kachumber salad!