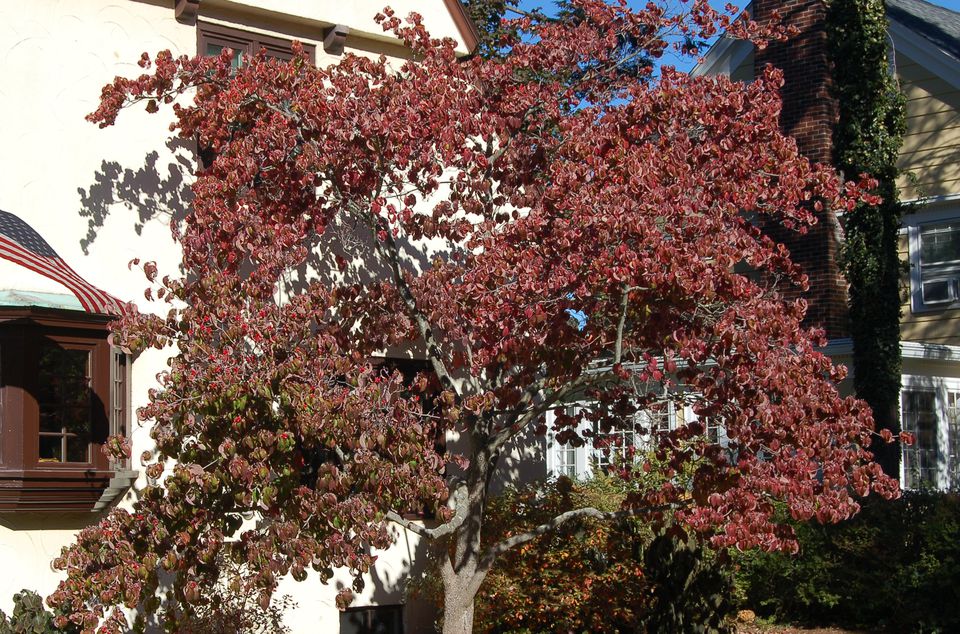 Japanese dogwood trees (Cornus kousa) give you "two for the price of one." Best known for their spring blooms, they also provide fine fall foliage. This holds true for the equally popular Cornus florida -- as well as for the lesser-known Cornus alternifolia, which is worthy of greater attention. All three perform well in partial shade. Let's take a look at each of them in greater detail.
Japanese Dogwood Trees
Japanese dogwood trees (some gardeners call them "Korean," still others "Chinese") typically can be grown in plant hardiness zones 5-8.
Their star-shaped blooms appear later in spring than do the flowers on other dogwoods; the (usually) white color of these flowers makes Japanese dogwoods useful in moon gardens. Fall foliage is purplish-red on many kinds. The red, raspberry-like berries of Japanese dogwood trees persist into winter and are eaten by wild birds. Their average height and spread is 15-30 feet.
It is hard to go wrong with a cultivar named 'Lustgarden Weeping' (synonymous with 'Elizabeth Lustgarten'). Here are its plant specs:
'Lustgarden Weeping' has a weeping form.
It stays relatively short (10 feet tall, with a width of 5 feet).
It is quite cold-hardy (to USDA zone 4).
The tree bears white flowers in late spring.
It offers reddish or purplish fall foliage and crimson berries in autumn.
A variation from the more typical white-flowering specimens is provided by the "Satomi" Japanese dogwood tree (Cornus kousa 'Satomi'), which bears deep pink blossoms in spring; its mature height is 25 feet.
For a different look altogether, foliage-wise, the 'Wolf Eyes' cultivar has white leaf margins surrounding a light green center (in fall its leaves pick up some tints of pink).
Japanese dogwood trees tend to show a greater resistance to the anthracnose fungus than do their native-American counterparts (Cornus florida).
This fact, alone is a major selling point, the anthracnose fungus being a major scourge for growers of Cornus in some parts of U.S. In fact, hybrids of the two have been created for lovers of the appearance of Cornus florida who seek the resistance to the anthracnose fungus offered by Cornus kousa.
Flowering Dogwood Trees
Cornus florida is an indigenous dogwood tree in the U.S., where it is commonly referred to simply as, "flowering dogwood tree," as if there were no other that bloomed. Such is the fondness for this fall foliage standout among landscaping enthusiasts in the U.S.
'Cherokee Chief' flowering dogwoods (Cornus florida 'Cherokee Chief') offer an impressive array of landscaping benefits. The lower branches have a horizontal branching pattern, which in itself lends interest to the landscape. The berries are just as much of a bird magnet as are those on Japanese dogwoods. Cherokee Chief dogwood grows to a height of 20-25 feet and a spread of 12-15 feet. It puts out red blooms in spring, while its fall foliage ranges from reddish-bronze to purplish. It is suitable for zones 5-9. For a different color, you can grow a pink dogwood tree: Cornus florida var. Rosea.
Pagoda: Looking for Some Respect
Most people limit their choices in dogwood trees for years to the Japanese (Cornus kousa) and "flowering" (Cornus florida) types covered above.
Then one year, perhaps, they visit a garden center that is selling pagoda dogwood trees (Cornus alternifolia 'Wstackman'). They are impressed and buy one, take it home, and begin growing it in their landscaping. They are not disappointed.
In fact, if you value the other two kinds of Cornus for their spring flowering displays plus the bonus of nice fall foliage, you would have to assign even greater value to the pagoda type. Why? Because it sweetens the pot with a second bonus: the color of its spring leaves. The leaves are actually a selling point for three seasons -- spring, summer, and fall -- because they are variegated (lime combined with a darker green). You may end up enjoying their spring color the most, when touches of purple, orange, and copper crash the party.