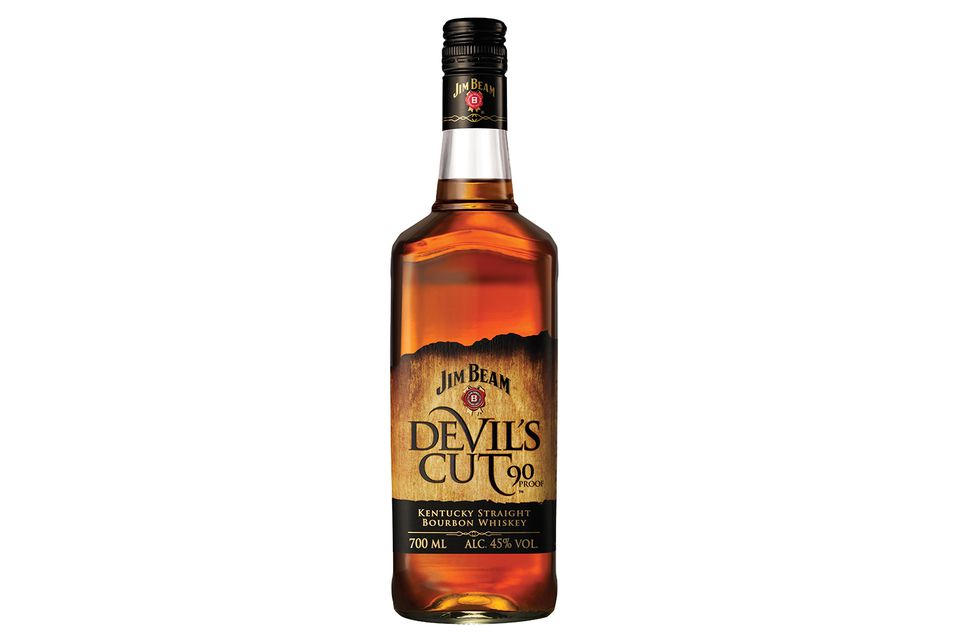 Devil's Cut is one of the newer bourbon whiskies from Jim Beam. This robust whiskey offers a rich, full-flavored bourbon experience for those seeking a new way to enjoy whiskey.
What is the Devil's Cut?
The name  Devil's Cut is a play of words from a common term used in liquor production. The phrase ''Angel's Share" is used to describe the natural evaporation that occurs while the whiskey is aging.
Every distillery that ages their distilled spirits in wood barrels has to account for a certain amount to be lost to this process.
They have come to expect a little less liquid to come out of the barrel than was put into it and that the angels have taken their share.
Jim Beam's Devil's Cut takes advantage of the flavors left in the wood of freshly used barrels. Through a proprietary process, they inject water into bourbon barrels that have just been emptied. This extracts more of the bourbon and oak notes found in the barrel and that water is then used to cut Jim Beam bourbon that receives just a little extra aging time down to its bottling proof.
The result is a rich, deeply flavored bourbon that both enthusiasts and newcomers to bourbon will enjoy.
Tasting Notes
On the nose, Devil's Cut offers a rich tapestry of oak, cinnamon, nutmeg and spice, intermingled with vanilla pound cake and soft, warm caramel. There are no surprises with Devil's Cut's bouquet, it shows you exactly what flavors to expect on the palate and then it delivers.
Devil's Cut has a nice mouthfeel, not too thin, nor too full-bodied, which makes it excellent for mixing into a great whiskey cocktail. At 90 proof, this bourbon won't disappear in cocktails.
On the palate, the dominant oak notes contribute flavors of cinnamon, allspice, nutmeg and wood. Vanilla and caramel undertones play an important role in harmonizing with the spice notes to create a spicy but balanced bourbon.
On the finish, Devil's Cut continues to offer its devilishly spicy treats. Spice cake, cinnamon sugar, and apple pie notes linger before gently easing off of the palate, leaving a pleasantly woody final note.
Final Thoughts
Overall, Devil's Cut is a great value at a suggested MSRP of $24 for a 750ml bottle and an excellent extension to the Jim Beam lineup. Those who enjoy Jim Beam or spicy bourbons would be well advised to pick up a bottle of Devil's Cut.
About Jim Beam Devil's Cut Bourbon Whiskey
Jim Beam Kentucky Straight Bourbon that has been aged a little longer and cut to bottling strength using water that has been infused by the wood from a used bourbon barrel.
Produced by Jim Beam Bourbon Whiskey
Released in 2011
Retails for around $24/750ml bottle
Originally Published: July 27, 2011
Edited by Colleen Graham: October 8, 2015
Disclosure: Review samples were provided by the manufacturer. For more information, please see our Ethics Policy.