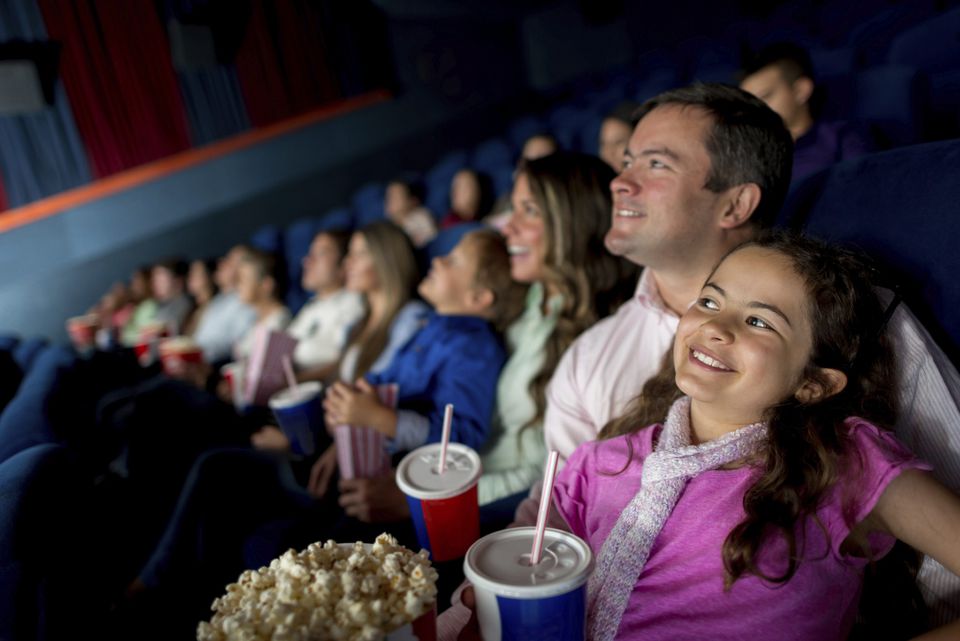 Gone are the days of carefree afternoons at the movie theater, unfortunately. Movie theater shootings have put everyone on alert. But Americans spend more than $10 billion a year going to the movies and little kids love settling into their theater seat with a big box of popcorn. Enjoy the show but keep safety on your mind with movie theater safety tips to protect your family.
Know Your Audience
Be nosey.
Take a look at everyone who's walking into that movie theater.
Make a mental note of people who send alarm bells off in your head. The guy who walks into the children's movie alone and sits down in front of you may not be a psychopath but you have to at least wonder. He may just be a guy who loves animation but if something doesn't seem right, it may not be.
Hit the Matinee
Matinees can be more budget friendly than the evening shows. Even with lower ticket prices, matiness can still be less crowded.
This gives you a clearer view of who's entering the movie theater. The smaller crowd doesn't mean you're completely safe, of course, but it does help you get a better idea of who's sitting in the movie theater with you.
Study Your Exits
It's always a good idea to know your exits in case of an emergency. Glance around the movie theater as you enter to spot your exits.
In case of an emergency, which door would be your closest to get your family out?
If that entrance is blocked, what would your secondary exit be? Take another look after you sit down. If the exits seem too far away or too hard to get to, change your seats.
Report Anyone Suspicious
Trust your instincts. If anyone looks suspicious to you, don't hesitate to take your kids with you so you can report that person to the movie theater's management.
You're not the only one concerned about safety. Movie theaters are in the hot seat right now and they are concerned about your safety too.
Let Everyone Know Where You Are
Heading off to the movies can be a spur of the moment decision. If you go, be sure at least two people know where you're going.
You never know when you could be trapped, hiding in the theater while your other friends and family are watching the breaking news reports that a gunman is still inside that same theater. Your family and friends could play a key role in you and your children's safety. They can alert police that you're in the theater too so extra precautions can be taken to get your family out of there safely.
Put Your Cell Phone on Vibrate
Movie theaters want you to practice good cell phone etiquette so you're not texting or bothering everyone when your phone starts ringing during the movie. It's understandable and you don't want to disrupt anyone else who's trying to watch the movie.
But instead of turning your cell phone completely off, keep it close by and set it to vibrate. That way, in case there's an emergency, you can easily grab your phone and call for help without having to wait for your phone to power back up.
Download a Safety App
Since your cell phone will still be on, download an app that can help you in an emergency situation. There are a number of safety apps that let you alert those in your circle that you're in a dangerous situation.
Since you'll be letting people know where you are ahead of time, you can call up the app before the movie starts. Should something happen in the movie theater, simply push a button within the app to send out an emergency alert to everyone you've added to your circle. It can be one quick way to send out a distress signal when you may be too panic-stricken to dial 911 or you need to get the light of the phone back off quickly to hide yourself and your family.
Keep the Aisles Clear
Parents have to carry a lot of stuff with them wherever they go. It feels like you're constantly hauling baggage around with you.
So when you hit the movie theater, you may have a diaper bag or other large bag that has everything in it from wipes to a change of tiny clothes. Don't put it at your feet or in the aisle, though. Hang it on the armrest or put all of your coats and bags in the seat next to you. That way, if you need to get out of the movie theater quickly, you won't be tripping over your stuff.
Find Places to Hide
Hiding in a movie theater is easy and it isn't. It's dark but not pitch dark when the movie is playing. And most theaters these days are automated so you likely won't have someone sitting by the projector who's alerted that someone has decided to stand up in the movie theater to start shooting.
Find your places to hide before the movie theater starts. If you can't get out of the theater, you won't be panicked running through the chaos trying to find somewhere, anywhere, to hide. Behind the large curtains by the screen, ducking behind seats, even bringing a dark blanket with you to mask your family as you hide in the aisles can save your lives. It's not something we want to have to experience or even think about but until movie theaters beef up their security, it's better to think out your plan ahead of time and hope you don't have to ever use it.
Know When to Run and Know When to Stop
No one should have to go through a horrific situation like the moviegoers in Colorado, Louisiana and Tennessee did. If you're ever in that situation, it's easy to panic.
And while you can never fully prepare yourself for such a scenario, do keep in mind that there are times you should run and times when it's safer not to to keep you and your kids safe. Only you will know which is better but keep a hold of your children whether you're running for the exit or making a split-second decision to duck down in the aisle to hide.