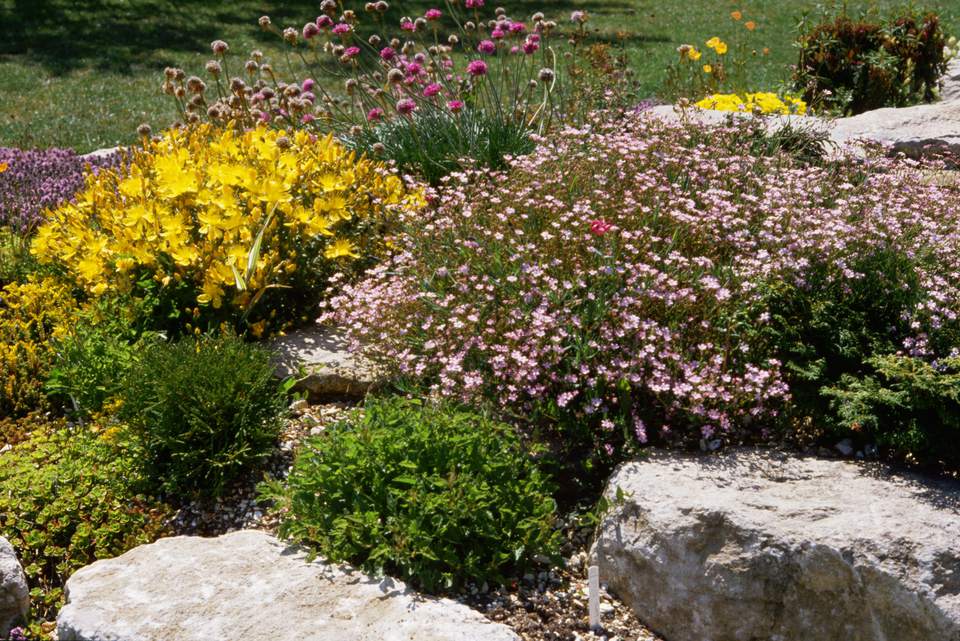 Framing Your Landscape With Rock

What separates some of the great landscapes from just ordinary ones is the creative use of rock. The artful use of hardscape can further bring out the beauty of the plants that you are already growing. And the decorative and practical use of rocks can even raise the value of your property.

You put a lot of care into your plants, and rightly so. But do not forget the non-living features of your yard. While your plants may be the focus of your design, hardscape provides structure and serves as a...MORE frame.

For many homeowners, a boulder at a driveway entrance will good enough. But the possibilities are limited only by the time you wish to spend on your hardscape—or by the money you are willing to pay professionals to do it for you. 

Continue to 2 of 9 below.

Using Rock in Patio Construction

For some hardscape projects, you may need to bind your rocks together with mortar. For others, you may decide that brick, concrete, or tile will work better than rock. These and other choices must be weighed carefully before taking on one of the most popular hardscape projects—building a patio. 

Whether made of concrete, stone, tile, or some other hardscape material, patios are a wonderful way to tie the indoors into the outdoors. An interesting alternative to lawns is the extended patio—an...MORE enlarged patio that takes up space where lawn grass would otherwise be planted. Such a patio lowers maintenance and cuts down on your watering needs.

Continue to 3 of 9 below.

Anchoring Planting Beds With Boulders

This small lawn is dominated by a planting bed, and the design is effective. But this bed would have much less impact without the boulders used to anchor it. Given the use of rock throughout the property (house, garage, and driveway), these boulders also tie the planting bed in nicely with the rest of the scene.

Ideas for the use of rocks or other hardscape elements, such as bricks, includes the following:

Fountains in water features.
Paths, including stepping-stone walkways in the garden.
Lan...

dscape steps.

Stone walls.
Accent pieces for water gardens.

 

Continue to 4 of 9 below.

Building Stone Walls

The subject of stone walls, in itself, has a wide-ranging scope. There are many possible variations, including:

Those that run along a street and set it off from your lawn.
Those that line the sides of a driveway.
Those that mark a property line (double-check with a surveyor before installation, to be on the safe side).
Those that enclose vegetable gardens or flower beds.
Stone retaining walls designed either to prevent erosion or to terrace a hillside in preparation for planting.

But the above ideas...MORE only hint at the possible choices and challenges when planning stone walls. One of the most obvious of your initial decisions is whether or not to use mortar to hold the rocks in place. If you are using round rocks, you have little choice but to use mortar. Round rocks are not as stable as flat rocks. Mortar is needed to keep them from moving. 

Continue to 5 of 9 below.

Size and Shape as Factors in Rock Selection

For all of your rock work, the size and shape of your stone will be central to achieving the look and feel you desire. So choose your rocks carefully. The large, flat rocks used to build these landscape steps assure anyone about to tread on the stairs that their journey will be completely safe. The last thing that you want in a landscape step is instability. Even the suggestion of instability in a landscape step is off-putting.

But do not over-do the use of rocks in a landscape design, no matter...MORE how stable they are. Make sure that you use plenty of plants in your design in order to soften the look of the rocks, which can be a bit harsh if there are no plants around.

Continue to 6 of 9 below.

Factors to Keep in Mind for Retaining Walls

As with landscape steps, choose your building material wisely when using natural stone to create a retaining wall. Work done with large, flat rocks gives you a sense of stability, which is appropriate for retaining walls. A retaining wall is a feature that is practical, first and foremost. Its job is to retain the soil behind it, preventing erosion.

But if you are building a rock fountain, say, you might prefer the cute look that can be achieved with small, round rocks. That would be all right in...MORE the case of a fountain, because this is a purely decorative feature.

There are many factors to keep in mind when building retaining walls. If the wall will be small and simple (with no tricky angles), it may be regarded as a DIY project. But large and complex walls should be left to professionals.

Natural stone is not the only possible choice as a building material for retaining walls. Lovers of the natural look may not like the blocks used to construct the retaining walls shown in the picture. But such blocks are:

Easy to find at home improvement centers.
Easy to transport.
Easy to work with (both for DIY jobs and for professional jobs).
Cheap to buy and install.

For all of these reasons, they are popular with homeowners, even though they lack the impact of natural rocks.

Continue to 7 of 9 below.

Rock and Water: a Marriage Made in Heaven

There is something magical about the combination of rock and water in a landscape. Perhaps that is why Westerners have fallen in love with Japanese gardens, which frequently marry these two elements together. Fountains made of stone are one idea to try out if you are looking for ways to use rocks and water in combination.

Nor do you necessarily need to install a large fountain to create an impact. It depends on the size of the space. Simple rock fountains can have a big impact on a small...MORE property.

Continue to 8 of 9 below.

Using Rocks In Your Water Gardens

There are other ways to unite rock and water in your landscaping, besides building rock fountains. With their combination of plants and water, water gardens already give your yard an interesting look. But adding rocks to the scene lends even greater variety. Nor do such water features have to be large. You have plenty of plant choices for creating a small water garden on your property. 

Continue to 9 of 9 below.

A Solid Path to Landscaping Beauty

Stone walkways can be wonderful, but they can also be a bit monotonous if you are not careful. To some degree, it depends on the material that you choose to build with. Take a cobblestone walkway, for example. Cobblestones are delightful, but they are also uniform. Planting a small ground cover in the cracks between the cobblestones is a great way to break up the monotony.

Examples of short plants that can serve in this role include:

By contrast, flagstone...MORE is a building material that has a lot of variety to it. The stones are irregular in shape and come in different colors. When building flagstone walkways, there is no need to install plant material in the cracks between the flagstones.