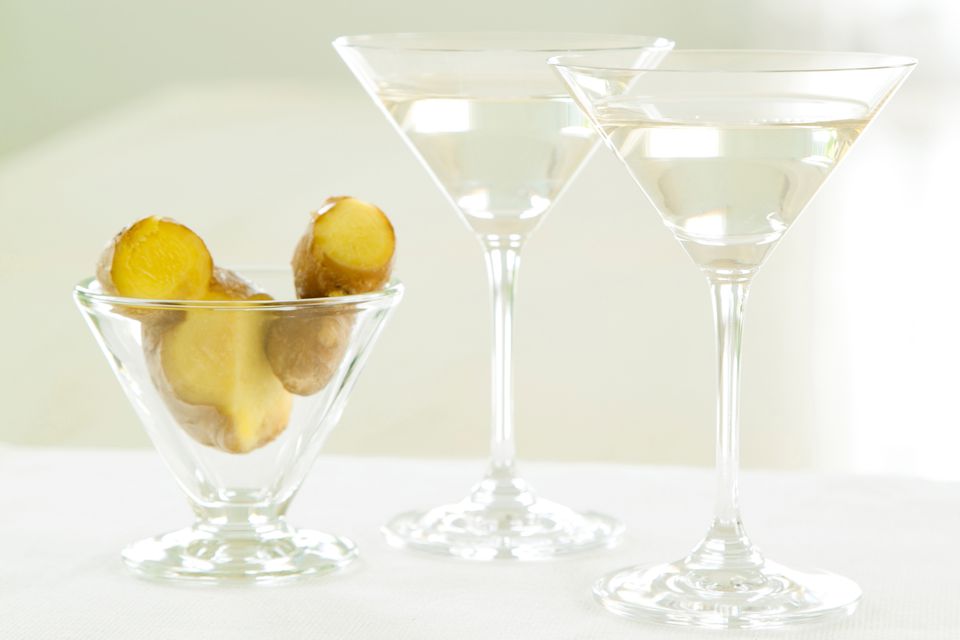 It is time for a semi-sweet, semi-spicy cocktail and ginger liqueur is your ticket for making that happen. Produced by a variety of brands, ginger liqueurs are ideal for mixing into cocktails because they quickly add that signature snap of ginger to the glass.
Though ginger liqueur and ginger brandy have been made for a very long time, they are once again coming back into the spotlight. Brand names like Domaine de Canton have revived this spirit category, given us new and modern cocktails to enjoy, and helped us add new life to old and forgotten drink recipes.
What is Ginger Liqueur?
Ginger liqueurs can be made with a variety of ginger. They often use brandy for the base, though rum and neutral spirits are also used. Herbs and other flavorings can also be added to give a ginger liqueur a unique signature flavor.
The taste of these liqueurs varies greatly, though most can be noted for having that snappy, semi-sweet ginger spice that the root is known for.
Ginger Liqueur Cocktail Recipes
If you enjoy the taste of ginger, you're really going to like these cocktail recipes. The liqueur pairs well with everything from whiskey to gin. You'll also be pleasantly surprised how well it works with pear vodka and limoncello in the Tuscan Pear.
Tuscan Pear - with pear vodka, limoncello, and orange juice
Ginger Liqueur Martini Recipes
On the fancy side, ginger liqueur makes an appearance in many drinks that we might classify as martinis. The Ginger Martini is, of course, the star of this recipe collection and a perfectly simple drink that's ideal for trying out any ginger liqueur you pick up.
5 Best Brands of Ginger Liqueur
When searching for a ginger liqueur, you have a few options. It is not as common as amaretto or Irish cream, but it is relatively easy to find. Among those, these brands are some of the best you will find.
Domaine de Canton Ginger Liqueur - By far the most popular and widely available, this premium ginger liqueur is made in France with a Cognac base.
The King's Ginger - A revival of a very old ginger liqueur, this one hails from London and the recipe is said to have been developed as a remedy for King Edward VII.
Barrow's Intense Ginger Liqueur - Handmade in Brooklyn, this liqueur is made with ginger and a neutral cane spirit. It is intense in flavor and excellent for cocktails. It's also gluten-free, kosher, and vegan-friendly.
SNAP by Art in the Age - Designed to taste like a real ginger snap (or German Lebkuchen), this organic liqueur from a small-batch distillery in New Hampshire is unlike any other. It can be used to add a fun twist to any ginger cocktail.
GE Massenez Ginger Carafe - The French distillery crafts fine liqueurs and this eau-de-vie is one of the best ginger-flavored brandies you'll find. They also make a very interesting Lime and Ginger Liquor.