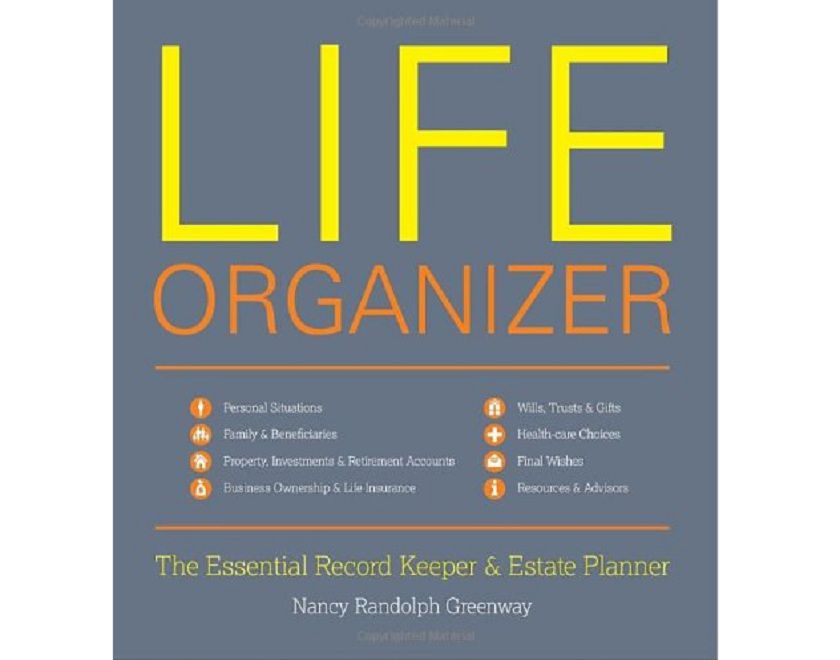 Did you ever moan, "I just need someone to get me organized!" Nancy Randolph Greenway, an attorney who specializes in estate-planning, may have the answer to your plea. In Life Organizer: The Essential Record Keeper and Estate Planner, she offers practical guidelines for getting your important papers in order and for creating essential documents.
The death of a grandparent can be a traumatic event for a family, but how much more traumatic it will be if vital papers are missing and important questions unanswered.
Still, persons of all ages can benefit from Greenway's systematic approach. The Life Organizer would be a practical gift for a grandparent or from a grandparent.
Your Essential Record Keeper
Here's the blueprint: Life Organizer is a three-ring binder, 10" X 11", with eight tabbed sections. The sections are titled:
Personal Considerations
Family and Beneficiaries
Property and Investments
Insurance, Retirement and Business
Will, Trusts and Gifts
Health Care Choices
Final Wishes
Resources and Advisors
Each section begins with several pages of explanation and concludes with examples of record-keeping pages. Several blank copies are provided for each of the record-keeping pages. Sleeves to hold documents and CDs are also included.
Because the Life Organizer is a loose-leaf binder, it is easy to take out any sections that aren't needed. Conversely, extra document holders could be purchased and added. 
Why Get Organized?
We've all heard the horror stories about families who struggle after a death because they can't find essential documents or don't know vital information about the wishes of the deceased. Family disputes over money may erupt, and the rifts that result can be permanent.
The most important benefit of a record keeper like this one is the peace of mind it provides, both for the individuals preparing the record keeper and for the family members left behind. But the record keeper offers benefits during life, too. The process of organizing a record keeper necessitates some hard thought about end-of-life issues that we often put off dealing with.
It also can spark necessary and illuminating discussions with family members.
Our grandparents may have had only one bank account and one source of income. A simple will might have been enough for them. Today's grandparents are likely to have multiple accounts and investments. Being organized and informed is more important today than ever before. The diversity of situations means that Greenway isn't able to offer specific legal advice, but her expertise will make it easier to find any help that you need.
The bottom line is that most grandparents do not want to be a burden on their children. Using the Life Organizer is one more way that we can make things easier for our children, even after we are gone.
A Friendly Approach
The information contained in the record keeper is clear and understandable, and the approach is sympathetic and family-oriented. Advice ranges from the eminently practical -- use a pencil to fill in records -- to the more esoteric -- how to preserve the family cabin or condo for the use of the whole family. Most sections also feature a sidebar with a glossary of useful definitions. If you can't spout terms like "tenants-in-common" or "per stirpes" with ease, you will need the glossary.
Greenway enlivens the organizer with pertinent anecdotes. Each section is headed with a quotation to inspire you to get moving. My favorite is from Michael J. Fox: "Family is not an important thing. It's everything." That's the best reason for getting and using the Life Organizer.