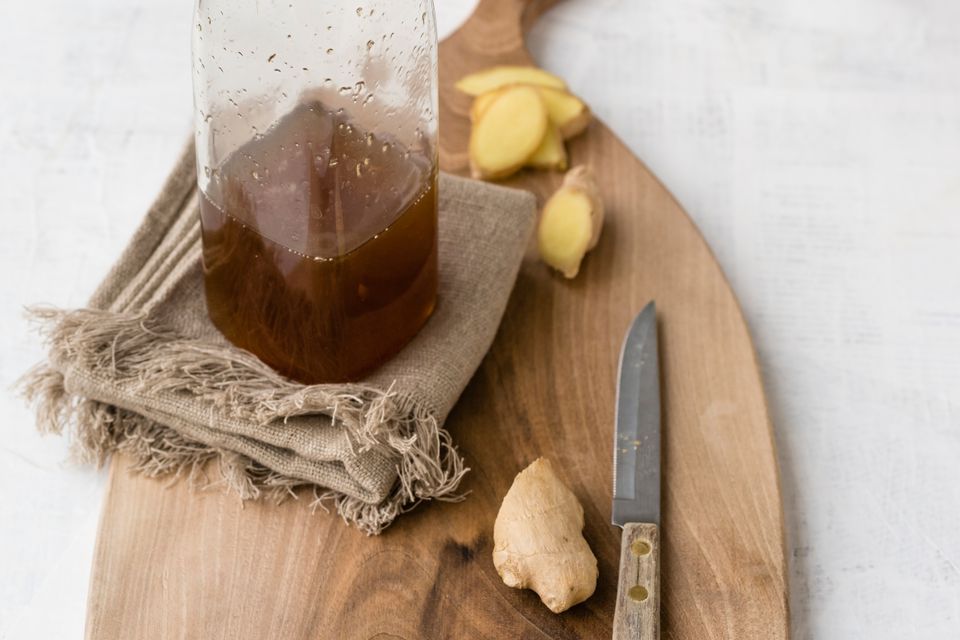 Ginger simple syrup is one of those great little ingredients that is quite useful in the bar. It's easy to make and allows you to add the sweet spice to your drink routine. It is also the foundation for making your own ginger ale.
In recent years, ginger syrup has made its way into a number of cocktail recipes and it can be used in many of our favorites to add a sweet snap to the flavor. You may also want to use this to flavor tea and coffee drinks. Plus, extra flavors like vanilla and spicy peppers can be added to the syrup to really give it some zing.
This syrup recipe is not much different than any of the other flavored syrups that you can make at home. Essentially, you will dissolve sugar in water over heat and add the flavoring by allowing fresh ginger to infuse its distinct taste into the syrup. It's simple and takes just a few minutes of your time.
Place the sugar and water in a saucepan on medium heat, stirring constantly until the sugar is dissolved.
Add ginger and continue to heat, bringing the syrup to a light boil.
Cover and allow to simmer for about 15 minutes.
Remove from heat and allow to cool and steep in the covered pan for about 1 hour (or until it reaches your preferred taste).
Strain out the ginger and bottle.
Store in the refrigerator, it should keep for about two weeks.
Tip: To make straining easier, slices or chunks of ginger are better. Grated fresh ginger will work as well, though you will need to fine strain it to remove all of the pieces.
You can adjust the sugar and water ratio, making it richer with a 2:1 sugar to water or back off on the sweetness with a straight 1:1 mix. The proportions given in the recipe seem to work best with ginger as it adds a bit more sweetness against the spice, though it can be adapted to your taste.
Add More Flavor to Your Ginger Syrup
Ginger syrup does not have to be one-dimensional. The sweet spice is the perfect foundation to build on and there are a number of flavors you can add to your syrup.
Vanilla. Something as simple as a vanilla-ginger simple syrup is a great start. The vanilla adds a little more sweetness that contrasts and plays down the ginger. You can use whole vanilla beans, but a teaspoon of vanilla extract works as well.
Chile Peppers. Another fun twist is to mix the flavor of ginger with a more powerful spice like chile peppers. You can use jalapeno, your favorite red chiles, or even a habanero pepper. This is a little tricky because you do not want the pepper to 'burn' the flavor of the syrup so it must be removed before the ginger infusion is done. The key is to find a balance in the flavors and it will be different for every pepper variety.
Place a single, whole chile pepper into the syrup while simmering. If you cut the pepper and expose the seeds to the syrup, it will get spicier faster.
When you remove it from the heat, taste the syrup. If the pepper infusion is to your liking, remove it and continue the ginger infusion. If not, let it go for a few more minutes.
Most peppers will need just 5 minutes in the syrup during the cool down, this is especially true for those as hot as a habanero.
The Chadwick was a fun Mojito-like cocktail from Nacional 27 in Chicago. It featured a habanero-ginger syrup with an extra shot of pomegranate juice in the standard Mojito recipe. The fruit-spice combo is fantastic and should spur more ideas for your ginger syrup adventures.
Winter Spices. The traditional spices we associate with autumn and winter are great complements to ginger. This includes cinnamon, nutmeg, cloves, allspice, and the like.
For instance, you can combine the ginger, cinnamon, clove, and allspice used in the Ginger Snap Martini and create a syrup. This makes the drink just a little easier to mix up and the syrup is fantastic in Hot Toddies and coffee as well.
Another example comes with the cranberry spiced syrup used in the tequila-based Spiced Silver Bell recipe. Though ginger is not on the syrup's ingredient list, it can easily be added to it because ginger works with all of the flavors in the drink, including the tequila and cranberry, and it already includes ginger beer.
Other flavors to try with ginger in syrup include coconut, mint, and lemon or lime.
Ginger Syrup Drink Recipes
Ginger syrup is actually quite versatile and can find a home in a variety of mixed drinks. You will not have syrup to spare as you explore all of these fascinating cocktails and mocktails.
One of the best places to begin is with the Stoli Alibi. This simple mixed drink takes a different approach to the Moscow Mule, featuring club soda and ginger syrup rather than ginger beer.
It has a softer profile and is a breeze to mix up.
For an easy mocktail, mix up the Cranberry Ginger Sparkler. Simply mix 1/2 ounce ginger syrup with 3 ounces cranberry juice over ice. Top the drink with sparkling apple cider and stir. It's fantastic for autumn and can be spiked with vodka, rum, or even whiskey.