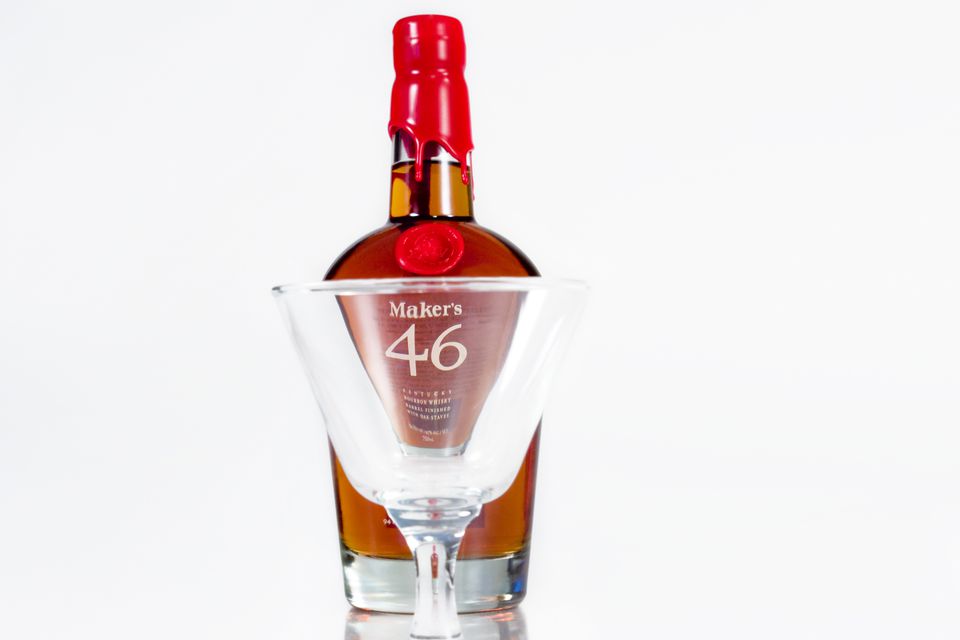 Maker's Mark, long famous for their flagship marque, introduced Maker's 46, the first new product in over 50 years from the distillery. It is a brilliant bourbon on its own and a fantastic addition to the brand.
Why is Maker's 46 Special?
Maker's 46 is the same great bourbon whiskey that we are used to in those iconic red wax-dipped bottles. There have simply been a few changes in the aging process that make it special.
After Maker's Mark Bourbon is fully matured, charred French oak staves are inserted inside each barrel to begin the transformation into Maker's 46. These barrels are then aged for an additional 2 to 3 months and only during the winter when the maturation process is naturally slower.
Just as is the case with Maker's Mark, this bourbon has no defined age statement. Instead, it is removed from the barrel when the distillers deem it finished.
The Review of Maker's 46
On the Nose
The classic Maker's Mark sweetness peaks through a veil of spice. Cinnamon, clove, and allspice appear before making way for the classic Maker's Mark signature vanilla and caramel notes to arrive. There is more wood on the nose than in Maker's Mark, but it is in balanced and very pleasing.
This is one of the most remarkably pleasant bouquets that I've had the pleasure to nose in some time. Perhaps a secondary market could be created by selling a Maker's 46 men's fragrance?
The Body and Palate
Again, like Maker's Mark, Maker's 46 has just enough mouthfeel to coat the mouth, but it is not too thick or oily to be unctuous.
Wonderful spice notes hit the palate first, before creme brulee and fresh warm caramels make an appearance. There is a pleasing toasted oak note to this bourbon, but what is particularly interesting is that it comes early on the palate, leaving room for the finish without creating unpleasant smoky flavors before the end.
This is a very well crafted whiskey, one that will do double duty as both a whiskey to be enjoyed on its own as well as turned into cocktails. I'm particularly impressed by just how good Maker's 46 is in a ​Manhattan cocktail. It should be the first choice of any bartender when making a Manhattan as it has the perfect balance of sweet and spice.
Finish
On the finish, Maker's 46 presents a longer finish than its more famous cousin. Big vanilla notes dominate, with lip-tingling spice, caramel and orange marmalade notes appearing before a quick hint of milk chocolate appears to provide the dessert course to the finish. Warm and lingering, this is a very pleasing finish to a world class whiskey.
Maker's 46 Cocktails
About Maker's 46 Bourbon Whiskey
Kentucky straight bourbon whiskey distilled from corn, red winter wheat, and malted barley. Aged "until it's ready" (6 to 7 1/2 years) in new charred American oak barrels. Finished with seared French oak staves and matured for 3 months of the winter.
Produced by Maker's Mark of Loretto, Kentucky
First released in 2010
Retails for around $43/750ml bottle
Originally Published: July 14, 2010
Edited by Colleen Graham: October 16, 2015