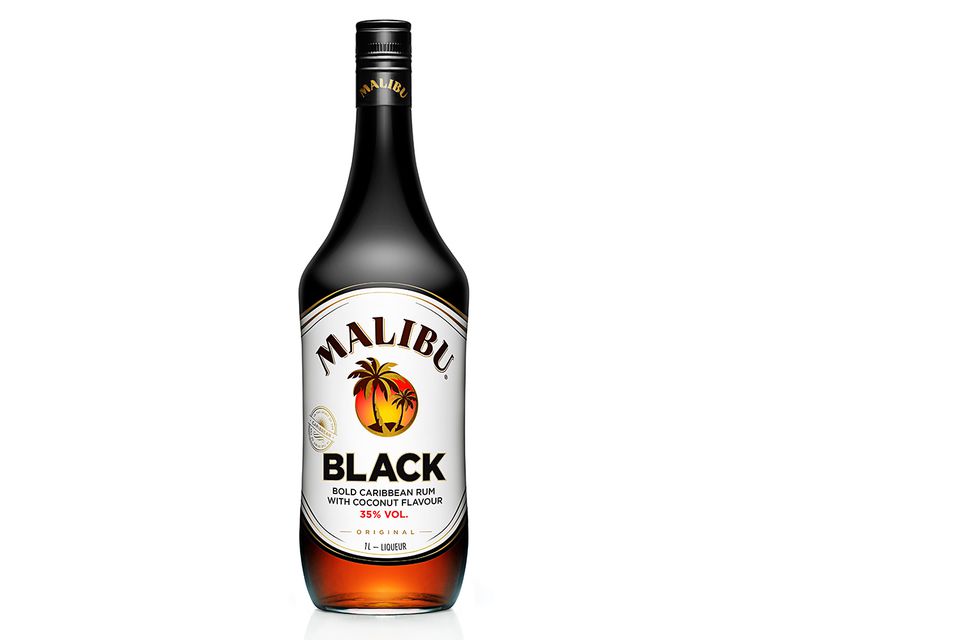 Rum comes in many flavors and incarnations, coconut being one of the most popular of the flavored rums. Unfortunately, most coconut-flavored rums have a strong artificial flavor or lack a true undertone of good quality rum. Luckily, Malibu Black has rectified that with a coconut flavored rum that will not only appeal to coconut flavored rum enthusiasts but also to true rum purists. 
The fact is, Malibu Black is a fantastic product that is extremely versatile and an easy mixer to create amazing coconut cocktails.
Tasting Notes
Malibu Black features an aroma of freshly cracked coconuts with undertones of Carribean rum, Madagascar vanilla and warm caramel. Nosing Malibu Black is reminiscent of sitting on white sand Caribbean beaches with a Malibu Black Storm cocktail in hand, watching the sea and relaxing. It is almost a mini-Caribbean vacation in a glass.
Malibu Black has a rich, warm mouthfeel without being cloyingly sweet as many rums can be. This unique twist on Caribbean rum has a pleasingly dry coconut note, think freshly made macaroons with rich rums notes of vanilla and caramel with just a hint of cinnamon. 
Malibu Black has a refreshingly dry finish. Rather than coating the mouth with sugar as so many flavored rums are apt to do, Malibu Black slips off the palate leaving just a hint of coconut lingering, enticing you back for more.
Final Thoughts
In sum, Malibu Black is simply the best-flavored rum on the market and the only choice for an authentic coconut flavored rum.
It's perfect for enjoying anytime, anywhere and makes an essential addition to your liquor cabinet or bar.
Enjoy Malibu Black
At 70 proof, Malibu Black will mix well into your favorite rum drink or you can try it on its own, perhaps on the rocks with a squeeze of lime for a delicious treat.
Malibu Black Rum will add a darker side to any cocktail that calls for coconut rum.
It can easily take the place of the flagship bottle of Malibu Rum and can also add a dark coconut flavor to popular rum cocktails like the Pina Colada.
One of Malibu Black's signature cocktails is the Malibu Black Storm. It is a simple variation on the famous Dark and Stormy, pairing Malibu Black with cola instead of ginger beer.
About Malibu Black Rum
Coconut-flavored liqueur with a Caribbean rum base produced on Barbados using natural flavor and pure sugar cane.
Imported by Pernod-Ricard
Retails for around $20/750ml bottle

Visit Their Website
Originally Published: September 30, 2011
Edited by Colleen Graham: October 16, 2015