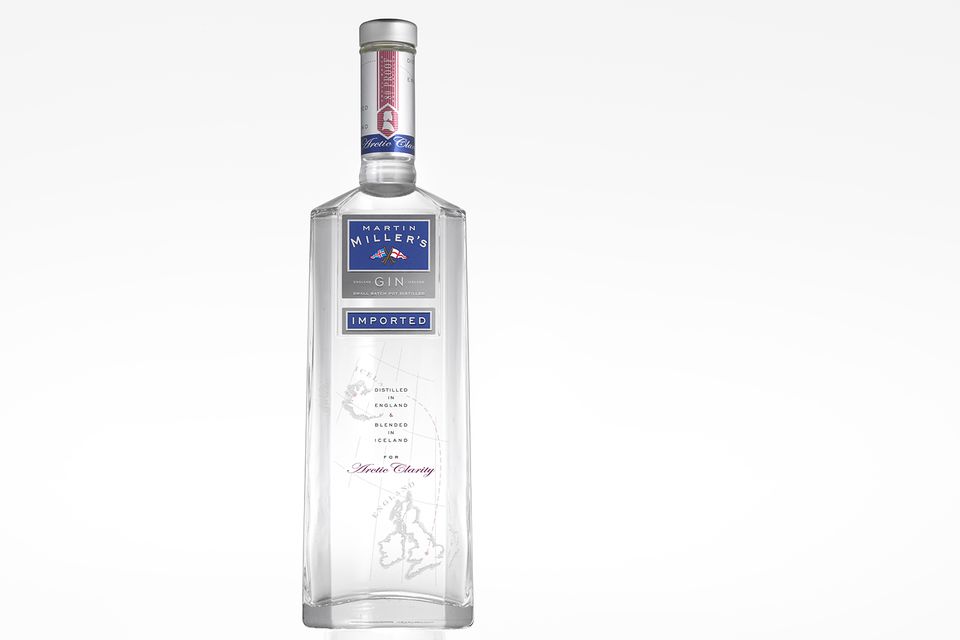 Call Martin Miller's quest for a uniquely extravagant, modern London dry gin a success. The author of Miller's Antique Price Guide could not find a gin on the market to satisfy his discerning tastes, so like any endeavoring connoisseur, he set out to create his own.
For Miller, finding the perfect gin became a fixation, "born of love, obsession and some degree of madness," one that led to one of the newer, luxurious premium spirits tagged with the Englishman's name, Martin Miller's London Dry Gin.
The Making of Martin Miller's Gin
If your goal is to create a benchmark in the competitive distilled spirits market, every step of the process needs to be carefully planned and executed.
Martin Miller's Gin is crafted in small, single batches inside the pristine walls of a copper pot still designed by John Dore & Company in 1903, which is adoringly named "Grandma." The distillation process itself is a little more complicated than the average gin.
To create Martin Miller's, two separate distillations take place. One includes a double distillation of juniper and other earthy botanicals like cassia bark, Florentine Iris, and coriander. The other distillate includes the citrus flavors, including Seville orange peel and lemon and lime peel. Once finished, the two distillates are married and the result is as noble and genteel as the simply modern bottle.
At this point, the distillate travels 3,000 miles across the sea to Iceland for a finishing touch in which it is blended with the purest water on Earth that has been naturally filtered through the island's lava.
It is here that the finished gin is poured into bottles that reflect the nautical journey and simple refinement any Englishman would be proud of.
In 2003, the brand released Martin Miller's Westbourne Strength Gin, which is also a great gin option and worth checking out.
Tasting Notes
Martin Miller's London Dry Gin holds the taste of botanical perfection in harmony with a distinctly modern feel.
The nose of the spirit is a wondrous bouquet of blossoming jade, jasmine, juniper and the slightest touch of citrus zest. As the silky liquid caresses the tongue the true flavors of the botanicals come to light with the most subtle juniper, cardamom and peppercorn leading the way.
Juniper takes the spotlight in a short, warm finish in an explosive manner that contradicts all the previous subtleties.
Enjoy Martin Miller's Gin
Martin Miller's can easily become your new premium gin of choice and should have a regular place in any bar.
It is a versatile spirit that will work in almost any gin cocktail you could think of, including the classic favorites like the Martini, Aviation, and Martinez. It is also brilliant when mixed into modern cocktails and those that feature this gin are listed below.
Cocktails Featuring Martin Miller's Gin
About Martin Miller's Gin
Double-distilled English gin produced in a two-stage distillate: juniper, coriander, angelica, liquorice root, cassia bark, Florentine Iris, lime peel in the first distillation and bitter orange peel, lemon peel, and lime peel in the second. Finished with Icelandic glacial water.
Produced by Martin Miller's Gin in England's Black Country
Launched in 1999
Retails for around $28 per 750mL bottle
Visit Their Website