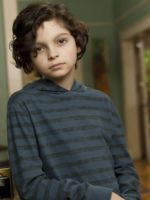 Max Braverman (Max Burkholder) is Adam and Kristina Braverman's only son. He suffers from Asperger's syndrome.
Max Braverman's Family
Adam Braverman, dad

Kristina Braverman, mom

Haddie Braverman, sister
His Challenges
Max seems like your average boy who just happens to be quiet. He has, what his parents first think, are childlike quirks that prevent him from being socially accepted by his peers -- tantrums, only wanting to wear a pirate costume to school, biting and a fear of fire.
However, they soon discover Max has Asperger's syndrome.
Memorable Quotes from Max Braverman
"It's my team!"
"Did you know a cockroach can hold its breath for 40 minutes?"
"I played with a girl at the park today and so I got a lizard and tomorrow I'm going to get bugs."
Episodes Featuring Max Braverman
Episode 1: Pilot
Max doesn't seem to fit in with the other kids his age. He doesn't want to play baseball and he gets in a fight at school. His parents begin to think he has Asperger's syndrome.
Full Episode Recap
Episode 2: Man Vs. Possum
A behavioral therapist meets with Max and officially diagnoses him with Asperger's syndrome. Full Episode Recap
Episode 3: The Deep End of the Pool
Max gets kicked out Sullivan Elementary for breaking the classroom aquarium. His parents get him into Footpath Elementary, a school that allows Max to be who he is and wear his pirate costume to class without judgment.
Full Episode Recap
Episode 4: Whassup
Max's sister Haddie has a secret boyfriend. Their parents try to uncover the dirt on the new guy. Full Episode Recap
Episode 5: The Situation
Max is back on the baseball team. He practices with Adam and cousin Drew. Full Episode Recap
Episode 6: The Big "O"
Max meets his new behavioral aide Gaby.
She begins to make progress with Max, which makes his mom feel like a failure. (Guest Star Minka Kelly) Full Episode Recap
Episode 7: What's Goin' On Down There?
Gaby continues to work with Max. He's really responding to the sticker reward system. (Guest Star Minka Kelly) Full Episode Recap
Episode 8: Rubber Band Ball
Aunt Julia suspects her daughter may have Asperger's like Max. Full Episode Recap
Episode 9: Perchance to Dream
Kristina is going back to work, and Adam is left alone to deal with Max and Haddie. Full Episode Recap
Episode 10: Namaste No More
Max's parents want him to make new friends, but the challenge seems to be overwhelming for all three of them. Full Episode Recap
Episode 11: Solace
Max's house is in chaos when grandpa Zeek moves in. Full Episode Recap
Episode 12: Team Braverman
Max and the Braverman family walk for autism. Full Episode Recap
Episode 13: Lost and Found
Max's dad goes on a hunt for Sarah's daughter Amber, who is missing. Full Episode Recap