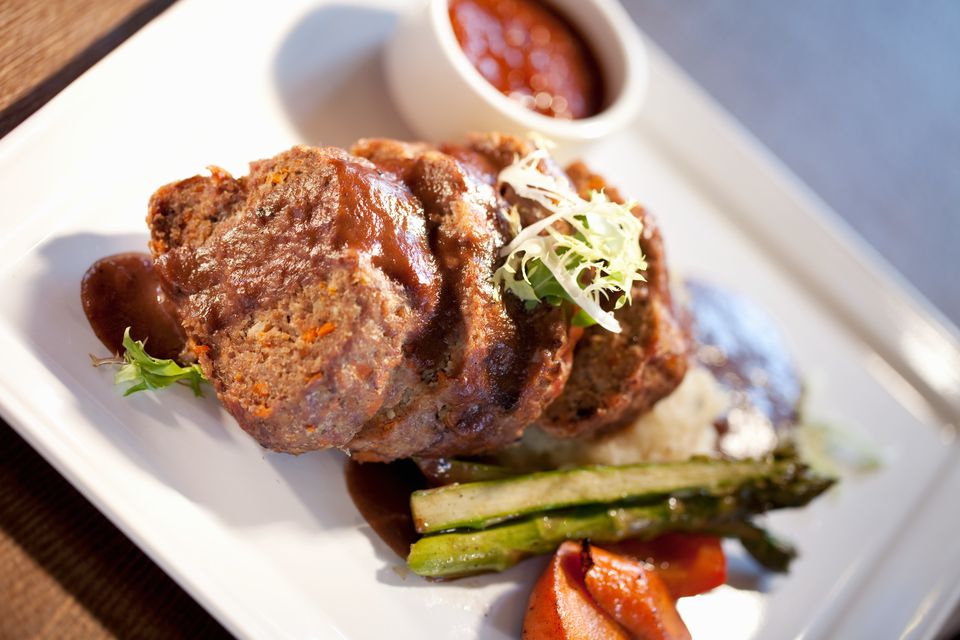 This meatloaf gets its zesty flavor from horseradish and a ketchup topping. Feel free to leave the horseradish out of the meatloaf if you aren't a fan, or replace it with a tablespoon or two of grainy mustard. 
Serve this meatloaf with mashed potatoes and green beans for a satisfying family meal.
2 tablespoons butter
1/2 cup finely chopped onion
1/4 cup finely chopped green bell pepper
2 pounds lean ground beef, round
3/4 cup rolled oats
2 eggs, slightly beaten
1/2 cup tomato juice
2 1/2 teaspoons salt
2 teaspoons paprika
1 teaspoon dry mustard
2 to 3 tablespoons horseradish, optional
1/2 cup ketchup​
Heat the oven to 375 F.
Melt the butter in a  skillet over medium-low heat; add the onion and green pepper and cook, stirring, for about 5 to 7 minutes, or until the onion is translucent.
In a large mixing bowl, combine the ground beef, oats, eggs, tomato juice, salt, paprika, mustard, and horseradish, if using. Add the onions and peppers and mix gently until well blended.
Spoon the meatloaf mixture into a greased loaf pan or meat loaf pan and pack gently.
Spread the ketchup over top.
Bake in the preheated oven for 1 hour and 10 minutes.
If desired, check the meatloaf temperature with an instant-read thermometer. The minimum safe temperature for ground meat is 160 F. For ground poultry, the minimum safe temperature is 160 F.
Serves 8.
You Might Also Like
Simple Meatloaf With Optional Topping
Meatloaf With Mixed Vegetables
Turkey Meatloaf With Cranberry Glaze