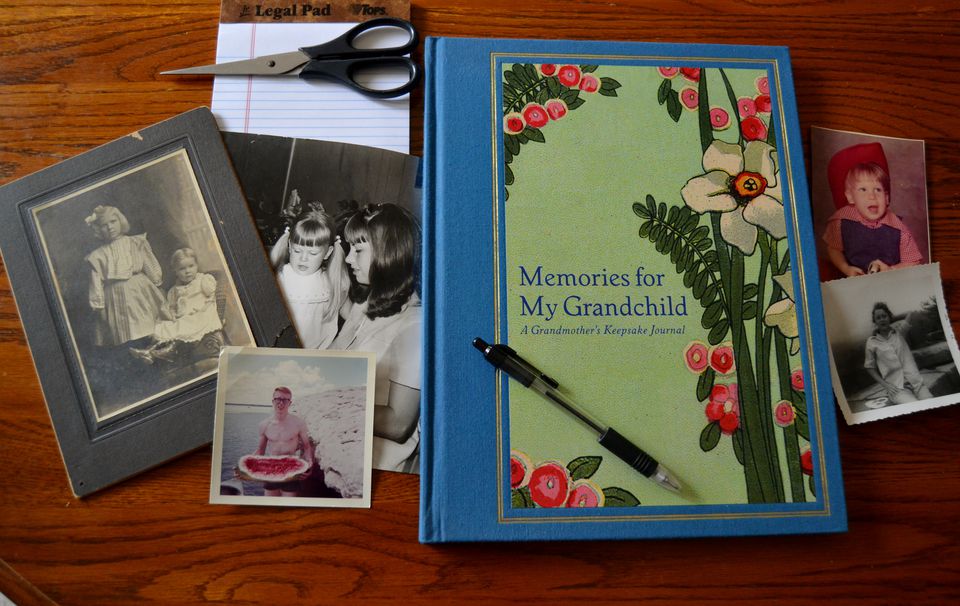 When I was a child, my sister and I used to snuggle with my grandmother while she told us stories of her childhood. Some of those narratives are engraved in my memory, but some have been forgotten. The grandmother who creates a keepsake journal for a grandchild ensures that her stories won't be forgotten. Memories for My Grandchild: A Grandmother's Keepsake Journal is an offering from Welcome Books.
It is one of many available grandparent journals on the market, but it will be a good choice for many grandmothers.
About This Journal
The beauty of this journal is its only drawback. A lovely cloth-bound book with gold embellishments, it is a generous 9 X 12 size. A grandmother might hesitate to begin the recording process for fear of making a mistake. A blank journal is no journal at all, though, so grandmothers should take the plunge, knowing that something imperfect created by a grandmother is more precious than something perfect that is untouched by a loving hand.
I also love the vintage-type illustrations, featuring bunnies, ducks, vegetables, fruits and flowers. Almost every page has places for photographs and/or memorabilia. But the heart of a keepsake journal is in the writing. I like that this journal provides ample room for writing. There's nothing more frustrating than having a wonderful response to a prompt or question and lacking adequate room for recording it!
The questions in Memories for My Grandchild are not so hard as to make answering them a chore, yet not so easy as to be shallow. For example, the grandmother is instructed to write about her father. After entering his name and birthdate, the following prompts appear:
I want to tell you about his family
And what I loved best about him
My funniest memory of him
He gave me some great advice that I will never forget
I am like him in some ways
And different in others
He contributed to the world in some important ways
The journal devotes several pages to memories of the mom or dad of the child for whom the journal is intended. I am sure that will be a favorite part for most grandchildren. The journal also includes a family tree.
This journal is not overtly religious as many grandparent journals are. Certainly there are places for a grandparent to share religious beliefs, but the grandparent who is not religious will not have to deal with direct questions about beliefs. Even the sections about holidays are phrased broadly -- "holidays and special events" -- rather than specifying Easter, Christmas, Hanukkah, etc.
Requires Effort But With Worthwhile Results
This journal will make a unique, sentimental gift for an older grandchild. (It's okay to create it for a younger grandchild, but I wouldn't actually give it until the child is old enough to take care of it.)
Creating this journal will require a considerable effort. (Read some tips for creating a keepsake journal.) Sometimes just remembering is hard work.
Finding the right words to capture a memory is doubly hard. Locating the appropriate photographs, having them reproduced, making copies of precious documents--all of this takes time. But the result will be a gift that money can't buy. It's not as much fun as snuggling with a grandmother or hearing a grandparent's stories, but it will last a lot longer.