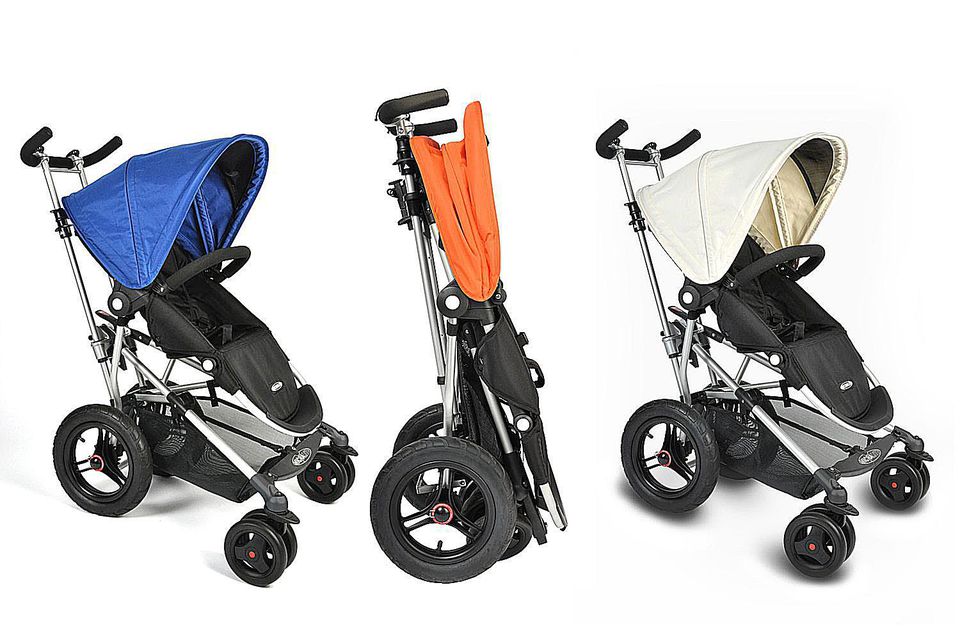 If you're looking for a nice stroller in a higher price range, and one-hand fold/unfold is not one of your must-haves, the Micralite Toro is a great choice. It steers like a dream in most conditions, and the fold/unfold mechanism is relatively simple once the initial learning curve is past. Height adjustable handlebars make this a good choice for taller parents, too.
Pros
Steers easily with comfortable padded handlebars.
Wide base means the stroller is very stable.
Several recline positions.
Foot muff, rainshield, sun shield and removable nap bar included.
Car seat adapter, carry cot and colorful seat pads available separately.
Cons
Requires two hands to fold and unfold.
Older models require a wrench to adjust handle height.
Features
Max weight limit is 40 lbs.
Stroller weighs just over 18 lbs.
Folds and unfolds quickly.
Several recline positions, including flat recline.
Includes basket, sunshade, rain shield, removable nap bar, foot muff, tire pump and wrench for handlebars adjustment.
Car seat adapters available separately.
Extra seat pads available separately.
In terms of steering and maneuverability, the Micralite Toro performs well. In the mall or on urban streets, I can steer with one hand without any trouble. The Toro takes sharp corners and tight store aisles with ease. The front swivel wheels allow quick turns while the rear air-filled tires help this stroller handle more rugged terrain with ease, as well.
The front wheels can be locked so they don't swivel, too, which means you can off-road a bit at the park or on the occasional trail.
With a 40 lb. weight limit, the Toro should be useful through the toddler years for most kids. The seat is deep enough that my toddler testers could sit comfortably. The seat reclines easily to several positions from flat for newborns to upright for sightseers.
The recline mechanism takes two hands but very little effort.
Unfolding the Toro is easy. There are two triggers below the handlebars that you must squeeze at the same time while pushing down to open the stroller. The only downfall here is that you must use both hands to do this.
Folding the stroller is also easy once you figure it out. My testers did not find the close mechanism to be intuitive. You have to push a trigger about halfway down the back of the stroller with one hand while squeezing and pulling up on another trigger above it. Again, it can't be done one-handed. The Toro locks closed easily and stands upright when folded.
The fabrics used in this stroller are sturdy and wipe clean easily. The seat pad is removable for washing. A sunshade, rain shield and foot muff are included. You can also buy other colorful seat pads separately, as well as an infant carry cot and a car seat adapter for Graco and Maxi Cosi infant car seats.
The mesh basket measures about 16"x12" and is about 7" deep. Taller parents will appreciate that the handlebars can be adjusted upwards for comfort. On older models, the handle height needed to be adjusted using a wrench that came with the stroller. Newer models have quick-release hardware to adjust the handle height.
If you're buying an older model, double check on the adjustment style and make sure you also receive the wrench if it is needed.
The Micralite Toro stroller weighs around 18 lbs., so it's not super-light but certainly falls within the lightweight category. For a full-featured stroller with such a sturdy frame, air-filled tires, and accessories, 18 pounds is a great weight.
Check out my top picks for lightweight strollers, as well as some great strollers under $100. You might also like to read reviews for the Baby Jogger City Mini, Chicco Liteway, and GB Ellum lightweight strollers.