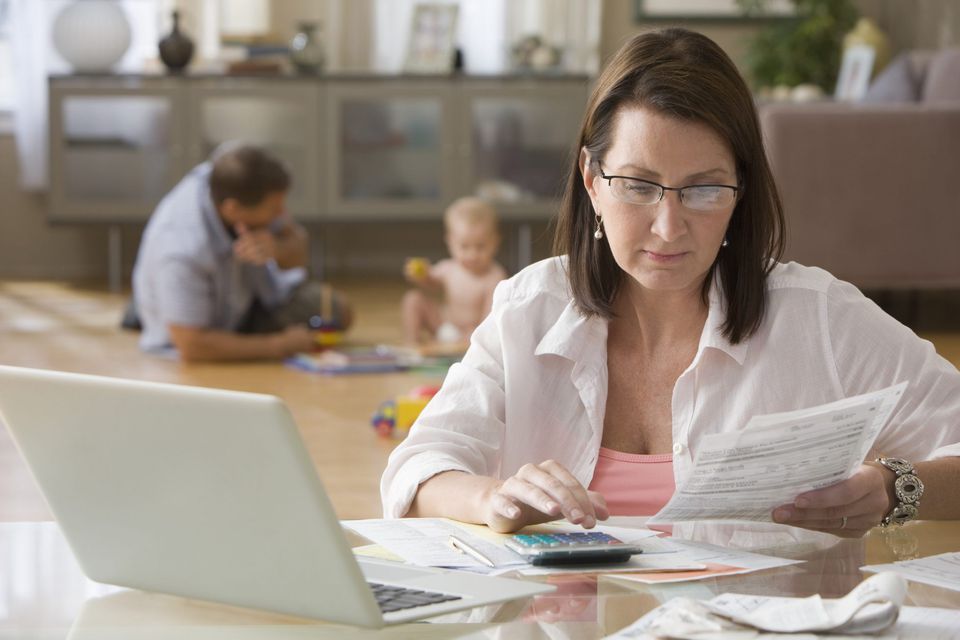 If there's one thing money-saving moms on a single income know, it's how to stretch a paycheck. They can pinch pennies until Lincoln's face turns red. But it doesn't mean you have to sacrifice the big things. Use these 10 ways money-saving moms stretch their family's paycheck to manage your family's budget without you (or Abe) feeling the squeeze.
How Smart Money-Saving Moms Get Started
The trick is to look at everyday activities that you can adopt and make them a habit.
Clip Coupons
Everyone can save money on groceries. And when you use coupons, it's just like getting a free bag of money. You might think of coupons as something you have to clip from the newspaper but many coupons can now be found online.
Coupons aren't limited to food either. You can use them for clothes, pet supplies and computers, just to name a few.
Buy Generic
"Generic" isn't a bad word. Generic versions of everything from groceries to medicines are available at deep discounts.
If you're worried about your children's reaction to giving up name brand foods, try a taste test without telling them. Buy the store brand version of their favorite cookies and see if they notice the difference. Chances are, they won't.
Get Cash Back
Put money in your pocket for items you already buy. Cash back sites like FatWallet.com and Ebates.com give you money back on the purchases you make from your favorite stores.
Some credit cards also offer cash back incentives for the money you spend. Use these types of cards with caution, though, so you're not spending more just to get a portion of your money back.
Make Your Own Toys
There are toys you can't pass up on the toy aisle. Then there are those you can make right at home.
Homemade fingerpaint and Play-Doh are just two of those do-it-yourself projects that can save you money. Making your own toys also provides double the entertainment -- one as a craft and one as something to play with when you're finished.
Pack Your Husband's Lunch
When money-saving moms pack their kids' lunches, they also pack an extra one for their husbands. Eating fast food five times a week is costly and unhealthy.
Even if your husband replaces one fast food lunch a week, the savings will be about $20 a month. That's $240 for the entire year.
Save Money at Restaurants
Eating at restaurants was such a treat for us as children. That's because we didn't have to pay the check.
To save money when dining out, eat at a family-friendly restaurant offering free meals for children. Prices on the kids menu are about $4 per child that you could be saving if you were eating at a restaurant that offers a free meal for children with the purchase of an adult's entree. Savings for a family of four could be $8 or more and that's before you add in tax and a tip.
Order water to drink instead of sodas. With sodas costing $1.50 and up, a family of four can save at least $6 off of their tab before tax and tip.
Use a Consignment Shop
Many parents sell their children's clothes, books and toys through consignment shops. Most items are in such good shape, you can't tell another child ever used them.
Use a consignment shop to clear out the clutter from your house. The money you earn from your own sales can fund your child's next wardrobe.
Cut Bills and Banking Costs
Lowering your bills is easier than you think and can save you money on everything from the cable bill to the phone bill. Eliminate unnecessary bank costs. ATM fees, monthly checking account fees and high-priced check reorders eat into a paycheck when they can be avoided.
Save money on stamps and late fees as well. Pay your bills online or set up a bank draft so your bills are paid automatically.
Investigate Cell Phone Plans
Those ads for plans that include free calls to everyone on the same network sound like a good deal, but they usually come with expensive monthly bills and long-term contracts.
Choose a pay as you go cell phone plan to save hundreds of dollars a year and keep you from being locked into a contract. Many prepaid plans offer the same features as those pricy plans, including roll over minutes, call waiting, voicemail and caller ID.
Claim Dependents
Fat checks from the IRS make some taxpayers look forward to tax season. For those of us raising families, we could use that cash throughout the year.
Give your family an instant raise when your husband claims himself as a dependent on IRS Form W-4. Your tax refund in April won't be as large anymore but that money will be added into each paycheck for your family to use right now. Putting some or all of that money into an interest-bearing savings account is even better.