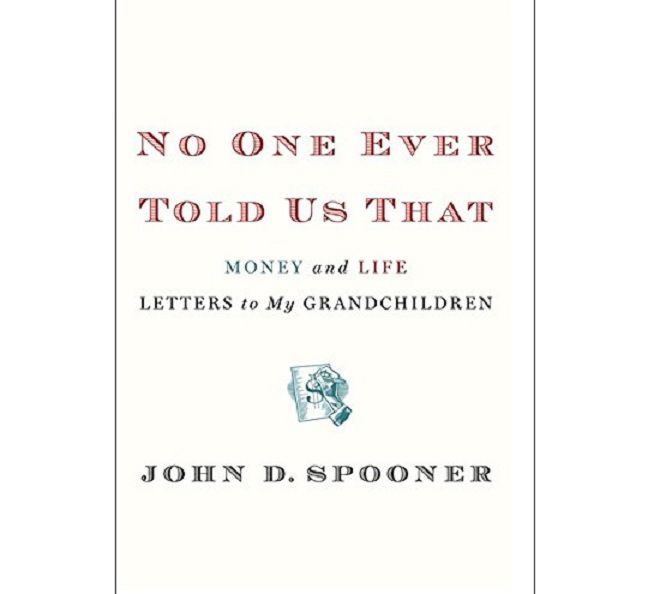 Grandchildren who get letters from their grandparents are lucky individuals. John D. Spooner's grandchildren get a bonus with their letters -- advice from a financial guru who oversees millions of dollars in investments. In addition, Spooner is a talented writer, the author of both fiction and non-fiction, as well as articles that have appeared in magazines such as Playboy and Esquire. If I were Alyssa and Wesley, I would listen up.
Inspired by a Student's Comment
According to a Boston Globe interview, this book had its genesis when Spooner was addressing business students at Brandeis University. At the end of his speech, one of the students commented, "No one ever told us that," and her comment resonated with Spooner. He decided to turn his advice about money and life into a book, with emphasis on the practical information that is hard to come by. From his publisher he got the idea of addressing the book to real people and chose his two older grandchildren, Alyssa and Wesley, as his target audience.
A Single Thought Per Chapter
The end result of Spooner's epistolary effort is a book with 59 letters. Each one is focused around a theme and ends with a aphorism. Usually they also contain some anecdotal information, which adds to the interest and readability. For example, one chapter closes with this advice: "Don't forget what you tell people, because they'll remember." The anecdote associated with this bit of advice involves a young man whom Spooner provided with a contact for his sneaker business.
Grateful, the young man promised him a pair of red sneakers with black laces. Months went by, and no sneakers arrived. Finally Spooner passed the word on to the young man's father: "Little things like not following through on promises can come back to haunt you in the future." The sneakers arrived two days later, and Spooner wore them proudly and promoted the young man's products.
"Don't forget what you tell people, because they will remember."
Uniquely Phrased Advice
Spooner's aphorisms are often uniquely phrased and always thought-provoking. Further samples include these gems:
Big money is fickle money.
Lose yourself in real life, not the virtual one.
Fear and greed rule the markets.
Scared money never wins.
Fads last about two years.
Trust, but verify.
Faint heart never slept with the cook.
To learn exactly what that last one means, you'll have to read the book.
The Bottom Line
Most of us got good advice from our parents, and much of what Spooner has to say echoes that wise advice. Very few parents, however, hand out the kind of hard-nosed financial advice that Spooner dishes out. It is the kind of information that young people trying to make their way in the world today need to hear. The world our grandchildren are inheriting is one that is far more complex than the one we grew up in. In general, children aren't getting the kind of education that will help them avoid financial pitfalls. 
Of course, the young are notoriously resistant to advice. The bigger question is whether Spooner's grandchildren, or anyone's grandchildren, will pay attention to his counsel.
Perhaps Spooner should leave the young to their folly and instead write a book of advice for grandparents.
I have a feeling that when it comes to sticky wickets like whether grandparents should contribute to the grandkids' college or how to avoid appearing to play favorites, he would hand out some no-nonsense advice that would be right on.