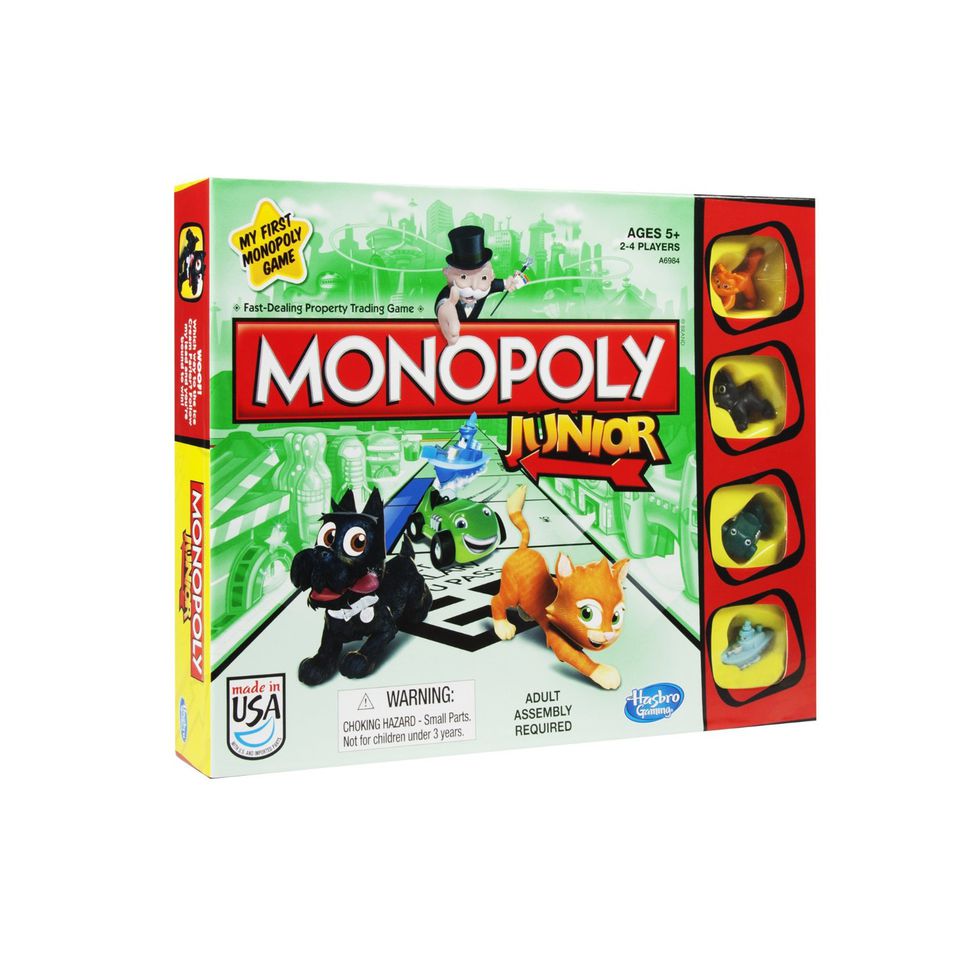 Monopoly Junior is a thoughtfully adapted, kid-friendly version of the classic family game. Here I need to insert a disclaimer: As a kid, I never liked Monopoly. My grandkids love it, though, and I can handle this faster-paced Monopoly. 
Monopoly Lite
This version of Monopoly should take less than an hour to play. It's governed by a few easy rules. Like original Monopoly, it gives kids practice in counting and math, but the numbers have been simplified for easier play.
Players receive $1 bills only. The game is over when the first player runs out of money, which occurs surprisingly quickly.
Instead of the traditional properties, the version that I received features a skate park, a video game arcade and other properties designed to appeal to kids, while retaining the most-valued properties of Boardwalk and Park Place. Players still get paid to pass go and can still go to jail. This version retains the Chance cards but not Community Chest
Hasbro also designs Monopoly Junior versions around popular characters. Other currently available Monopoly Junior versions include Frozen, Sofia, Finding Dory and Yo-Kai Watch. 
Game Board and Pieces
The money is a little flimsy and tends to stick together. It may not last for decades like the old Monopoly money did. The kids will like the whimsical playing pieces -- a dog, cat, car and boat.
Players are given markers with a picture of their playing piece to put on the properties they buy.
There are no deeds, though, so be careful not to bump the board. 
Changes in How the Game Is Played
Monopoly Junior is designed for 2-4 players aged 5-8, and I think that it is suitable for most kids in that age range. My grandchildren in that age range and even a little older enjoyed the game. Needless to say, many grandparents will also be pressed into playing, and that's fine.
Monopoly Junior lacks the elements of skill and strategy that distinguish the classic game. For example, when a player lands on a property, he or she must purchase it; there is no option to pass on the purchase. This emphasis on luck rather than strategy means that grandparents, who should be wilier than their grandchildren, have no advantage. If you've ever had to cheat to keep from beating your grandchildren several games in a row, you'll appreciate this feature.
Children still get practice in several essential skills, including taking turns, counting money and -- perhaps most importantly -- losing gracefully. A sly grandparent can even sneak in some lessons about the advantages of owning property and the meaning of a monopoly. An advanced version of the rules gives players several options to avoid bankruptcy, thus prolonging the game a bit.
Since I'm a word nerd, I prefer games like Catch Phrase and Bananagrams, but I can see that Monopoly Junior builds a skill set that is more geared to mathematics but is equally important.
Overall, most grandparents will find that it's cool to play a game with grandkids that they used to play as a kid, even if it is a slightly different version. And, hey, classic Monopoly is still around for you traditionalists!
Learn about a new Monopoly edition for kids 8 and up, Monopoly Here and Now US Edition. Also see more Hasbro Junior versions of classic games.