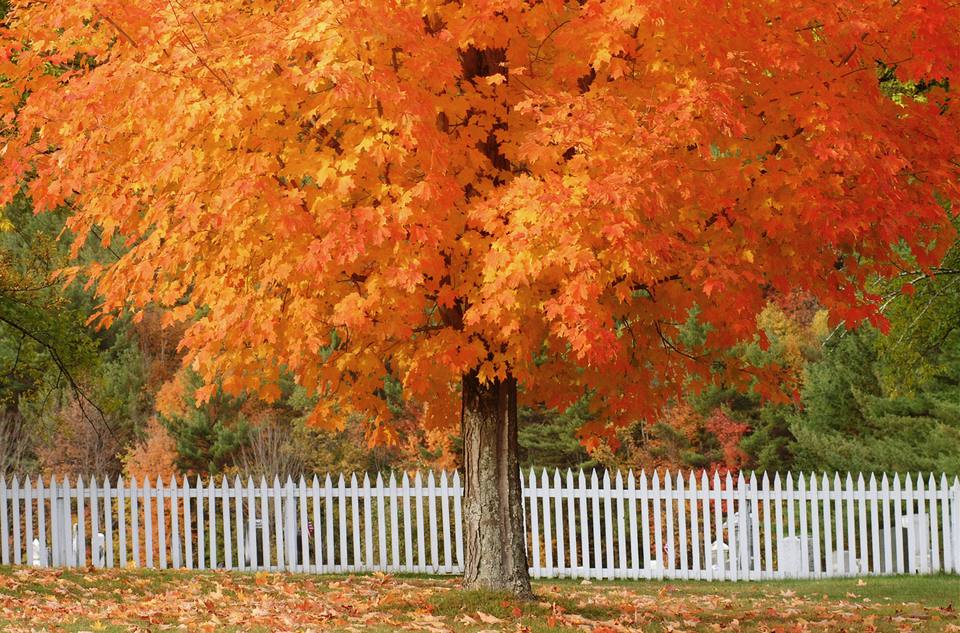 There are many different ways to choose the dozen most colorful trees for fall. Since beauty is in the eye of the beholder,  specimens that offer more than just autumn beauty have been selected for this list. Who needs a one-trick pony, right? So the following list is composed of fall-foliage standouts that provide an additional benefit, as well.
Read the descriptions to learn what these benefits are. When one of these picks strikes you as offering value that is especially appealing to you, click...MORE on its link. Doing so will take you to an article supplying further information (traits, growing requirements, and more) on that particular colorful tree.
The touch of green mixed into Sunburst honey locust's leaves gives them a more interesting look than fall foliage that is just plain yellow. As an additional benefit, this tough customer is a good street tree. Besides tolerating drought and road salt, it is a pollution-tolerant tree and does not make much of a mess -- all resume enhancements for a tree that must stand up to the rigors associated with life on the roadside.

River birch is a colorful tree in fall, but to stop there would be to shortchange it. This is actually a great choice for achieving year-round interest in your landscaping, because river birch's best feature is not the fall color of its leaves, but rather its fascinating bark -- which is there for you to enjoy winter, spring, summer, and fall. As an added benefit (and true to its name), river birch trees tolerate wet areas in the landscape better than do many other plants.

While river birch...MORE is one of the more popular birch trees used in landscaping in North America currently, other types do exist and have their own benefits. The classic (paper) birch has bark with a white color; yellow birch offers an interesting golden bark. Still other birches have a weeping form. All of these fine fall-foliage trees display yellow leaves in autumn.

Nyssa was a water nymph in Greek myth. Her name appears in the botanical name for swamp tupelo (Nyssa sylvatica). This is apt, because swamp tupelo tree, like river birch (prior entry) provides the added benefit of being tolerant of wet ground. Its fall foliage can, reputedly, be multi-colored, but I am most familiar with displays that are all red or -- as in my picture -- all orange. What adds to the beauty of the fall color is the shininess of the leaves. If you will be buying a swamp tupelo...MORE with an eye to achieving optimal fall color in your landscape, select the 'Autumn Cascades' cultivar, which provides you with a weeping plant form, to boot. As if all this were not enough, the drupes (fruits) produced by these trees serve as food for the wild birds.

This photo of a sugar maple close up reveals the shape so strongly associated with the national flag of Canada. David Beaulieu

Maple trees are, of course, the royals of the fall-foliage world in North America. You didn't need me to tell you that. Folks rather derisively dubbed "leaf peepers" sometimes drive hundreds of miles to witness the magnificent fall-foliage displays in places like the White Mountains of New Hampshire. If you're one of these intrepid travelers, you are probably already aware that maples are bound to make any list of the most colorful trees for fall.

In fact, If I were putting...MORE together a dictionary, the entry for the season, "fall" would have next to it a picture of some stately maples, adorned in their red, yellow and orange autumn foliage. Among the natives species of eastern North America, it is certainly the maples that bring out the most leaf-peepers, to gaze at their spectacular fall colors. But have you ever asked yourself exactly which type of maple would be best for you to grow?

The answer really depends on your interests.  If you desire color in a hurry, 'Autumn Blaze' maple is one of your better choices. But have you ever dreamed of making your own maple syrup? Surely, it would be a nice bonus to have some home-made syrup to drizzle over your pancakes, wouldn't it? Sugar maples give you just that bonus, potentially.

Continue to 5 of 12 below.

Japanese maples have a beauty all their own. Many types have colorful leaves not just in autumn, but during other seasons, as well (indeed, compared to most specimens, even the spring and summer leaves of some Japanese maples bear "fall color"). 'Crimson Queen' Japanese maple is a dwarf type favored by lovers of weeping trees. And what bonus trait lands it on this list? Well, it is popular with aficionados of the art of bonsai.

Shagbark hickory is an underrated tree. That it is a colorful tree for fall should be apparent from my picture, which exhibits its wonderfully golden autumn leaves. But this specimen plant holds winter interest, too, due to the shaggy bark that gives it its name. The added benefit it supplies is -- you guessed -- the edible hickory nuts.

Beech trees and shagbark hickory trees are comparable in the sense that they have three things in common: Lovely yellow/golden leaves in fall, winter interest due to the beauty of their bark, edible nuts.

If it is nuts that you are most interested in, select the shagbark hickory, which produces a larger nut. But beech trees have one advantage when it comes to fall foliage: they change color later and hold onto their leaves for a longer time, extending the season of interest.

Learn about three...MORE types of beech grown for their colorful autumn foliage in this article. American beech and European beech also provide winter interest. Meanwhile, Tricolor beech has colorful variegated leaves that will be prominent in your landscaping for spring, summer and fall.

As you can see from my photo, American sweetgum can be as colorful in fall as any tree -- at least when climate and conditions cooperate. One may not get such a spectacular show every autumn from a sweetgum. But when we do, we revel in the mixture of colors.

Regarding the bonus feature for this tree, you will have to decide whether it is worthwhile for you or not. I am talking about the gumballs (pods) that fall from the typical sweetgum. Some people find them messy, which is why, in this article...MORE on sweetgum, a cultivar that lacks these pods is suggested. But if you like crafts, you may wish to grow a kind that does produce gumballs. They can be used in wreaths, kissing balls, and a number of other craft projects.

Continue to 9 of 12 below.

The "purple leaf sand cherry" is aptly named. It does have purple leaves. But that's only part of the story. A reddish tinge comes into those leaves in spring, and it returns in autumn to yield a splendid fall foliage. And its additional benefit? While most of the trees on my list are at their best in fall and/or winter, this one will bring some balance to your landscape by affording spring interest. That is, because it has both colorful leaves and fragrant flowers in the springtime,...MORE I'd have to say that spring is its strongest season.

The flowering dogwood is ubiquitous in Missouri. It added much to our enjoyment of that state when we passed through on a trip one autumn. David Beaulieu

Dogwood trees such as flowering dogwoods (Cornus florida) and Japanese dogwood (Cornus kousa), like purple leaf sand cherry (above), boast terrific spring interest on account of the flowers that they bear at that time of year. But many folks sell dogwood short when it comes to its fall color. And, like swamp tupelo, it bears fruit that is eaten by the wild birds -- a benefit valued by bird-watching homeowners who go to great trouble to attract birds to the yard.

Don't worry: Poison sumac is only one variety of sumac, and it is easily distinguished from the non-poisonous varieties. The latter should be considered as potential landscape trees (or shrubs, as they are sometimes classified), since they provide splendid autumn foliage and are easy to grow. In addition, sumac has been used for culinary purposes, for erosion control, and as a wind break. And you can add this plant to the list (along with tupelo and dogwood) of trees to grow if you want to...MORE supply food for the wild birds. Robins, bluebirds, and various other species eat the berries in winter.

The golden fall color of this pair of quaking aspen trees contrasts starkly with the color of the surrounding evergreens. David Beaulieu

The colorful fall foliage of quaking aspen is almost synonymous with autumn in the American West. But the proclivity of its leaves to tremble in the breeze is as famous as is their golden-yellow color. Being able to listen to and admire the sound thus produced is surely an added benefit in growing this plant.