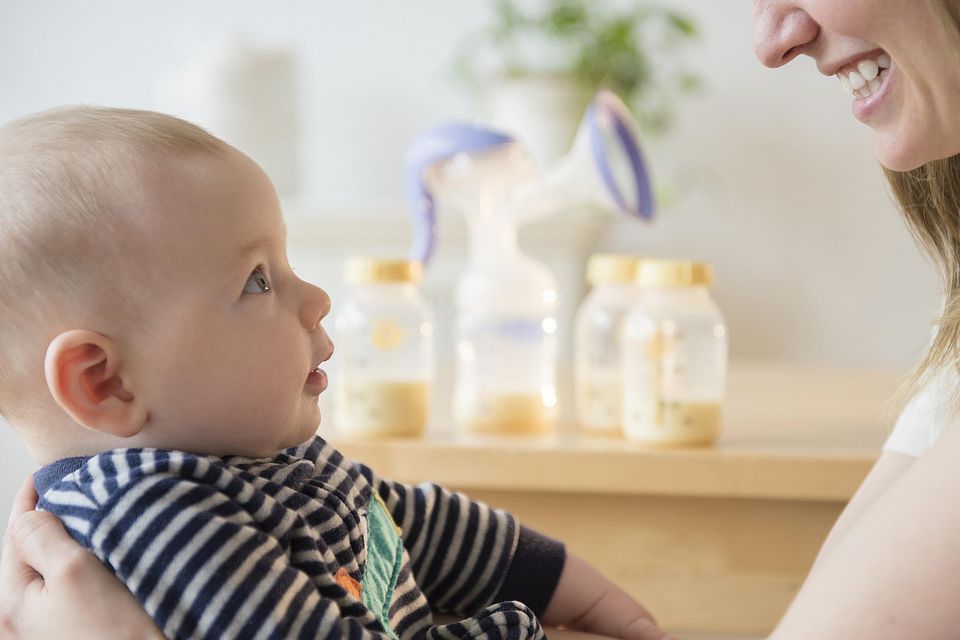 Breastfeeding moms are lucky to have a wide range of products available today to support their nursing efforts. Moms who need to pump their breastmilk exclusively, or while they're at work, have a harder time finding what they need to express milk conveniently, effectively, and comfortably. Pumping milk for you baby is hard work! It takes a lot of dedication and time, though any pumping mom will tell you it's worth the effort. Whether you're pumping full-time or just part of the day,...MORE these products add convenience to your milk-making process.
You don't have to read very far into this book to realize that Jessica Shortall is writing from experience. She has all of the details, shared in funny and candid ways, about how to pump successfully because she used all of these methods herself. In what Shortall calls her "love letter to working mothers," you get to benefit from her trial and error and working while pumping experiences.

This book goes well beyond basic tips for using a breast pump or building up a freezer stash of...MORE milk before returning to work. It covers pumping and carrying milk while traveling, how to pump in less than ideal locations, how to get more love out of your love-hate relationship with that pump, privacy issues, your rights at work, supplementing, and even how to deal with weaning.

You may not feel glamorous while pumping, but you'll definitely look glamorous carrying your breast pump in this gorgeous faux leather bag. It's designed specifically for pumping moms, with thermal-lined side pockets for the pump itself and for keeping the milk stash cool for up to 6 hours using ice packs. You can use the pump without removing the whole thing from the bag, which is quite convenient. There's plenty of space inside for the other pump parts, plus a zippered space for...MORE your other work essentials. An exterior pocket keeps your phone and keys within easy reach. The Annie bag works with all popular double electric breast pump brands. It measures 14 inches by 14 inches by 7 inches and has a detachable cross-body strap plus two carry handles.

This amazing all-in-one bra lets you switch between nursing and pumping effortlessly. If you're pumping at work or away from home, it also means you don't have to take off a regular bra in order to put on a hands-free pumping bra before getting down to business. The bra is soft and stretchy, so it's comfortable, and you can convert the straps to a racer back or leave them as tank style. The lightly lined cups hide nursing pads nicely, too.

Support straps for pumping are included....MORE That's important, because many nursing and pumping bras just have a slit in the bra cup for inserting the pump flanges, but that often isn't enough support, especially once you add the weight of the milk to the collection bottles. The support straps make it easier to trust that hands-free pumping won't result in spilled milk.

Spectra S1 offers hospital-grade pump performance in a lightweight, portable package. This pump is a closed system, which means there's a barrier between the milk and the pump motor. That prevents bacteria growth and transfer to baby, plus it keeps the motor running at its best all the time. It also means you don't have to clean the tubing, which saves you time and lots of effort, because getting the inside of the tubing clean is difficult.

The suction is adjustable so you can find the...MORE most efficient settings for you. The pump begins in a letdown mode that mimics the way baby begins breastfeeding, in order to maximize milk production and letdown. Unlike other electric pumps, you can adjust the suction level in letdown mode or regular expression mode. You can also change the cycle speeds.

 The battery in the Spectra S1 is rechargeable so you don't need to hunt down batteries when it slows down. You can also plug in the Spectra S1 with the included cord. Two breast shields with tubing and two collection bottles are also included. You can order additional bottles and other flange sizes if you need them.

Continue to 5 of 13 below.

Lanolin has multiple uses for moms and babies. For pumping moms, it's a fast, easy way to lubricate the inside of the flanges to reduce chafing or soreness. Some women find that the lanolin gives a more natural nursing sensation, which could mean more efficient pumping.

Pure lanolin doesn't have to be removed before breastfeeding. There are no additives or preservatives that could get in baby's mouth. Lanolin is also very moisturizing, so if you keep some on hand it's great for...MORE combating winter dry skin or minor irritations.

These disposable nursing pads are incredibly thin, so they won't show under your clothes, but they're also super-absorbent so you won't need to worry about leaks. For most moms, they'll last all day without needing to change. The cover is soft against your skin, and the waterproof backing isn't crinkly or stiff. There's a little adhesive spot on the back of each one, so they stay put really well.

If you're looking for a reusable option, check out Eco Nursing Pads...MORE organic pads (Buy on Amazon). Made of soft bamboo fiber, these reusable pads are absorbent and comfortable. They can be machine washed. They're a little thicker than the disposable type, but will save money in the long run.

These milk storage bags are sturdier than other similar ones, and the zipper-lock on the top works very hard at preventing leaks. The thicker bag is also nice if you'll be freezing stacks of milk or carrying them back and forth to work or daycare as it's less likely to get a hole in it from bumping against something.

Dr. Brown's breastmilk storage bags stand up well when you need to fill them from a collection bottle, and there's not a lot of excess plastic at the top to get in...MORE the way when you want to put the milk into a bottle for baby. They freeze flat, too, which streamlines your freezer stash.

When you freeze a lot of breastmilk, it helps to use bags and lay them flat so they'll stack evenly and take up less freezer space. The Milkies Freeze system makes it almost effortless to freeze your milk in perfectly flat packages. You just lay the newest bag of milk on the metal tray up top until it freezes, then pop it into the slot on top of the stack inside the storage unit. When you want to use a bag of milk, you pull one from the slot at the bottom of the storage unit. That way...MORE you're also using the oldest milk first. The flat bags of milk are faster to thaw, too, since they're uniformly thin for maximum surface area.

Continue to 9 of 13 below.

The Kiinde Kozii warmer makes it quick and easy to thaw bags or bottles of breastmilk. The warm, flowing water helps thaw and warm the milk evenly without hot spots. Since it uses warm, not hot, water, the milk retains all of its nutrients. It also keeps you from burning your fingers on steam or hot bottles. The water stays in the reservoir between uses, so you won't have to measure out an exact amount each time as you do with steam-based warmers. Just set the timer and the warmer will shut...MORE off when the time is up.

For times when you need to pump in the car or anywhere else that you can't wash your pump flanges, these wipes are super convenient. They're alcohol-free, bleach-free, and unscented, so there's no residue that might irritate your skin when you pump again. This is a great way to keep your pump parts cleaner overall by reducing the potential for milk to dry in small crevices, and your pump bag will also stay milk-free, so you won't need to wash it very often.

Medela Quick Clean...MORE Wipes aren't one-trick wipes, though. You can also use them to wipe off the surface where you'll set up your pumping supplies, clean high chairs at restaurants, wipe changing tables, or clean shopping cart handles. Lots of clean-up power in a small package.

At the end of the day, you'll need to thoroughly clean and sterilize your breast pump parts. These microwave steam bags are the right size for breast pump flanges and other pieces, and they can be easily used at home or while traveling. You can also sterilize baby's pacifiers, bottles, teethers, and small toys. Each of these Medela steam bags is reusable up to 20 times, so even a small box of them will last several months.

It only takes 3 minutes in the microwave to sterilize the pump...MORE pieces. Just make sure you follow instructions for how much to put in the bag and how long to microwave it so you don't damage any important pieces.

Let's face it. Pumping is hard work some days. A cookie might make the process a little nicer, and these cookies have the added bonus of being packed with ingredients that could boost your milk supply. They're pretty nutritious for a cookie, too, with whole wheat flour, oats, flax seed, and yeast. Milkin' Cookies are individually wrapped, so you can toss one in your pump bag for a guilt-free snack.

Continue to 13 of 13 below.

While a manual pump may not be ideal for daily pumping, it's a good idea to have a backup plan in case the power is out, your pump batteries are drained, or something breaks. The Freemie Equality manual pump is unique because it allows you to pump both breasts at once, and you can conceal the flexible flanges in your bra, so you don't have to find a secluded place to pump. The flanges are compatible with some other double electric pumps, as well, so you may be able to use them for daily...MORE hands-free pumping. If you'll be traveling and unable to stop for a pump break often enough, the Freemie Equality pump might just save the day.