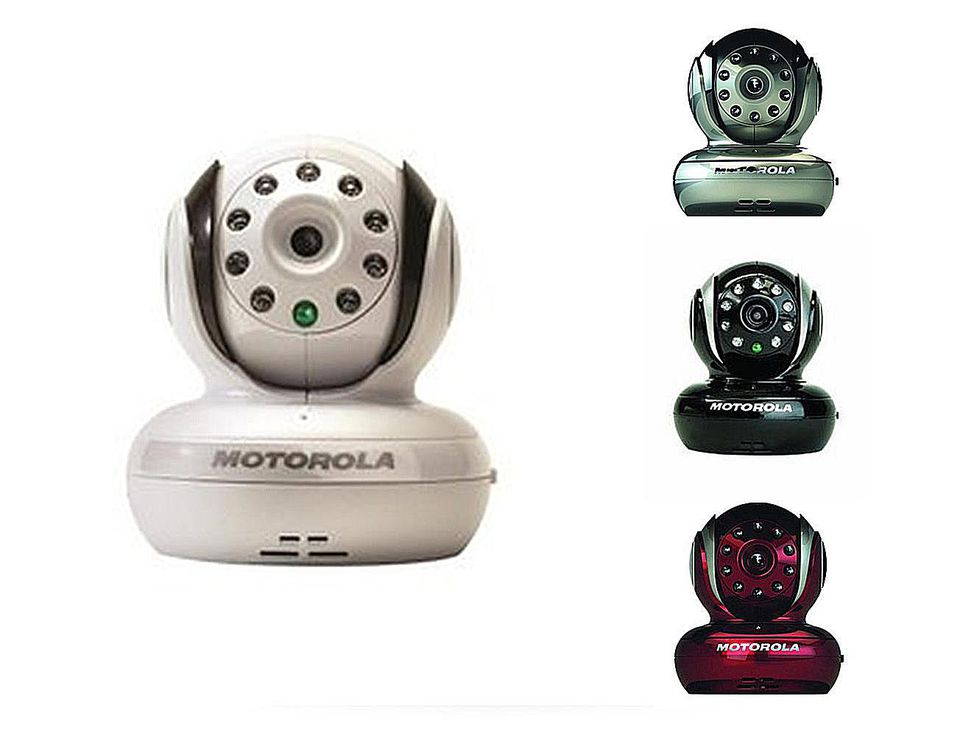 At first glance, you might think there's something missing from the Motorola Blink1 Wifi Video Baby Monitor - the parent unit. There's a sleek, shiny camera in that box, but to view the video feed, you'll just use a piece of technology you probably have with you already - your smartphone (or tablet).
Compare Prices
Features
The camera in this system is very similar to those in other Motorola baby monitors.
It's a futuristic-looking sphere on a circular base with an antenna and microphone off to the side. A ring of lights for night vision and indicators surround the camera lens. It has pan, tilt, and zoom - all controlled remotely. I've been fairly impressed with Motorola's monitor cameras overall, and have included several of them on my top picks for video baby monitors.
An AC adapter comes with the camera. There's a spot on the bottom of the base where you can add a mounting screw, but the mounting hardware is not included. You'll need to find a spot at least 3 feet from baby's crib to place the camera. If you do mount it on the wall, you should still place it 3 feet from the crib and make sure you secure the cord, as several babies have been hurt when they were tangled up in improperly secured baby monitor cords.
The camera unit monitors the room temperature and can be set to send alerts to your phone when the temperature gets too high or too low.
The parent unit is up to you. The free app can be downloaded for Apple or Android products. This baby monitor is designed to be used with a wifi connection, hence the name. It's possible to view the video feed using 3G/4G, as well. Within the app, you can set your phone to receive alerts when the microphone detects noise, and any time the feed is disrupted.
The Review
The camera is small and works smoothly. The quality of your wifi connection and your phone will determine how well you can take advantage of the great camera, though. While my phone had no trouble with the app or the camera controls, we had some bouts of slow wifi while I was testing this monitor out. There's a noticeable difference in quality when the signal is poor.
Setup with your wifi, the app, and your phone or tablet is easy. It took less than 5 minutes to get this set up. The app controls are intuitive and work well. The pan, tilt, and zoom controls appear in the center and to the right on the screen, with the alarms, settings, microphone, and camera buttons to the left.
I highly recommend changing the video quality to "high" immediately after setup. The default is "normal" and I found it to be pretty grainy. On the higher quality setting, the daytime feed was very bright and fairly clear. It's not like watching your HDTV, but you can see what's happening in the nursery with reasonable clarity.
The night vision feature is nice, and even in a completely dark room I was able to tell whether or not my son was asleep or awake. The quality is about average for night vision video monitors.
The sound quality is good. I didn't notice much background noise. There was a very slight delay between the sound happening in my house and coming through via my phone, but it was not a long enough pause to be of concern. The "sound detected" alerts could be handy if you need to turn the sound down but still want to know if baby is making noise. In our busy house, the sound alert meant that my phone was buzzing at least once a minute, so I preferred to leave that alert turned off.
You can use the microphone feature to talk to your baby via the app. You can also snap pictures within the app. They're not art museum quality, but it's nice to be able to catch something important even when you're not right there with baby. I've included an in-app picture that was taken during the day, and one that used the night vision feature.
There's even a video recording feature in the app.
Up to four Blink1 cameras can be connected in the same system. You can switch between the video feeds easily within the app.
It's incredibly handy to have your baby monitor feed on your phone or tablet, since most people already have one nearby. If a parent travels often or is away often, the ability to use wifi to look in on baby from a great distance could be very comforting.
For some families, the lack of an included parent unit might be a problem if they like to leave a baby monitor with a sitter or nanny. That person could also download the app, but I'm not sure I'd be comfortable knowing they could decide to check the video feed another time when I've forgotten my shirt in the dryer and have to run across the house partially dressed.
Overall, I think the Blink1 is a great quality camera and offers some nice features for less than $200. However, there are other video baby monitors available now at similar prices that include a parent unit. If you're set on using the phone or tablet to peek in on baby, Blink1 is a fantastic choice. If you think you'd like to have a dedicated parent unit, this isn't the baby monitor for you.
 More Baby Monitor Reviews