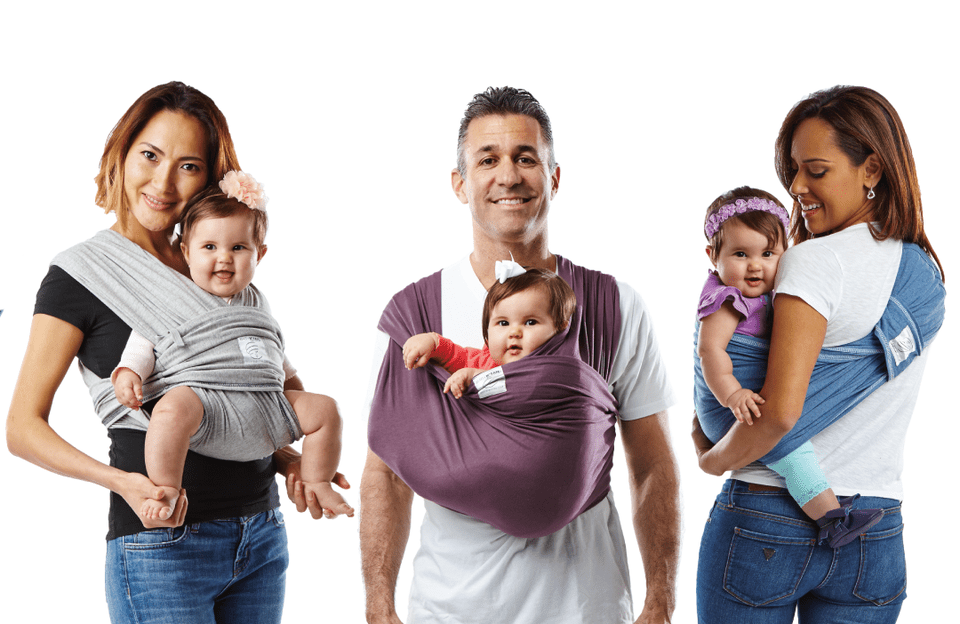 My Baby Nest baby carrier was designed to work like a wrap-style baby carrier, but without the extra effort of actually wrapping the fabric around you. The Baby Nest carrier has two loops that are intertwined, and one extra belt that you wrap around yourself in various ways for additional support. The belt portion has a pocket on the front for carrying your keys or other essentials.
Please note: production of the My Baby Nest carrier has been discontinued by the manufacturer.
Some of these baby carriers may still be available for sale new online, or used carriers might be found at garage sales. If you're looking for a current baby carrier with similar style to My Baby Nest, try the Baby K'Tan, which has the same type of loops and center wrap made of stretchy cotton. It allows for several different carrying positions. The Baby K'Tan carrier is also like a baby wrap without the hassle of wrapping and tying it.
With My Baby Nest you can carry your baby in several babywearing holds. These include tummy to tummy, hip carry, cradle hold and front facing. You can also use this baby carrier for back carries.
My Baby Nest baby carrier is made of a cool, stretchy cotton that is machine-washable. This is a sized baby carrier, and three sizes are available. My Baby Nest carrier comes in six colors. This baby carrier costs about $80.
Overall, this is a very nice baby carrier that gives you plenty of baby wearing options.
The fabric is really nice, it's sleek and comfy, and the little pocket in the front is convenient.
My Baby Nest Carrier Pros
This is a very comfortable baby carrier! Once you've got it on and adjusted, the stretchy material doesn't bind or feel too bulky. It isn't too tight for the baby, and there is plenty of support for where it is needed, in part thanks to the adjustable belt part.
It's easy to just wrap it around wherever you need it. Choosing the correct size is key in the comfort for you, and support for baby, though.
The convenience aspect is a standout feature of this baby carrier. You can do pretty much the same things as you could with a wrap carrier, but you don't have to spend the time actually wrapping the fabric, which can be challenging. Wraps are often just a very long strip of fabric, so they can get messy from dragging on the floor. That isn't a problem with My Baby Nest. You just slip the two intertwined loops over yourself, tuck baby in, and put on the adjustable belt part.
The stretchiness of the fabric makes this a truly comfortable baby carrier, too. It distributes baby's weight really well, and it doesn't dig into the parent's shoulders at all, even after a long adventure carrying the baby.
My Baby Nest is machine washable. Babies make messes, so it's best to have a baby carrier that cleans up easily.
My Baby Nest Carrier Cons
While the sizing since it creates a great fit, it also means that you may have to buy more than one baby carrier if your partner wants to use My Baby Nest, too. Since moms are often changing size, sometimes dramatically, after baby arrives, it's a little less convenient to have to think about baby carriers in different sizes.
Learning to put on My Baby Nest carrier is a challenge. The loops and positioning options can feel a bit intimidating to the inexperienced baby-wearer. While it's not impossible to figure out, it's also not intuitive for some parents. Plan to spend a little while figuring this baby carrier out so you can put it on easily.
The manufacturer recommends this baby carrier for toddlers up to 35 lbs. The material starts to feel a little too stretchy at the upper end of that limit. Something a little more structured is likely more comfortable for carrying heavier children.
Other Baby Carriers to Try
Again, the My Baby Nest has been discontinued by the manufacturer. It is still available in some stores and online, but it isn't as easy to find as it once was. If you're looking for a similar style, consider the Baby K'tan carrier mentioned above.
Another option is to use a true wrap baby carrier, which requires more effort to put on but is more adjustable. One perennial favorite is the Moby Wrap baby carrier, which is made of soft cotton. Another true wrap is the Lillebaby Tie the Knot Wrap, which is made of silky Tencel fabric.
Disclosure: Review samples were provided by the manufacturer.