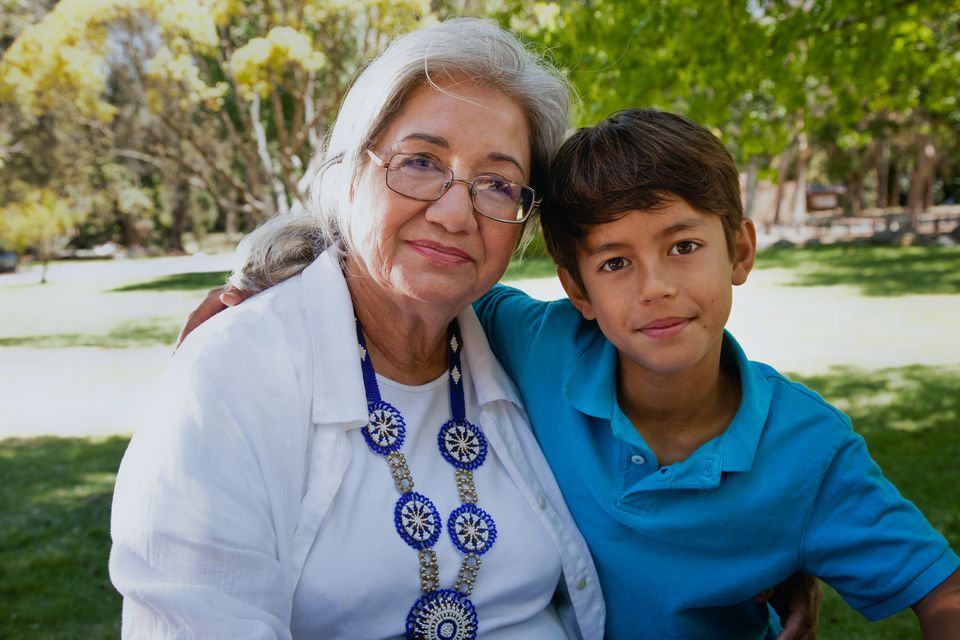 If you must sue for grandparent visitation rights in New Mexico, you are in a better position than if you were suing in many other states. New Mexico is considered a relatively permissive state in regards to the rights it offers to grandparents. In addition, its statutes referring to visitation are clear and detailed. In fact, New Mexico statutes are sometimes considered a model for visitation rights law.
Summary of New Mexico Law
Grandparents may be awarded visitation during or following a court proceeding pertaining to paternity, legal separation, or dissolution of a marriage. Grandparent visitation must not conflict with the child's education, prior established visitation or time-sharing privileges. If either or both parents are deceased, any grandparent of the child may petition for visitation privileges.
In addition, grandparents may petition for visitation with a grandchild who once resided with the grandparent for a prescribed length of time. For children who were less than six years old at the beginning of the residence, a period of three months or more is required. For children who were more than six years old at the beginning of the residence, a period of six months or more is required.
New Mexico statutes list items to be considered in a petition for grandparent visitation. These include the following:
Factors relevant to the best interests of the child
Prior grandparent-child interaction
Prior interaction between the grandparent and each parent of the child
The present relationship between the grandparent and each parent of the child
Any time-sharing or visitation arrangements already in place
The effect the visitation will have on the child
If the grandparent has any prior convictions for physical, emotional or sexual abuse or neglect
If the grandparent has been the child's full-time caretaker for a significant period.
The Impact of Case Law
In addition to these provisions spelled out in the law, other factors have been spelled out in case law. Case law refers to principles relied upon in previous judicial decisions.
In the case of grandparent visitation in New Mexico, case law has established that these principles may also be considered:
Emotional ties which may exist between the grandparent and child
The nature, quality, and length of the grandparent-grandchild relationship
The impact that visitation will have on the child's development
The child's physical, emotional, mental and social needs
The parents' opinions and wishes
The willingness of the grandparents to nurture the parent-child relationship.
These principles have been included in the cases of Lucero v. Hart (1995) and reinforced in the case of Deem v. Lobato (2004). 
Other Provisions of the Law
The court may order mediation or evaluation if it is deemed advisable. In fact, in New Mexico, court-ordered mediation is usually the first step in a visitation dispute.
If a grandparent is awarded visitation and the parent changes the grandchild's residence, the parent must by law notify the grandparent, provide the grandparent with a current address and phone number and allow the grandparent to communicate with the child.
If a grandparent has to go back to court to get a visitation order enforced, the court may order the prevailing party to pay court costs and attorney's fees.
If the court decides against visitation, it may order other grandparent-grandchild contact, including regular communication by phone, mail or "other reasonable means," probably referring to virtual visitation.
Grandparent Visitation Following Adoption
Contact with a grandchild who has been adopted may be possible in New Mexico because adoption does not always terminate visitation rights as it does in many other states. Grandparents may keep their visitation rights as long as one of the parents retains parental rights. In addition, grandparents may petition for visitation if the adopting party is a stepparent, a relative, a person designated in a deceased parent's will or a person sponsoring the child in baptism or confirmation ceremonies.
Still, grandparents do not always prevail in court. See the case of Christian Placement Home v. Gordon.
Surviving Troxel v. Granville
In the 2000 case of Troxel v. Granville, the U.S. Supreme Court struck down Washington state's law providing for third-party visitation, finding that it did not adequately protect parental rights to the care, custody, and control of children. Following this decision, most states had to judge whether their laws could survive such a challenge to their constitutionality. 
In New Mexico, the challenge came in the form of Williams v. Williams, a 2002 case. This is a long and complex case, but two points are worth noticing. When the father moved his family out of state to avoid honoring his mother's visitation order, he was brought back to New Mexico and jailed, showing that New Mexico enforces its provision requiring notification of change of address. Second, when the father charged that a finding of parental unfitness was required to award visitation over parental objections, the court disagreed. It found that New Mexico does give special weight to the wishes of parents, but that they need not be proven unfit for their wishes to be overruled. In this case, the court found that the grandmother's prior relationship with her child was strong enough to merit consideration and also noted that there were concerns about the father's parenting abilities.
See New Mexico Statutes, NMSA §40-9-1 through §40-9-4.