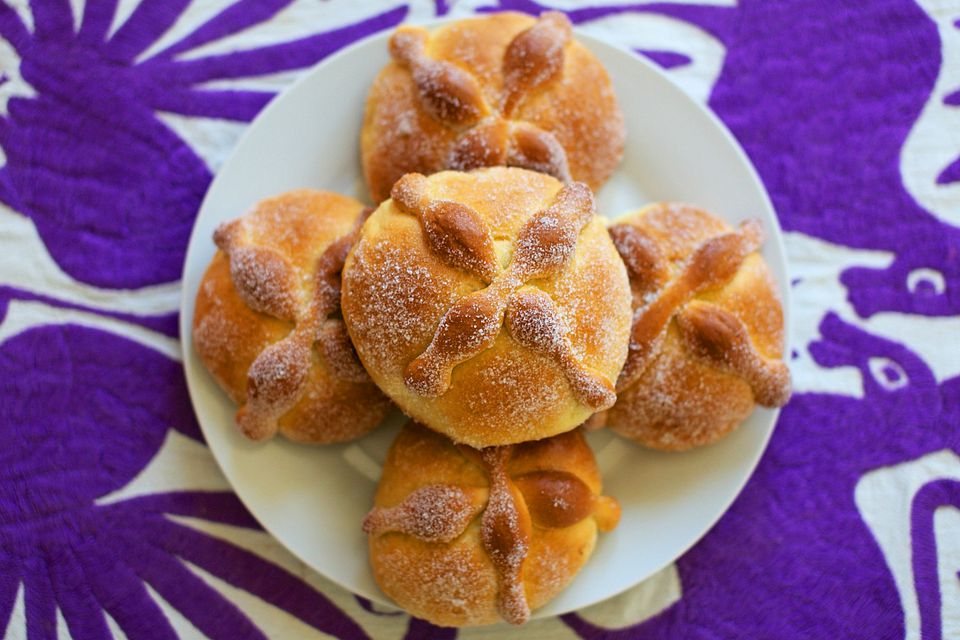 Translated literally as "bread of the dead," pan de muerto is eaten by almost everyone in central and southern Mexico on and around Nov. 1 and 2 as an important element in the annual Day of the Dead celebration.
Most family and communal ofrendas (offerings for the beloved deceased) hold at least one of these loaves, placed for the enjoyment of visiting souls.
Many varieties of pan de muerto exist with their shape, texture, and flavor particular to one or more geographical and cultural regions in Mexico. This recipe for pan de muerto is very common in Mexico City and the central part of the country. It is a sweet, semi-spherical loaf decorated with pieces of dough in shapes that represent bones and tears.
Nowadays, most Mexicans buy their pan de muerto from a bakery. If this bakery treat isn't available where you live -- or if you just want to help keep this delicious tradition alive -- try making your own with this recipe.
4 ounces room-temperature butter (not margarine)
3/4 cup white sugar
3 teaspoons whole aniseed
1 teaspoon salt
6 cups bread flour or all-purpose white flour
4 large room-temperature eggs
1 1/4 cups warm water but not to exceed 110 F
2 tablespoons orange zest
2 packets (4 1/2 teaspoons) instant dry yeast
Your choice of glaze (see below)
In a large bowl, mix together butter, sugar, anise, salt and 1/2 cup of the flour.

In a separate small bowl, combine the eggs, water, and orange zest. Add this mixture to the butter-sugar and add another 1/2 cup of the flour.

Add the yeast and another 1/2 cup of flour. Continue to add the rest of the flour 1 cup at a time until a dough forms.

Knead on a floured surface about 1 minute. Cover with a slightly damp dishcloth and let rise in a warm area for 1 hour and 30 minutes.
Separate about 1/4 of the dough and use it to make bone shapes to drape across the loaf. See the Note below.
Shape the rest of the dough into a semi-sphere. Place bone shapes on the loaf. Let it rise for 1 more hour.
Bake in a 350 F (177 C) oven for about 40 minutes (30 minutes if you have made smaller loaves).
Cool and glaze before serving.
Cut your pan de muerto loaf into large wedges to be eaten with the hands. Serve with Mexican hot chocolate or champurrado (chocolate atole) if you like.
Note: The most common bone-shaped dough pieces are stylized and simple. Sometimes it's just a matter of forming ball shapes and pressing them into the loaf in a line. You also can take a piece of dough, roll it into a long cylinder and place a ball at each end. You can get much more detailed if you like, but even a slightly "knobby" looking loaf will get the idea across.
Glazes for Pan de Muerto
Choose one of these glazes to finish your pan de muerto. After glaze is applied, sprinkle your loaf with plenty of white or colored sugar using granulated table sugar, superfine (not powdered) sugar or table sugar pulverized in a blender or food processor.
Orange Juice Glaze: Bring to a boil 3/4 cup sugar and 1/2 cup fresh orange juice. Brush on bread after it has baked and cooled.
Orange Juice-Egg White Glaze: Mix 3 tablespoons orange juice concentrate and 1/3 cup sugar with 2 raw large egg whites. Brush on bread during the last 10 minutes of baking.
Brown Sugar-Cranberry Juice Glaze: Bring to a boil 1/4 cup piloncillo (or dark brown sugar), 1/4 cup white sugar, 2/3 cup cranberry juice, and 2 tablespoons orange zest. Brush on baked loaf after the bread has cooled.